New token integration: $VINU is now available on the HYVE platform!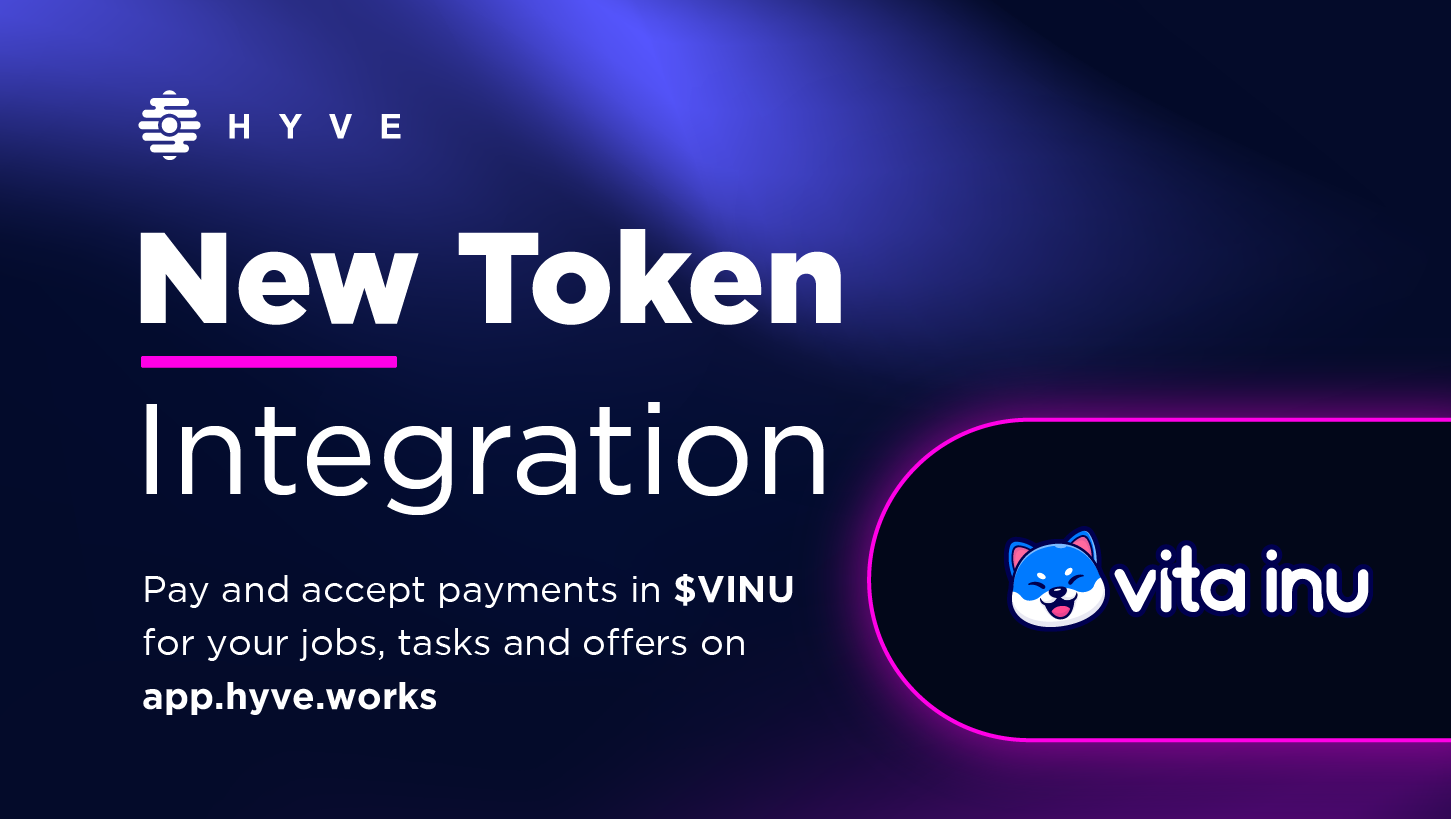 We think you may have gotten too used to our weekly improvements and us trying every passing day to make HYVE a universal platform that will provide access to unlimited methods of payment. Again, we are pleased to announce that we are back with yet another token integration, this time, one that will make your heart melt! Vita Inu's $VINU is a dog-themed coin that will provide a fresh new twist to the Metaverse and its community in a jolly, lively and amusing way!
Dive into the project, Vita Inu…
Calling all animal lovers, the crypto world just got cuter with Vita Inu, the first meme coin in the Metaverse! Even if it's still under development, you should know this project will have its own VINUverse, a full VR world, its own line of NFTs, merchandise, and much more. Just imagine how adorable would a hoodie with their symbol be! The idea behind this project is to combine the future of technology, and the crypto environment in a playful, fun and interactive world that is also a place for earning, staking, and investing.
The VINU World will be accessible through VR headsets, and as it's still under wraps, the team provided some of the utilities this part of the project provides: playing with other users, socializing with them, redesign this world by adding your own content, or go further with customization and buy your own plot of land in the Vinuverse (sell or rent it as you please, just like in our physical world).
Another feature of this project is VinuSwap, a decentralized exchange with several key features, an AMM Swap, with in-house cross-chain bridges, staking and lending capabilities. VinuSwap will allow users to move, swap or stake their tokens seamlessly between different ecosystems. Prospective traders can make their trades at the best rates with low fees, via a simple and intuitive front-end interface.
Users will also have the chance to provide liquidity to the trading pairs, as a significant portion of the trading fees incurred on the VinuSwap will be distributed back to the liquidity pools. Over time, and depending on the trading volume on VinuSwap, this increases the value of the liquidity pool tokens that providers hold.
Find out about $VINU…
$VINU is the governance token of Vita Inu, a feeless, cheeky, doggo-themed coin. Built on transparency and accountability, $VINU assures users of its long-term success and sustainability. Unlike most of the meme coins in the crypto world, $VINU is not re-issuable, meaning that the total supply will remain the same, therefore there will not be any inflation to this coin.

If this precious doggo made your heart grow, copy the addresses down below and pay for tasks, offers or assignments on the HYVE platform:

BSC: 0xfEbe8C1eD424DbF688551D4E2267e7A53698F0aa

Following stages for HYVE…
Don't worry, HYVERS, we are just getting started! Expect more token integrations within the next week, we have a bust one ahead. More partnerships are slowly cooking and more enhancements are on their way just to simplify your freelancing experience!

Disclaimer
The information provided does not constitute investment advice, financial advice, trading advice, or any other sort of advice, HYVE does not recommend that any cryptocurrency should be bought, sold, or held by you. Please do your own risk assessment when deciding how to invest in cryptocurrency and blockchain technology. HYVE is not liable for investment gains or losses.
🐝 Want to learn more about HYVE?
🐦 Follow us on Twitter.
🗨️ Join our Telegram Group.
🐶Want to learn more about Vita Inu?
🐦 Follow them on Twitter.
🗨️ Join their Telegram Group.