New Token Integration: $VLX joins the HYVE Ecosystem!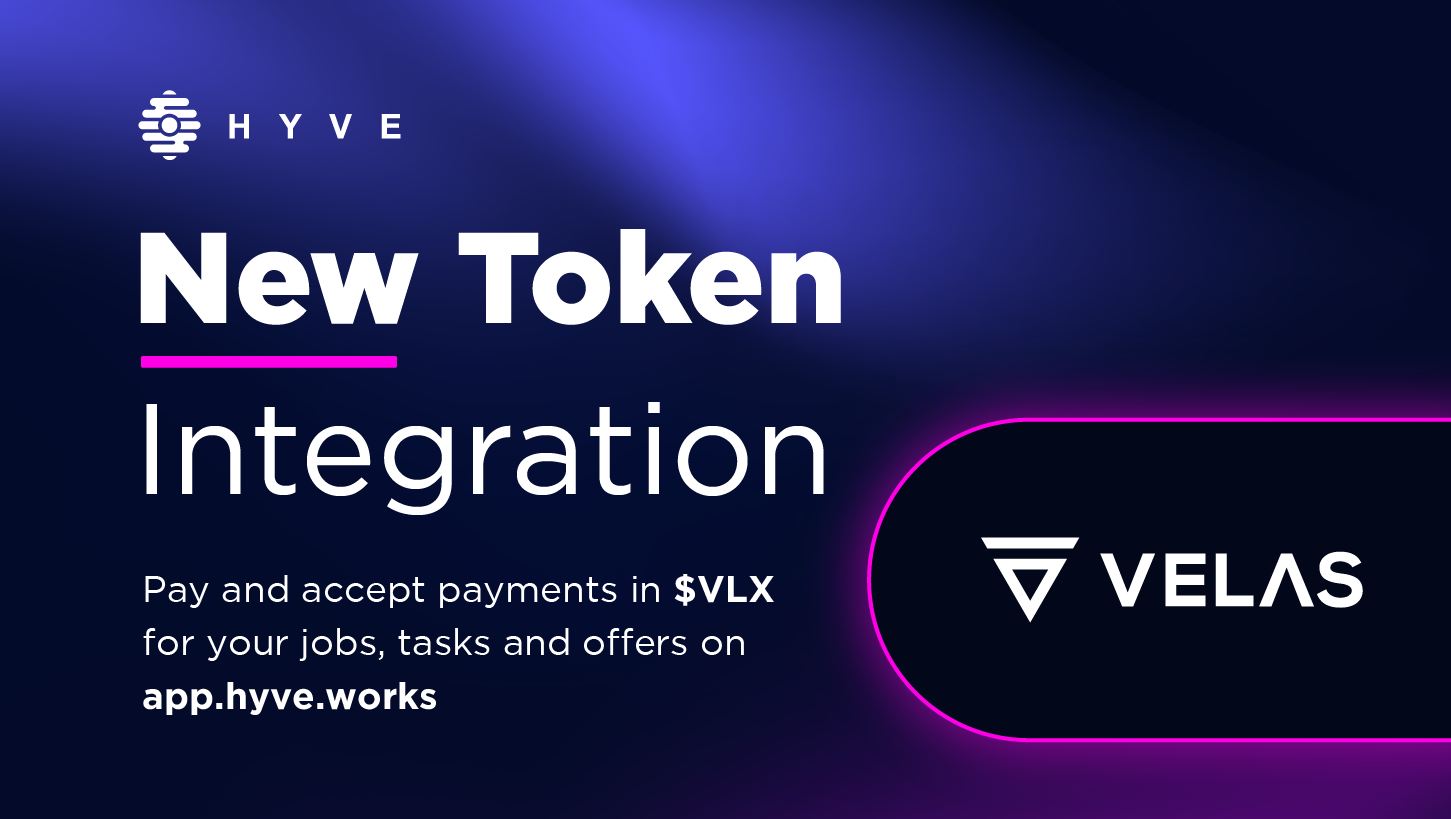 As we are heading into the Holiday season, many people have prepared their Advent calendars, carefully taking out their goodies for each designated day in anticipation of Christmas! Well, we at HYVE have prepared some sort of Advent calendar ourselves, integrating new tokens throughout December!
Today we are excited to be joined by Velas, and their native token $VLX, the world's fastest EVM Blockchain! Velas is capable of instantly processing 50K+ transactions per second, boasting increased security and an ecosystem allowing decentralized products to be built on top of its native chain.
Meet the world's fastest EVM blockchain!
Velas leverages the best practices from both worlds: centralized and decentralized, focusing on advancing blockchain technology and Web 3.0 to highlight its convenience within interaction. According to its whitepaper, the Web 3.0 phenomenon will completely erase the boundaries between online and offline. Velas aims to provide developers and enterprises with community-governed ecosystems for Web 3.0 through its tools and solutions.
As such, the project has been created with innovative technologies in mind, namely a decentralized ecosystem of products and services that accelerate blockchain adoption across the wider industry.
To sum it up, Velas allows users to build decentralized applications and smart contracts backed up by quick payment confirmation. The cost of transactions is meager in comparison with the competitors in the industry. With Velas, buyers can build an application, run a validator node, integrate dApps from EVM, integrate an exchange, and partner in the grant program for contributing products and technology for the ecosystem's growth.
$VLX for the win!
$VLX is the native token of the Velas network and the primary unit of account for transactions, payments, and fees. The network is based on a delegated proof-of-stake (DPoS) mechanism and its token can also act as a means of exchange across the DApps that the Velas platform hosts.
Users can earn staking rewards for creating blocks and securing the network. You can stake by delegating your tokens to validators who process transactions and run the network. To become a validator, users must hold at least one million $VLX tokens, or have at least one $VLX to become a delegator. The more stake a validator has delegated to them, the more often this validator is chosen to write new transactions to the ledger.
Validators incur costs by running and maintaining their systems, and this is passed on to delegators in the form of a fee collected as a percentage of rewards earned. This fee is known as a commission. Since validators earn more rewards the more stake is delegated to them, they may compete with one another to offer the lowest commission for their services. The DPoS mechanism also enables delegators to stake tokens for voting purposes.
That being said, are you ready to step into the future? Add the contract addresses of $VLX to your wallet and use it to pay on our platform!
ETH: 0x8c543aed163909142695f2d2acd0d55791a9edb9
BNB: 0xe9c803f48dffe50180bd5b01dc04da939e3445fc
HYVE x Velas
Following our recent partnership, Velas declared, "We are excited to have HYVE join us on this journey and leverage the full potential of the Velas blockchain to deliver the best in technological development and innovation."
In the near future, we will be exploring further potential integrations, including probably the native Velas blockchain, in order to expand our cross-chain infrastructure, reduce gas fees and implement more payment methods. Until then, we will continue with the customary token integrations, with the goal of reaching 100 payment methods by the end of 2022.
We want to thank you for being a part of this journey so far, we have many things planned for the upcoming year, including the improvement of our platform, but also the expansion of our ecosystem into a novel sphere of the crypto world! Keep an eye out for more information in the coming weeks!
Disclaimer
The information provided does not constitute investment advice, financial advice, trading advice, or any other sort of advice, HYVE does not recommend that any cryptocurrency should be bought, sold, or held by you. When deciding how to invest in cryptocurrency and blockchain technology, please assess your own risk. HYVE is not liable for investment gains or losses.

🐝 Want to learn more about HYVE?
🐦 Follow us on Twitter.
🗨️ Join our Telegram Group.
💥Want to learn more about Velas?
🐦 Follow them on Twitter.
🗨️ Join their Telegram Group.