New token integration: welcoming $TUSD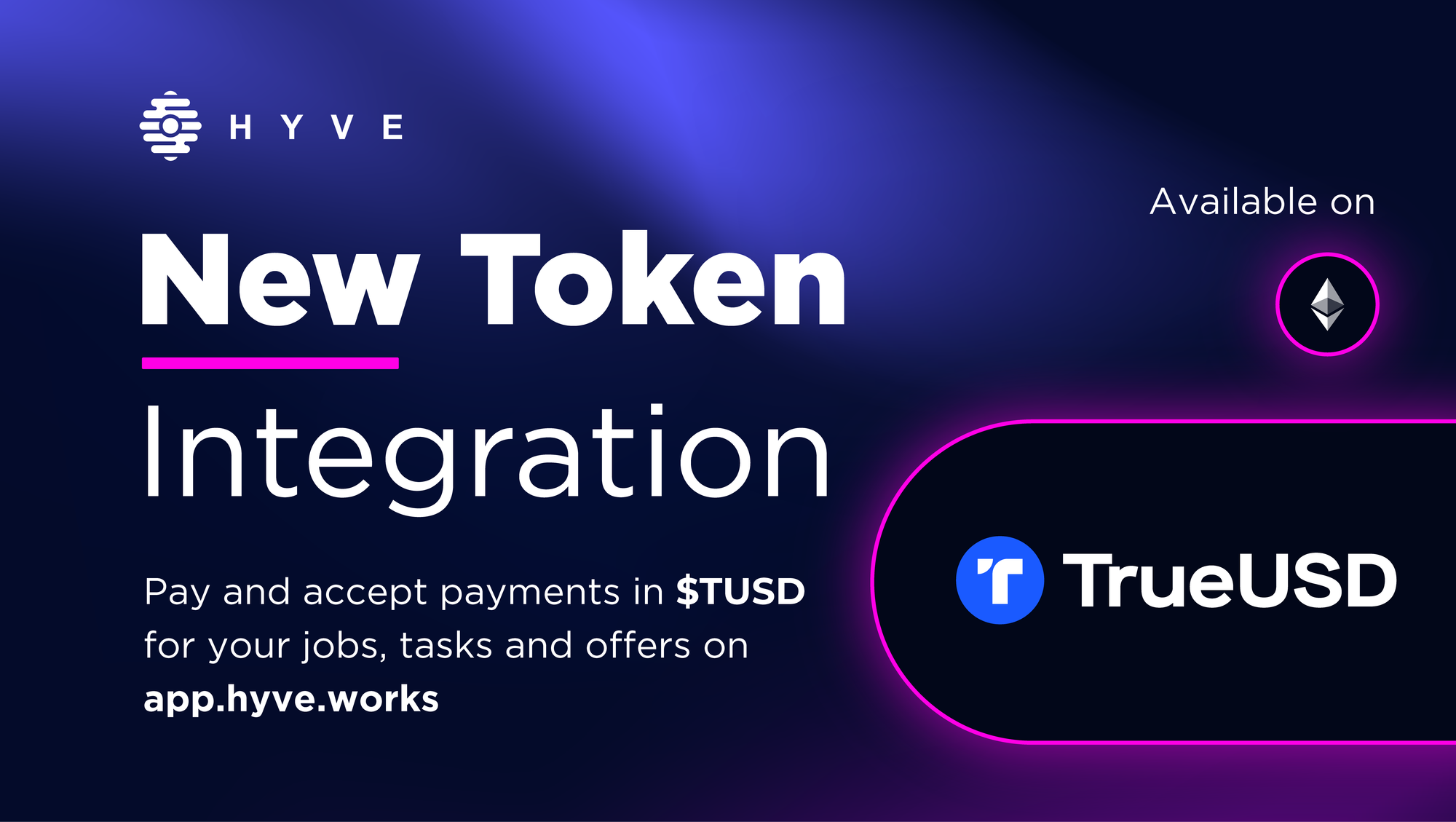 Welcome back, fellow HYVERS, to another episode of our continuous series of token integrations! The HYVE team hopes you had an amazing and memorable Halloween weekend and also a new and productive week as well! We are just finished with integrating a new token into our payment system for you to use on our platform, namely TrueUSD, a regulated stablecoin supported entirely by the US dollar! Dive into this article to learn more about TrueUSD and its superhero talent of shrinking one's uncertainty!  
Enjoy absolute transparency with TrueUSD!
Founded in 2018, TrueUSD brings you what you yearn for: stability and utility - the main uses of a stablecoin, backed by security in form of regular attestations. Think of this project as a foundational pillar for the blockchain-based financial system, mainly a project that presents a token with consistent value.
Therefore, after reading this article you should have in mind that: $TUSD is tied directly to the value of USD and fully backed 1-to-1 with it, held in escrow accounts for the benefit of $TUSD token holders, so that it can be transferred to people anywhere in the world, and can be redeemed for the underlying fiat USD after completing a KYC/AML check.
Interested in $TUSD?
$TUSD is the world's most transparent stablecoin, overcollateralized and independently attested live on-chain, backed by the US dollar at 1:1.
Fully Backed - Every token will have the equivalent fiat value stored in the bank to back it.
Stable - The market should recognize the inherent value of the stablecoin as being equal to the price of the underlying currency.
Redeemable - The team will never prevent or discourage legitimate redemptions from verified customers.
Compliant - They will ensure the long-term survival of the stablecoin through regulatory compliance.
Our collaboration has attracted much praise from both teams at HYVE and TrueUSD. Annabel, the CMO of TrueUSD, stated, "The coronavirus pandemic and the arrival of the Web3 era have made freelance and remote work more common. Against such a backdrop, HYVE is building a freelance marketplace for Web3 users worldwide, effectively connecting freelance workers with employers. Meanwhile, uncertainties in the global financial landscape, combined with the sweeping changes that blockchain brings to payment, have made digital assets the most popular payment method."
"We truly believe that TUSD, the U.S. dollar-backed stablecoin, attested live on-chain, will become one of the most stable, secure, and efficient payment options on HYVE."
TrueUSD has started the transition to a 'live attestation' dashboard. Through the association with Armanino, a leading US accounting firm, $TUSD holders can check a real-time dashboard of their accounts, a good example of advanced transparency.
If you got fed up with volatility and uncertainty,  it is time for you to scroll down below for the contract address and add it to your wallets (to pay on our platform, of course!):
ETH: 0x0000000000085d4780B73119b644AE5ecd22b376
HYVE's latest updates…
At HYVE, you know we always strive to make your freelancing journey as smooth as possible, so let's see what has been cooking in these past few weeks (drums, please!). Our mission is being rebranded and remade on the HYVE website so that it can be more aligned with what freelancers want to achieve and aim towards!
As an added bonus for newcomers, we are proud to tell you that our platform has the lowest fees on the freelancing blockchain market, ranging between 0.9% and 7.9%. Users are able to halve the fee if they pay with our native $HYVE tokens for jobs and tasks paid with any other cryptocurrency other than $HYVE. Not to mention about the many advantages you might be familiar with, such as escrowed and instant payments, decentralized dispute resolution as well as payment in more than 70 cryptocurrencies (obviously). Sounds like a dream come true, right?

Disclaimer
The information provided does not constitute investment advice, financial advice, trading advice, or any other sort of advice, HYVE does not recommend that any cryptocurrency should be bought, sold, or held by you. When deciding how to invest in cryptocurrency and blockchain technology, please do your own risk assessment. HYVE is not liable for investment gains or losses.
🐝 Want to learn more about HYVE?
🐦 Follow us on Twitter.
🗨️ Join our Telegram Group.
Want to learn more about TrueUSD?
🐦 Follow them on Twitter.
🗨️ Join their Telegram Group.
📕Read their Medium.