New Token Integration: $RTM is now on HYVE!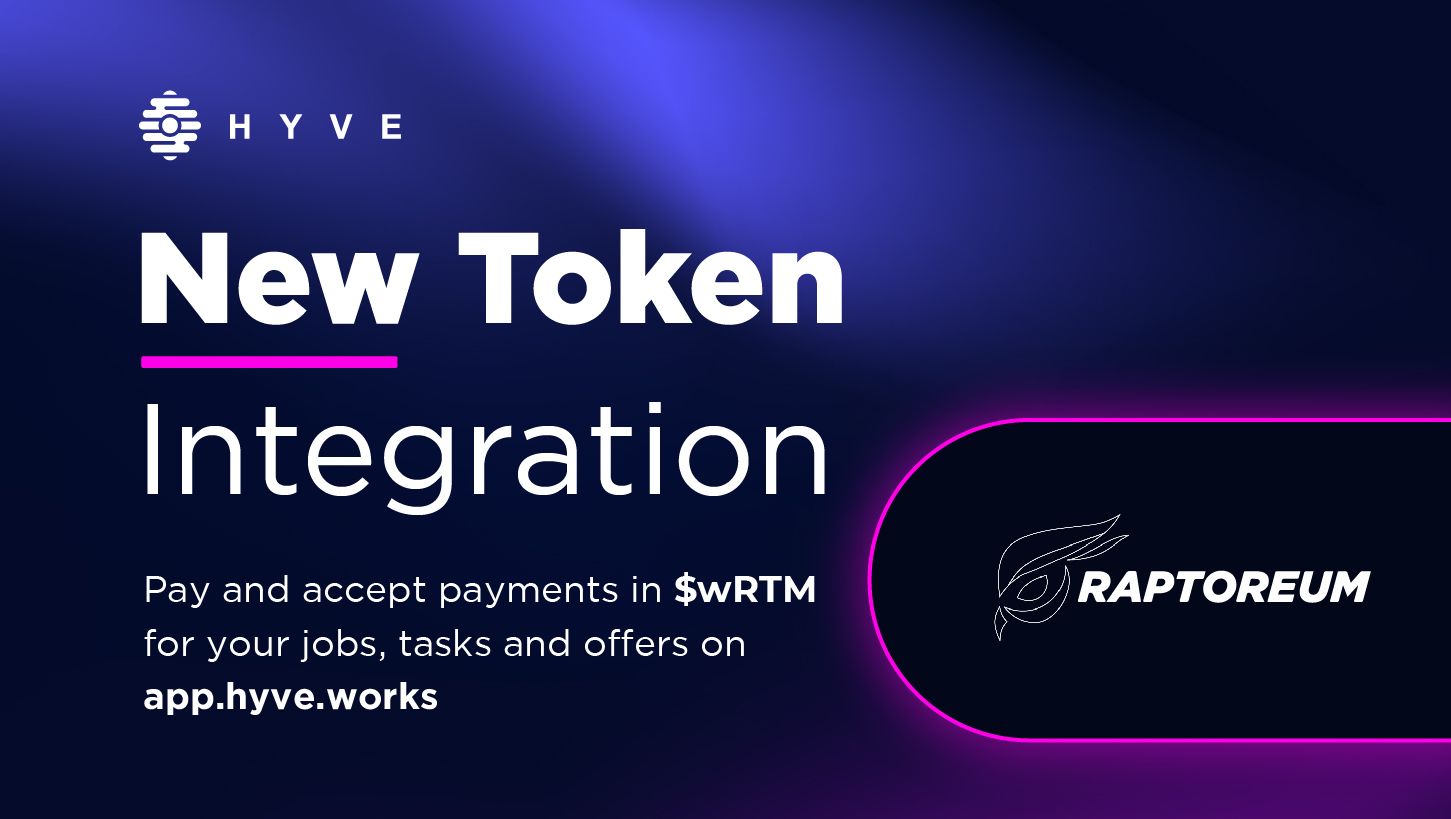 First things first, the HYVE team is wishing you the best of luck during your time at uni, because we know many of you are students! This week we are back and better than ever with yet another quality coin integration because we have seen you are excited in our platform gaining further adoption and becoming universally accepted.
For this reason, we integrated the popular $RTM coin from Raptoreum;  A powerful, flexible and secure POW blockchain and asset platform that boasts futures and upcoming Apache Spark-based smart contracts with security its top priority.
Behind Raptoreum
No more limits of scalability and hard-coded size limits! Your dream might come true if you try Raptoreum! This project aims to solve those problems with a new approach to decentralized program storage and execution within blockchain technology, creating a new generation of smart contracts.
Therefore, Raptoreum is a powerful, flexible, and secure POW (Proof Of Work) blockchain and asset platform that features NFT/NFTS, Smart Contracts, and futures.
In addition, Raptoreum remains resistant to 51% double-spend attacks, with the help of chainlocks that make Raptoreum one of the most secure cryptocurrencies and asset platforms available on the planet today. Raptoreum provides an incredibly user-friendly blockchain that is accessible to anyone.
Discover $RTM…
$RTM uses a custom hashing algorithm called GhostRider. GhostRider randomly switches algorithms to discourage mass ASIC & FPGA mining, which the project says that it increases overall decentralization.
What is GhostRider you may ask? GhostRider combines known mining technologies and methodologies from x16r (Raven) and CryptoNight (Monero). As we already mentioned, this algorithm was designed to keep ASICS and FPGAs off of the network by making entry cost prohibitive and risky.
This allows anybody to mine Raptoreum with their home CPU and earn a reasonable amount of $RTM coins. $RTM is also mineable with GPU although not as efficient as CPUs with the ghostrider algorithm favoring large L3 cache.
Raptoreum has its own blockchain but has also wrapped their coin on the BSC network to give access to DeFi markets . If you want to give wrapped Raptoreum a try (wRTM), we have the contract address just down below for you to add to your wallet:
BSC: 0xF7C71cab11E3694638Bb9A106E0F430565BD15F1
Find out about HYVE's plans…
$HYVE is getting more recognition daily as we are prepping token integrations almost daily, meaning that you should also expect some partnerships on the way! Lastly, if some of the HYVERS are on social media, take a look at our platforms on Twitter and Instagram (we also have TikTok, make sure you give that a try!).
Until the next coin integration, the HYVE team wishes you a great week ahead, with many chances to be a productive freelancer and earn some crypto!

Disclaimer
The information provided does not constitute investment advice, financial advice, trading advice, or any other sort of advice, HYVE does not recommend that any cryptocurrency should be bought, sold, or held by you. When deciding how to invest in cryptocurrency and blockchain technology, please do your own risk assessment. HYVE is not liable for investment gains or losses.
🐝 Want to learn more about HYVE?
🐦 Follow us on Twitter.
🗨️ Join our Telegram Group.
🚀Want to learn more about Raptoreum?
🐦 Follow them on Twitter.
🗨️ Join their Telegram Group.