New token integration: Shine bright like a $VVS!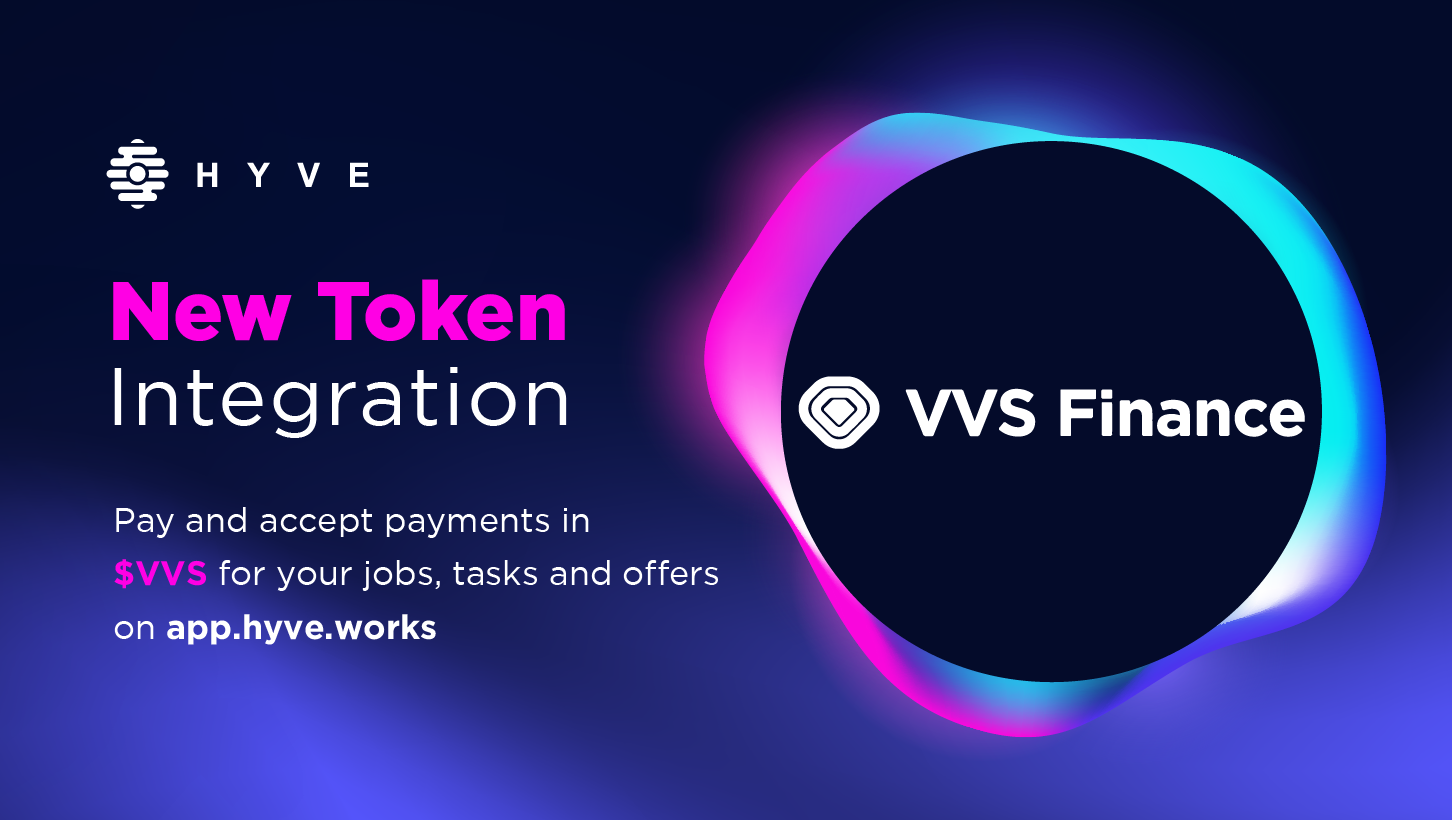 Having a significant number of tokens on our means not only diversifying our payment methods but also helping you discover your gateway to more crypto projects, whether you are a crypto newbie or a seasoned veteran! HYVE is almost approaching 200 tokens, therefore we think we did a good job, ain't it? This week, we are integrating VVS Finance, let's dive into it!
Using these contract addresses you can add the $VVS token to your e-wallet on two different blockchains (Cronos and Ethereum), and then use $VVS to pay for jobs, tasks, or offers on our platform:
$VVS (CRO): 0x2D03bECE6747ADC00E1a131BBA1469C15fD11e03
$VVS (ETH): 0x839e71613f9aA06E5701CF6de63E303616B0DDE3
---
VVS Finance - user-friendly DeFi on the Cronos blockchain
Ladies and gentlemen, or better said - dear crypto-enthusiasts, it's our distinct pleasure to introduce you to a sparkling gem within the decentralized finance landscape —VVS Finance! Standing as a testament to innovation, VVS Finance has the honor of being the pioneering Automated Market Maker (AMM) on the Cronos blockchain.
Launched as the curtains closed on 2021, VVS—abbreviated for "very-very-simple"—embodies a mission critical to our digital age: to usher in an era where cryptocurrency and blockchain are not just buzzwords, but utilities as commonplace and user-friendly as any mainstream technology.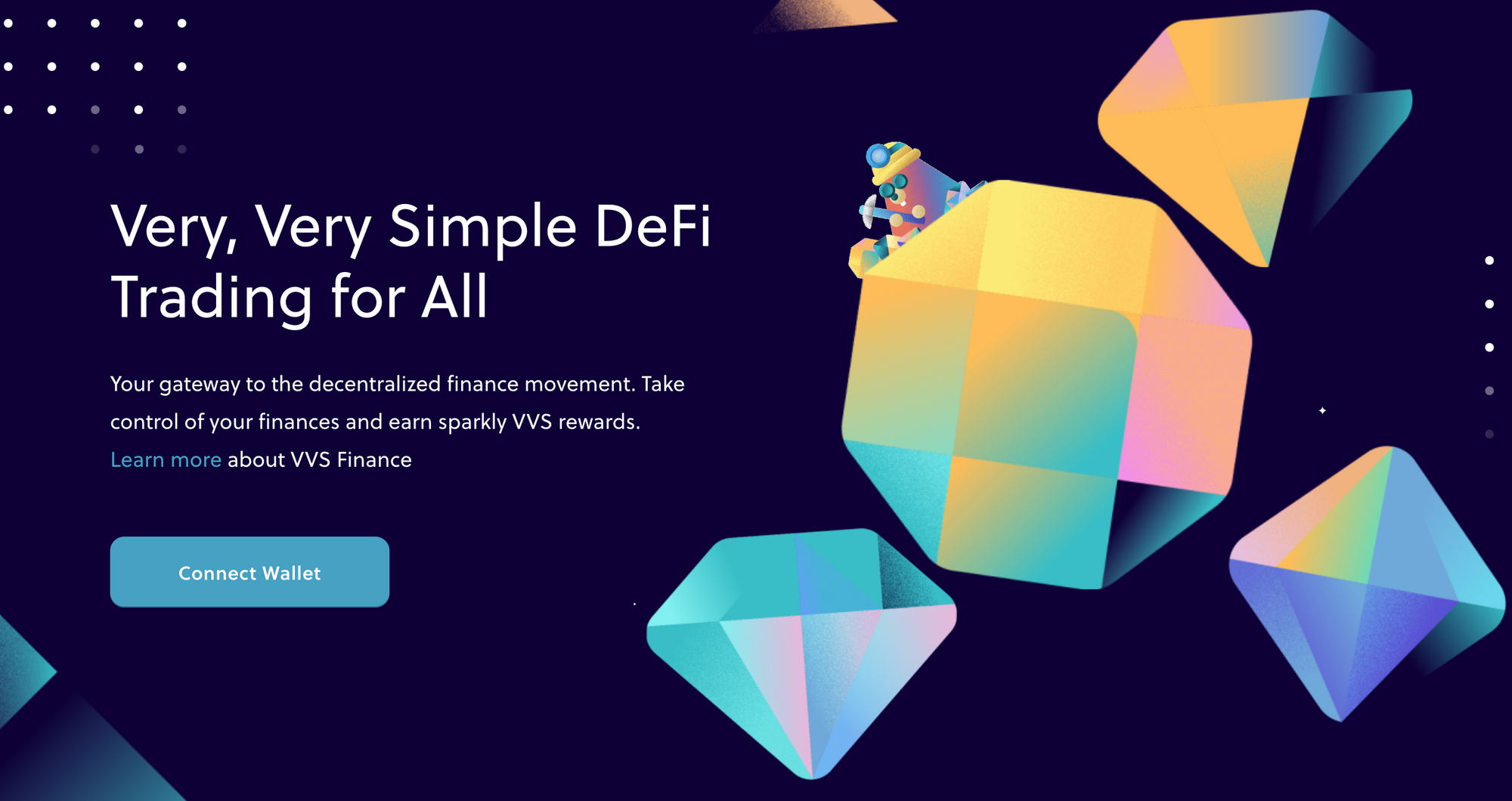 VVS Finance is not just a platform - it's an ecosystem, featuring dazzling products such as Bling Swap, Crystal Farms, and Glitter Mine, all designed to enrich the user experience with low fees and lightning-fast transactions. At the heart of VVS is the spirit of simplicity - empowering users to step into the roles of liquidity providers and $VVS miners through an intuitive decentralized protocol.
Constructed upon the Cronos blockchain—renowned for its minimal fees and swift transaction capabilities—VVS Finance capitalizes on established, audited protocols to ensure a secure and efficient DeFi environment. Its hallmark is an extensive, lucrative incentive structure, anchored by $VVS, the native cryptocurrency of VVS Finance.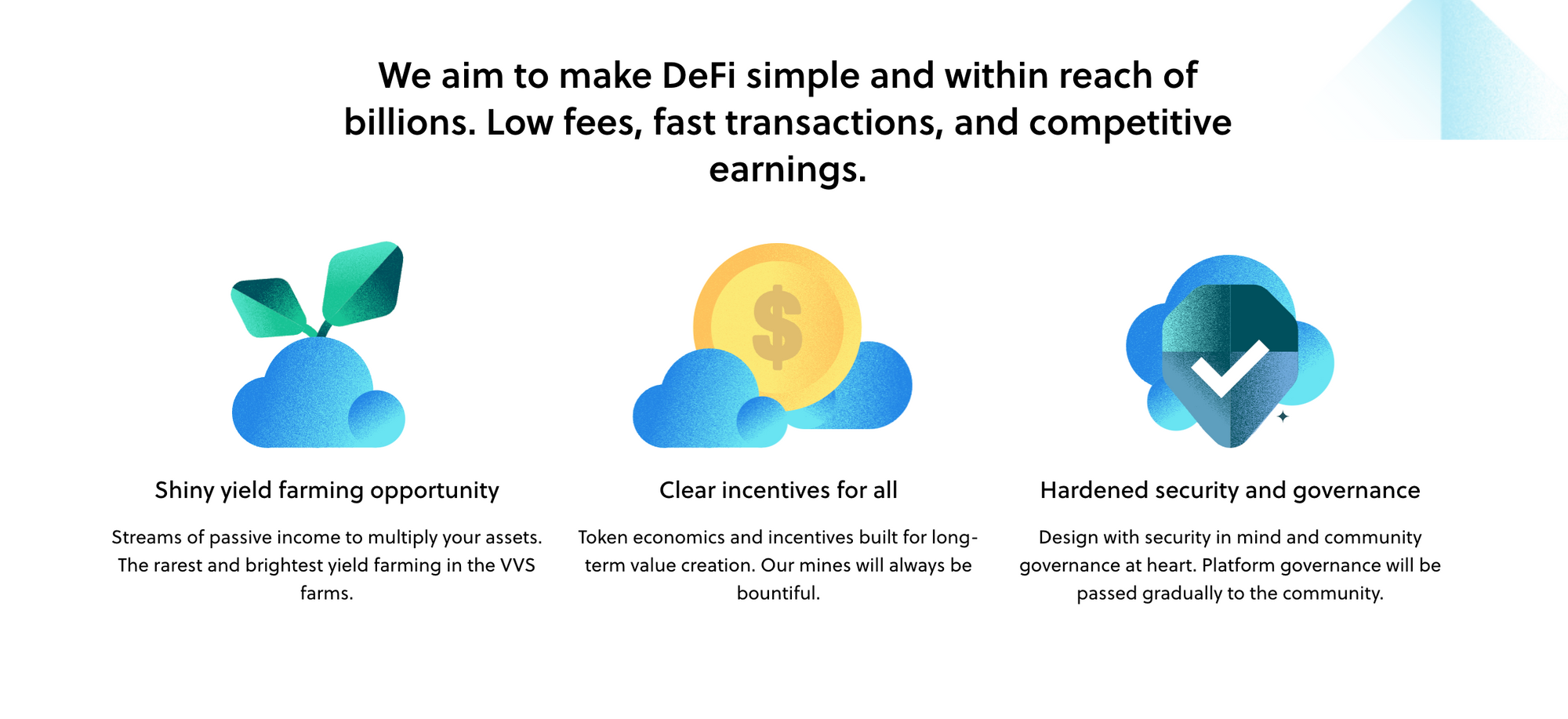 The VVS Finance ecosystem offers multifaceted benefits for various contributors:
Liquidity Providers (LPs) - a generous ⅔ of collected swap fees are redistributed to LPs in the corresponding pools. Moreover, LPs staking eligible tokens on the "Crystal Farm" feature reap additional VVS rewards.
xVVS/VVS Stakers - by staking xVVS/VVS tokens within the "Glitter Mine" area, participants can earn rewards in VVS or partner tokens.
Trading Rewards - active traders engaging with VVS Finance will be eligible for reward programs (with further details pending announcement).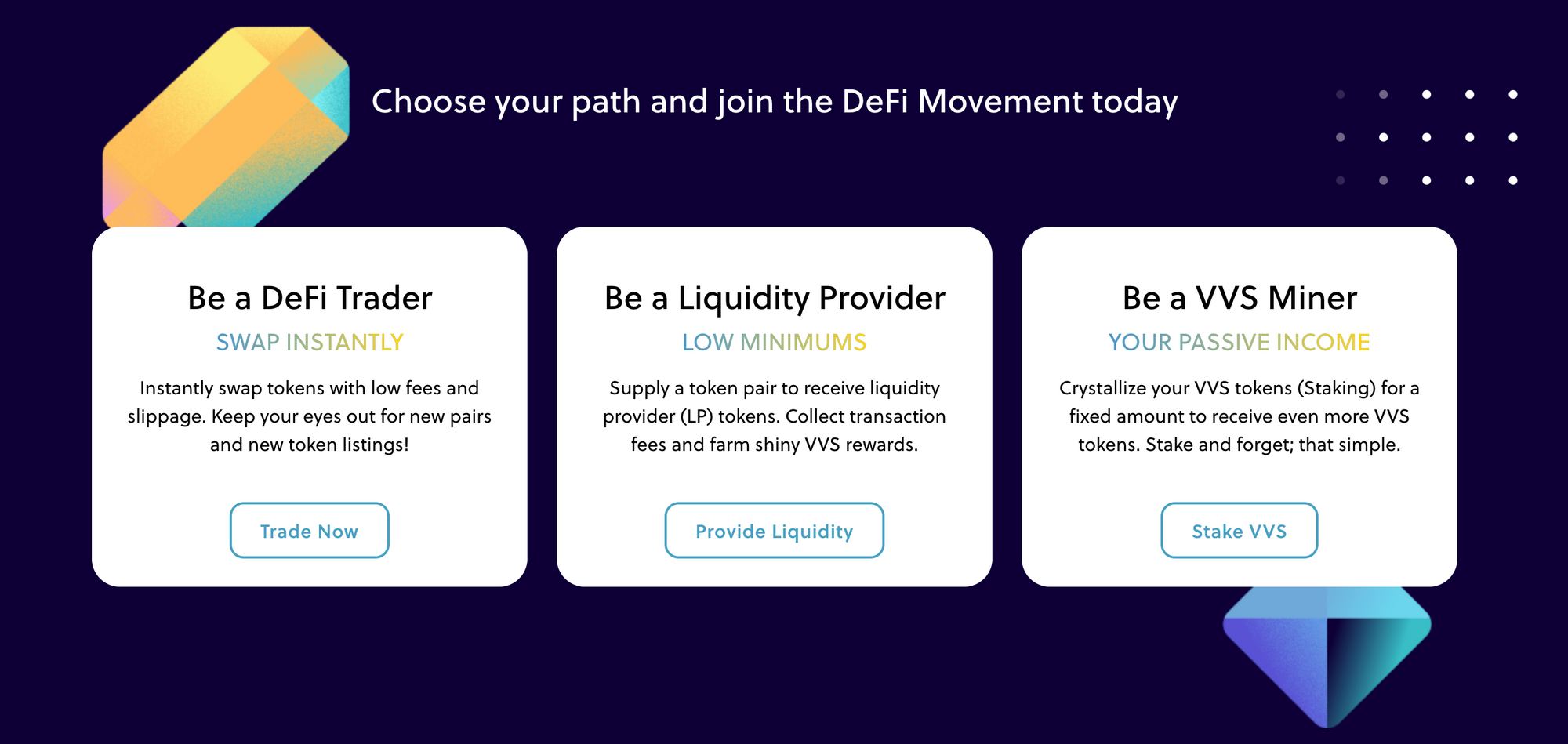 💡
To maintain a steady flow of rewards for its community and contributors, VVS Finance has allocated a substantial reserve of its token supply for future community-driven endeavors!
Interested for more? Join their community!
---
Diving into $VVS...
$VVS, the native token of the VVS Finance protocol, also serves as the platform's utility and reward token, being a Cronos Chain token that was deployed as the CRC-20 technical standard. The main function of $VVS is to incentivize the liquidity provision to the VVS Finance platform.
There are 5 main functions in the protocol:
swap 'til you drop - users can swap between any two supported tokens by paying a swap fee (set at 0.3% at launch). $VVS' own routing algorithm will route the swap across several liquidity pools in order to achieve a better price for the pair requested. It can be disabled via the application's settings page.
analytics page - allowing users to view the pools eligible for $VVS allocation, and the staked amount, earned amount, and APR of each pool (available after Pioneer Farming Mode);
claim everything - this feature allows users to conveniently claim their accrued rewards in a few clicks, by paying gas fees;
let's farm together - users can view the pools eligible for $VVS / partner token rewards, and the staked amount, earned amount, and APR of each farm;
staking - allowing users to conveniently stake $VVS tokens in a few clicks, by paying gas fees; one of the pools is Auto VVS pool which auto-compounds (mechanism in "item e");
VVS has launched Flawless (V3) Liquidity recently which can improve VVS users' capital efficiency and allow them to earn higher LP yields potentially with the same amount of capital.
---
HYVE's curtain call...
As soon as we integrated CRONOS, we started looking for promising projects on this network. Our business development department has been working tirelessly to identify some of the hidden gems and VVS shone brighter than all other projects so far.
HYVE has already accustomed you with numerous partnerships and the roadmap until Christmas can certainly rival an advent calendar. Are you excited about what we have in-store - well drop us a mention on X!