Straight out of uni? Look for a job in crypto!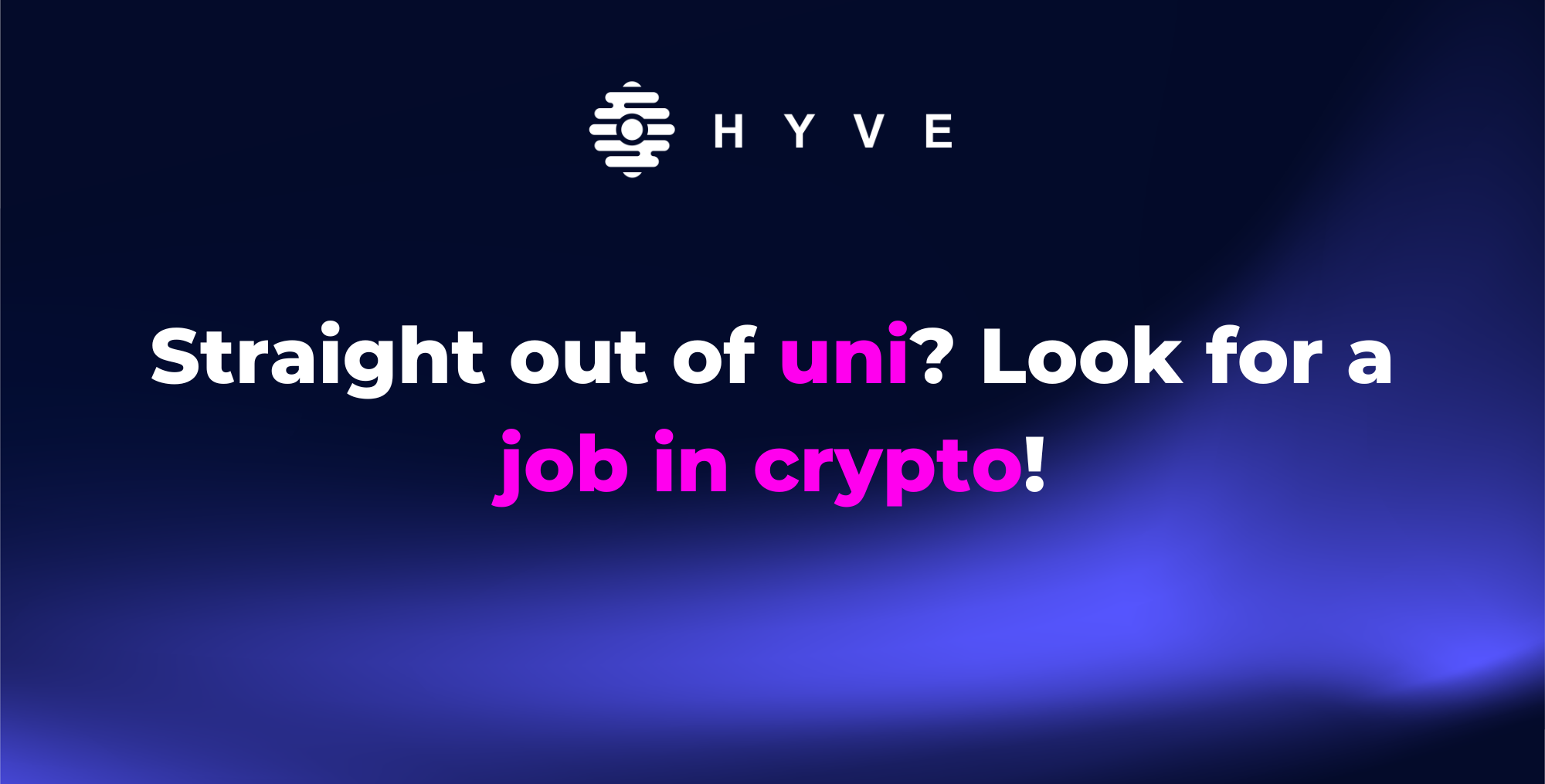 Here's the situation…
You're at university, just finished with exams, coursework, dissertations, and all that fuss. It's summer break, so it's too soon to study for the next semester but you have a lot of free time. Or maybe you've just graduated and haven't made serious plans. You can't commit to a full-time job, as you still want to go on a holiday or two, but the financial hardship faced by students is still very real. Here's the perfect solution: crypto and freelancing or better yet crypto freelancing on HYVE.

The World Economic Forum estimates that since last year there's been a 200% growth in the crypto and blockchain sector. This rapid and immense growth testifies to the fact that crypto and blockchain firms are now in desperate need of smart, hardworking university students for a wide variety of roles.

If you're straight out of university and haven't quite decided on the next steps for your future, then crypto might be the salvation. As an intermediary source of income while you're figuring things out or as a long-term plan that could help you grow your career.

All the reasons why crypto freelancing is perfect for students
Firstly, it offers remote and flexible working. You can choose where you work and when. It could be the beach or it could be your parent's house. You can start your day when it suits you (we know students love their sleep), and take on no more or no less work than you choose. If you freelance you choose how much your time and effort are worth. It's ideal for carrying on with your studies or for devoting all your time to.

Secondly, crypto has above-average salaries. You have complete control over how much you charge and how you get paid with multiple tokens available as options on HYVE. On top of this, you get to make the most of your profits without having to pay immense fees towards the platform. At HYVE there are unmatched micro fees starting at 0.9% and up to 7.9% with the opportunity of a 50% discount if you pay the fee in $HYVE.

Thirdly, it's super quick and simple. Ever found the perfect internship or job but they wouldn't accept you because you lacked experience? Without any job applications, CVs, cover letters, and interviews, you can build a successful reputation on HYVE, by offering your own services on your terms. HYVE knows that no student has the patience to repeatedly apply and wait months for generic feedback from minimum wage jobs so it's cut to the chase, removing any intermediaries.

Lastly, there are some serious long-term career opportunities. It's a fact that everyone will soon break into crypto in order to keep a competitive advantage, some will be slow to convert whilst others are already rushing to grab the best spots. Nonetheless, there won't be an industry left untouched by the benefits of blockchain technology - oil and gas, retail, banks, law, agriculture and so many more. Startups are already heading the game when it comes to crypto, tech firms follow close behind and governments aren't far off either with many seeking experienced advisors to guide them in these uncharted waters.

So if you're worried that you might be wasting your precious time worrying about crypto instead of partying with your college flat mates, then worry no more because it really is the future. In the future, the requirements for crypto experts will be exponentially greater, and getting a head start in the crypto world will definitely pay off.


Now, if you're thinking, why would they hire me? The answer is simple.
University students happen to already possess many of the desired traits that are needed for working crypto. University students retain academic integrity, hard work ethic, intelligence, openness, and awareness of the changing world - they're probably some of the best suited for working in crypto, with fresh perspectives and innovative ideas.

A common misconception is that the only available jobs in crypto are for programmers, AI builders, or software engineers. But this couldn't be further from the truth…There are thousands of new crypto jobs daily for content creators, product managers, marketing reps, and NFT designers to name a few. Therefore, the skills you learn at university are easily transferable to crypto.

For example you've recently done a law degree? Perfect, why not go into the legal sector of crypto. Those who specialize in this right now can reach the top of their game in a significantly shorter period of time than in conventional law firms.

For students with extensive experience writing essays, research papers, and dissertations, being a content writer for blockchain is a piece of cake. Talking about cake, by freelancing you can have your cake and eat it too as HYVE offers independence, freedom, and control over your work.

Not much of a fan of writing? Not to worry, your skill in math, languages, design, programming, and management are needed as well. Endless opportunities await you in crypto. University students with experience or qualifications in seemingly every specialty are needed. We can guarantee that employers are anxious to make use of whatever brilliant skills you possess.

It is not the end of the world if you're not an expert on blockchain or fully understand all its inner workings, we still believe that university students are the way forward to meeting demand, and as they say - you learn best by practicing!


Convinced about students in crypto?
University students and crypto is an unexpected collaboration where both sides win. As mentioned above, the endless opportunities already available are just a fraction of what is to come in crypto. It's the next logical step for evolving the workspace. The pandemic has certainly sped things up with 2021 being the breakout year for crypto.

If you're not yet convinced then have a look on HYVE for current jobs posted by various projects and get a better idea of whether it's the right path for you and exactly what crypto can offer. We will be soon having a campaign that will concern university students so make sure you keep an eye out for all our announcements.

🐝 Want to learn more about HYVE?
🐦 Follow us on Twitter.
🗨️ Join our Telegram Group.