Payments galore: $DINO is our latest guest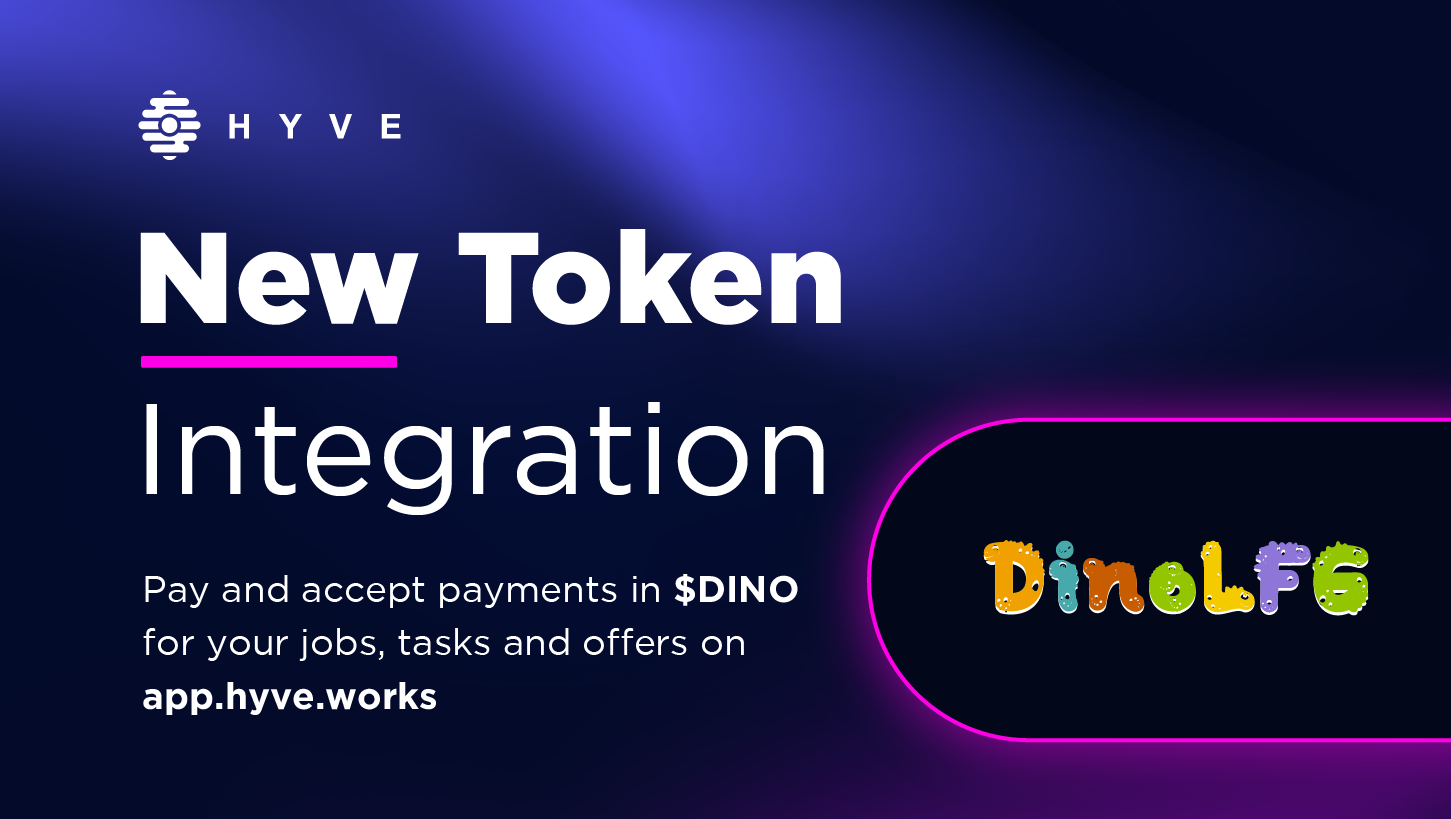 This seems strange, doesn't it - this doesn't sound like your typical token integration article. That's right, we're doing it differently this time - every project we have integrated is unique and deserves its own dedicated presentation, as each provides advantages and innovative utilities to their users.
Did you know?
HYVE is on track to integrate more than 100 tokens across four different blockchains, in order to diversify payment methods for freelancers and enable ultimate freedom.
Today we have a one-of-a-kind memecoin, that aims to enable holders with strong use cases - $DINO! Buckle up, as you're in for a fun ride, but don't forget to add $DINO's contract address in your digital wallets, as you'll now be able to use it for payments on the HYVE platform.
ETH: 0x49642110b712c1fd7261bc074105e9e44676c68f
---
HYVE, why are you integrating memecoins?
ℹ️
Memecoins are tokens that originate from internet memes, and have humorous characteristics but rarely provide any utility whatsoever.
You may ask this question, as we have said in the past that we only integrate tokens that can provide immense utilities to our community, and $DINO is just that!
$DINO is here to fix the main issues with memecoins, thus empowering their holders with very strong use cases and utilities. Unlike your typical memecoin project, DinoLFG is currently building a dedicated and ever-growing community, where users are constantly engaged and educated on any topic within the crypto and blockchain spheres through games and discussions.
Dino regularly gives out tips and tricks for newbie users in the crypto sphere, serving as the perfect and simplest gateway to the blockchain phenomenon.
---
What more can I expect from $DINO?
The $DINO team is looking to build partnerships with established projects and become an established means of payment, for both goods and services. The ultimate goal is to foster adoption of cryptocurrencies at a worldwide level. Whether it's boys or girls, we all had an obsession with dinozaurs when we were little. Well, now it's time to come back! This project aims to bring the ability to pay in cryptocurrency on marketplaces like Amazon or eBay, integrating crypto payment gateways on e-commerce platforms such as Magento or Shopify.
Besides the current partnership with HYVE, where payment is now possible for services provided, $DINO holders can now purchase many real-life items by using their tokens on the Shopping.io platform.
What is more, DinoLFG has outlined a four-phase plan that heavily presents their ambition of becoming more than a memecoin.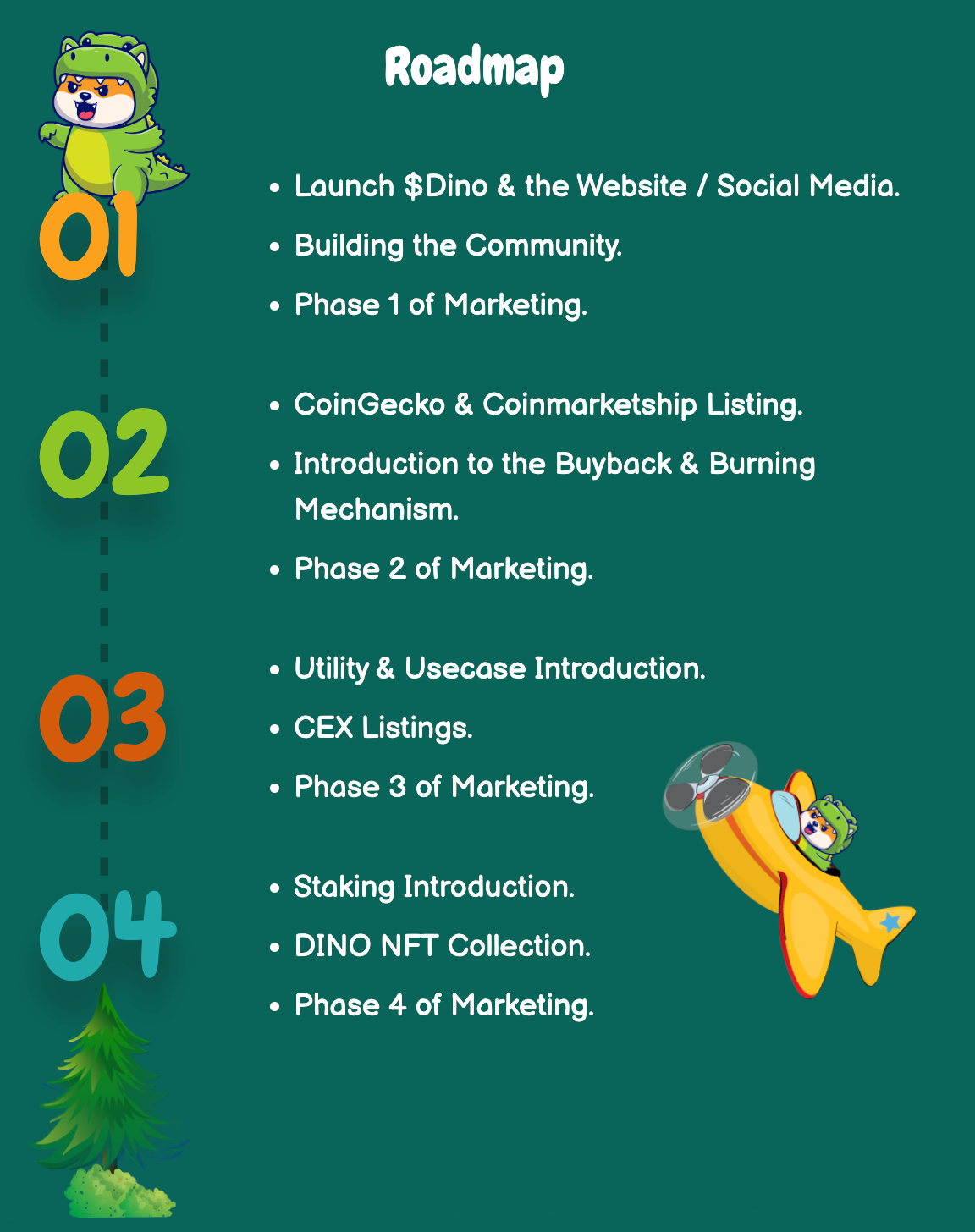 As you can tell, in the upcoming months, $DINO will become more popular, as marketing is one of the project's primary objectives. Traditional social media channels, Telegram communities and Influencers will all play an essential role in promoting the project and ensuring organic community building. Moreover, Dino is also considering launching their NFT collection, which we expect to provide further utilities.
In case you missed it!
HYVE has recently announced the Metalancers - our Genesis NFT Collection. The collection will provide immense collaborative utilities. More details will be provided in Q1 2023, but make sure to sign-up for constant updates.
Holders will be able to stake their $DINO tokens in order to validate the network and earn rewards. However, that will become available at a later date.
More on the $DINO token
The $DINO supply will remain fixed at 333,333,333 tokens, meaning that there is no fear of inflationary tokenomics. There will be no admin keys, nor minting functions and the constant supply will be ensured through a burn/buyback mechanism, introduced in the second phase of development.
$DINO plans to list on a multitude of centralized exchanges so that users can access increased liquidity and trade it for any token they desire.
---
What's next for HYVE
As we have already integrated numerous established projects as payment options, we are now looking at more independent and funkier tokens to add to te HYVE platform. This means that in the near future, you should see even more diversity, if you were not accustomed to that already.  
❗
For 2023 HYVE has lowered fees on the platform. Any payment made in $HYVE will incur a 0% fee, whereas all other tokens will be capped at 2.5% - this includes $DINO as well!
The platform will undergo massive changes in 2023, as Tudor had outlined in our recent roadmap reveal. There will be new features implemented, including a fiat on-ramp, new account types, POAPs as well as an improved UX/UI. If you have any more questions, feel free to drop them in our Telegram channel.
We are also spicing up our Newsletter, so make sure to sign up for it using the link on Twitter. The new format is reflective of what we want to achieve in 2023, while also engaging in a better manner with our community. See y'all on Friday for our Newsletter!
Disclaimer
The information provided does not constitute investment advice, financial advice, trading advice, or any other sort of advice. Please do your own risk assessment when deciding how to invest in cryptocurrency and blockchain technology. HYVE is not liable for investment gains or losses.