New Token Integration: $POLC integrated on HYVE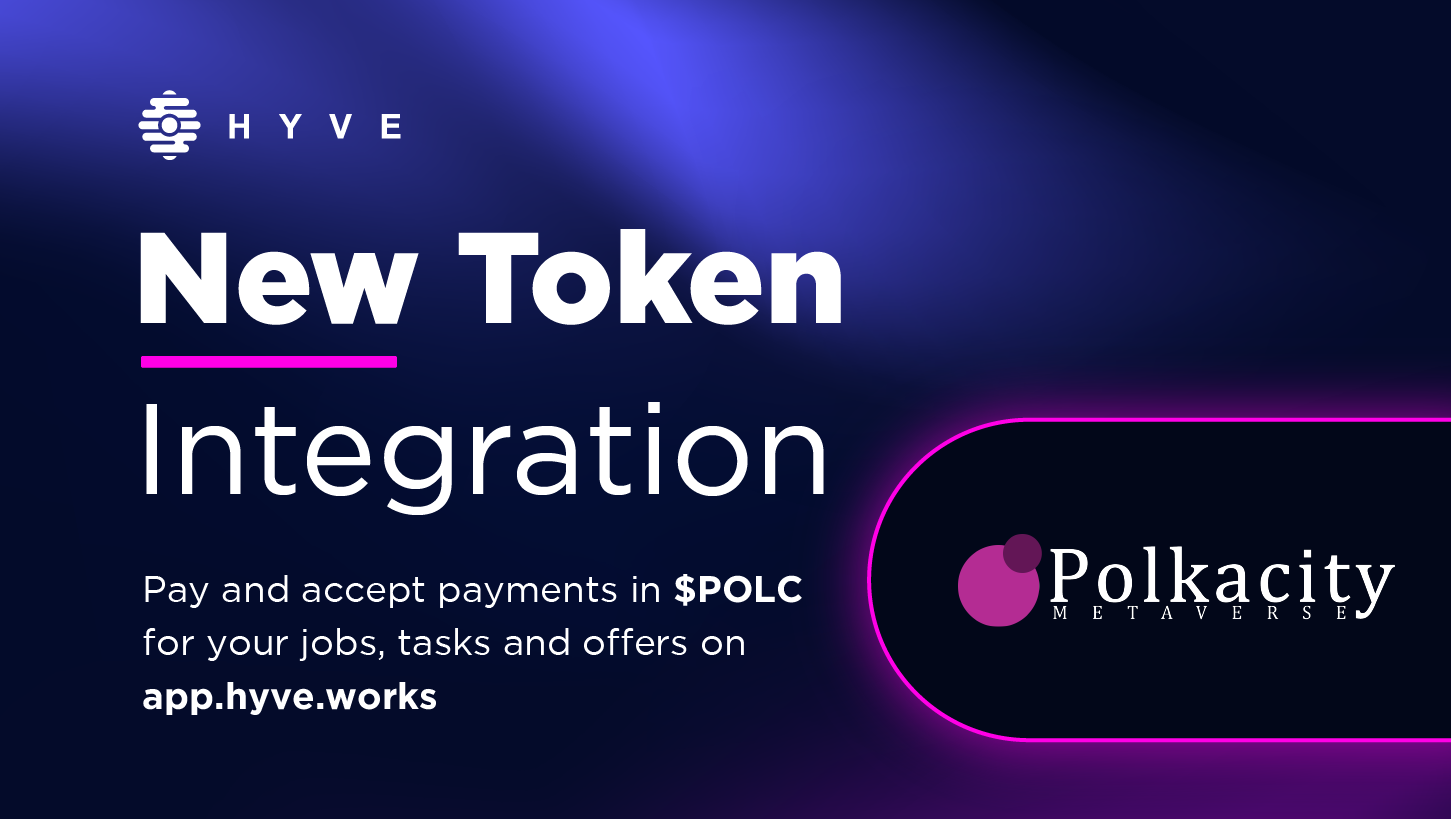 New week, new token integration, this week HYVE is proud to announce that another great project will see its tokens integrated on the HYVE platform. HYVE's history with PolkaCity dates all the way back to 2021 when we initiated a partnership, evidently, it seems only logical that the next step forward is to consolidate this even further and have PolkaCity's $POLC available for payment of tasks, jobs, and offers. It's been a long time coming, therefore here is some information about both the project and the token so our community can better grasp the benefits of HYVE functionalities.

Everything you need to know about PolkaCity…

PolkaCity marvelously combines the best of all worlds by having NFT, DeFi and gaming, in one! The unique fully contract-based Metaverse project revolutionizes what ownership of virtual assets entails, it integrates 3D and AR and becomes an NFT Multi Chain Platform with video gaming.
PolkaCity provides a flourishing ecosystem where users are incentivized to invest their capital to earn passive income as it constantly maintains an interesting virtual investing experience.

What is $POLC you may ask?
$POLC is the native token of PolkaCity's platform, it is mainly used to pay for goods and services. For example, users can purchase a wide range of assets in the virtual city and subsequently earn interest on their assets, such as virtual taxis and cars, power stations both electric and petrol as well as other car-related service stations like car washes, rentals and repairs, there are also hotels, restaurants, shopping centers and discos, among other leisure-related establishments.
Don't forget that among these essential services there are also a range of unique HYVE branded assets to buy in PolkaCity such as billboards, buildings, and the famous HYVE branded supercar. One of these assets is also an HYVE-themed building where people could freelance in the metaverse. Undoubtedly the metaverse will impact all our interactions, revolutionizing the way we work and collaborate. For this reason, HYVE wants to be at the forefront of any new technology adopted, so that people are able to easily provide their skills and services both in real life and in the metaverse.
HYVE's intentions of increasing exposure and developing a fully integrated ecosystem and not just a decentralized platform are clearly evidenced through this extension of our partnership with PolkaCity. On the Ethereum and BNB chains, you will find that the $POLC token is BEP-20 and ERC-20 compatible, which is why HYVE will integrate it on both.
Here are the respective addresses for $POLC:
BNB Smart Chain:  0x6ae9701b9c423f40d54556c9a443409d79ce170a
ETH: 0xaA8330FB2B4D5D07ABFE7A72262752a8505C6B37
Looking forward…
To summarize what's next; we are looking forward to a new blockchain integration at HYVE so keep your eyes peeled for an upcoming announcement! Moreover, we're getting closer and closer to revealing our big surprise, we know that we've been teasing and building up suspense around it but it will all be worth it in the end!
HYVE's dedication to its community can always be reiterated by the unmatched micro fees that we offer, starting at 0.9% and up to 7.9% with the endless opportunity of a 50% discount if you pay the fee in HYVE.
We're always excited to hear from our community so check out our Twitter page where you can leave comments and suggestions!
Disclaimer
The information provided does not constitute investment advice, financial advice, trading advice, or any other sort of advice, HYVE does not recommend that any cryptocurrency should be bought, sold, or held by you. Please do your own risk assessment when deciding how to invest in cryptocurrency and blockchain technology. HYVE is not liable for investment gains or losses.

🐝 Want to learn more about HYVE?
🐦 Follow us on Twitter.
🗨️ Join our Telegram Group.
🏦Want to learn more about PolkaCity?
🐦 Follow them on Twitter.
🗨️ Join their Telegram Group.