HYVE is partnering up with Polygon!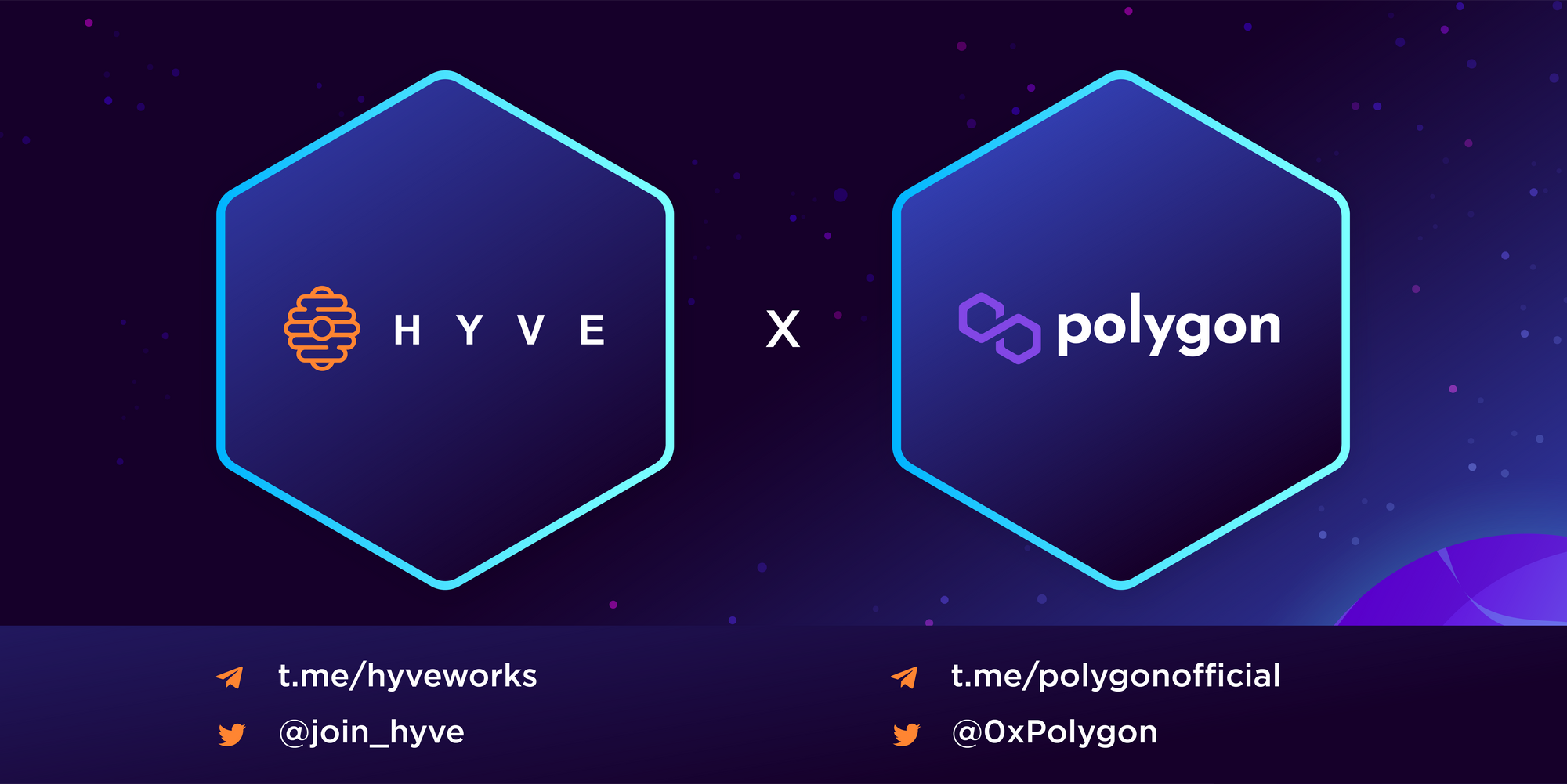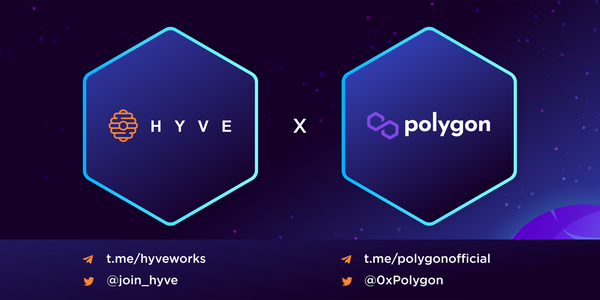 We are right around the corner of our mainnet launch and before that, we have an important announcement to make! This is only the first in a long series of partnerships, getting new people on board and a lot more exciting updates we have in store until the end of 2021.
We are always thinking about new ways to grow the ecosystem and what better way to do that than by integrating multiple chains into the platform to appeal to a larger audience.
Now, a lot of people have raised the issue of high gas fees on Ethereum, which is a very valid point. However, Ethereum is still the largest and most widely adopted blockchain as of right now. So how do you choose between different blockchains? Well, we figured we don't have to.
So HYVE will be launching from Day 1 on both the Polygon and Ethereum!
What is Polygon?
Polygon is the first well-structured, easy-to-use platform for Ethereum scaling and infrastructure development.
Issues such as poor user experience and high gas fees have encouraged innovators, like those behind Polygon, to come up with alternative technologies. The ecosystem was originally launched under the name 'Matic Network', back in 2017.
And so far, Polygon has shown incredible success in solving the blockchain scalability issues, with fees ranging from less than a cent to a couple of cents, when compared to dozens of dollars on Ethereum.
Polygon is EVM compatible which allows us to run solidity code on the Polygon chain, making it easy to port code over. Furthermore, Polygon has an easy-to-use bridge for anyone who wants to transfer assets from one chain to the other.
Polygon & HYVE
Users will be able to post jobs, tasks, competitions, and offers directly on the Polygon chain, using native Polygon assets, in addition to them being able to do the same on Ethereum.
As a result, HYVE will be the first freelancing platform built on the Polygon chain.
The Polygon tasks and jobs will enjoy all the same capabilities as those on Ethereum, with perhaps some slight differences, such as Kleros, since as of right now Kleros does not exist on Polygon. But it's an incredible start and we see our collaboration with Polygon flourishing over the next couple of years as both ecosystems become more robust.
Why Polygon?
On one hand, we chose Polygon because their developer support is on-point, and having been in direct contact with the Polygon team has helped us a lot in speeding things up. On the other hand, leaving EVM compatibility aside, Polygon has a flourishing userbase that we think would benefit greatly from having access to a place where they can do business with one another.
Polygon continues its incredible run of active user growth. Polygon DAU has multiplied ~18x, heading to an astonishing 157,000+ users.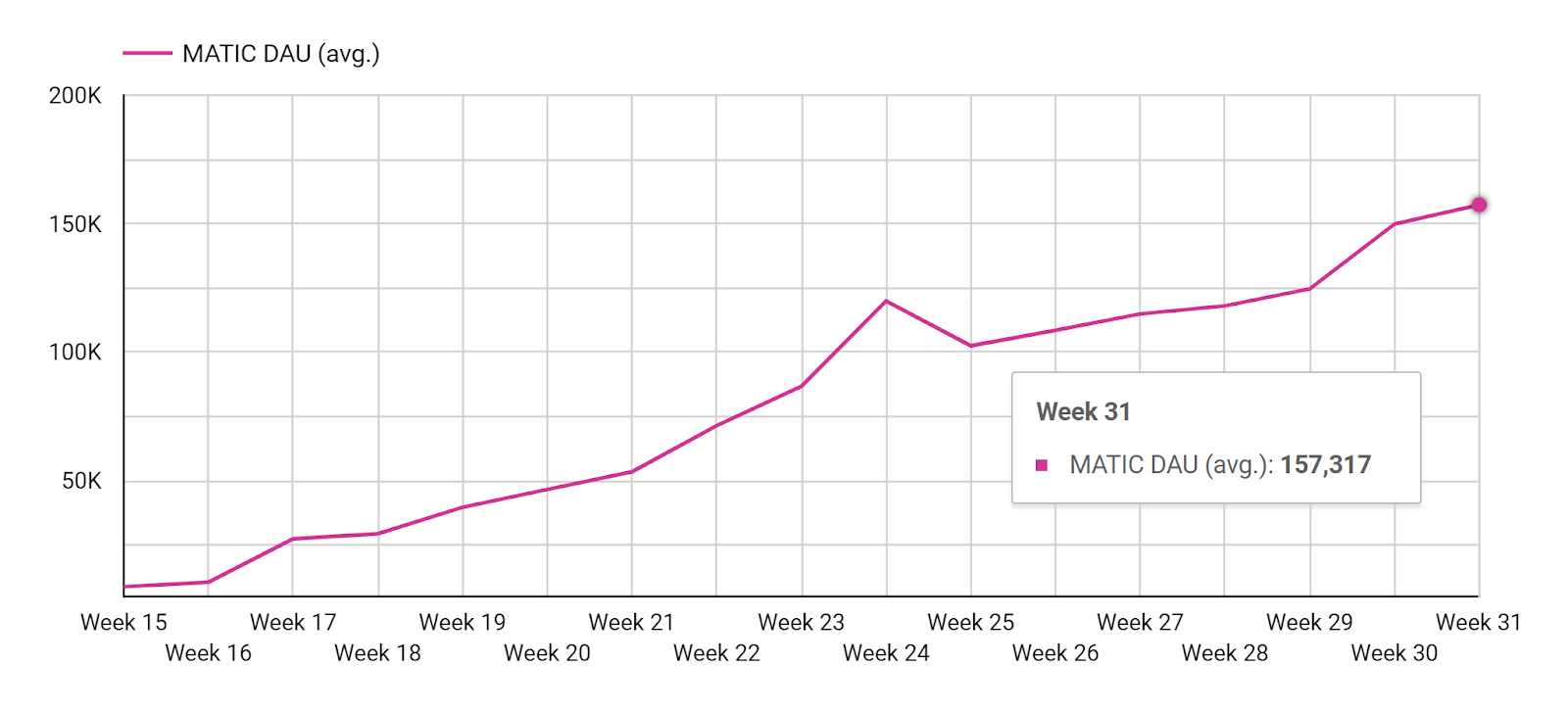 What's Next?
Polygon is only the first chain HYVE will be integrating. We are already in discussion with and working on implementing an additional 3 chains. So after the mainnet release, we will continue to work on adding new chains.
🐝 Want to learn more about HYVE?
🐦 Follow us on Twitter.
🗨️ Join our Telegram Group.
📢 Join our Announcement Channel.
💡 Join our Discord.
✅ Follow us on Instagram.
👍 Like us on Facebook.
💡 Visit our Website.
Want to learn more about Polygon?
🐦 Follow them on Twitter.
🗨️ Join their Telegram Group.
💡  Visit their Website.