Pundi X and Function X are hiring on HYVE!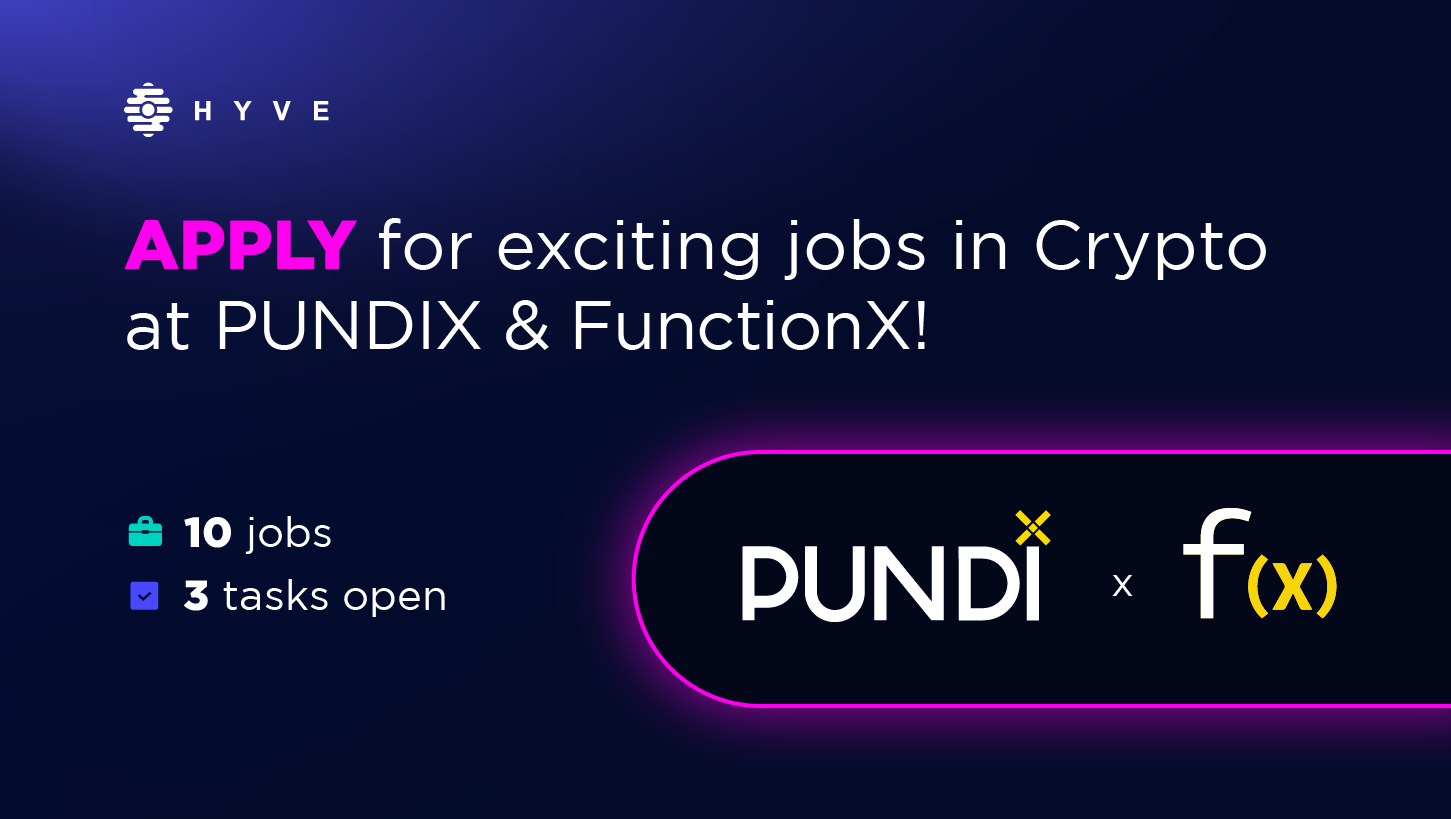 As you may already know, the new HYVE platform is now live, meaning there are tons of new improvements to explore. We've undergone a massive rebranding that's been in the works for months, HYVE's freshly reshuffled ecosystem invites users into an intuition-led experience, and brings with it: a website redesign, new infrastructure improvements, a functional mobile platform, more blockchain integrations and token additions, as well as the HYVE Bazaar, the marketplace for creatives.

As a result, the utility of the HYVE platform for hiring has become ever more evident and a reason for the increasing number of projects making the most of it, Radar, Ferrum and Re-source being among the first few to post and fill jobs in the crypto space using HYVE. More recently, our long-term partner PundiX, is joining the trend and will also be listing positions to be filled on HYVE, so if you're eager to earn crypto and work in a growing blockchain environment, keep an eye out for these posts!
What are Pundi X and Function X looking for?
PundiX and Function X are interested in finding the perfect match for the following positions, within the following areas:

Marketing:
Digital and social media marketing manager
Digital and social media intern
Social media data analyst
Devs and Engineering:
Blockchain developer
Mobile developer
Smart contract developer
Senior trading system engineer
Security engineer
Other:
Vietnamese content translator
Wikipedia content creator
Financial architect/ trader
Why you should pick a career in blockchain
There are many benefits of a job In crypto, besides the fact that it is a fast growing sector, there is tremendously high demand for blockchain professionals, with over 67,000 job vacancies on LinkedIn alone. This results in competitive pay and a better grasp of rewards for your worth and value. By working in the crypto and blockchain space, you can profit from the flexible schedules, custom environments, and entirely remote options which means forgoing the crowds, traffic and simultaneously saving money. It has been linked to a boost in efficiency and productivity in the workplace, allowing you to have more free time. Overall, it represents the future, and you should get ahead now in a fast growing sector which has unfathomable potential to be fulfilled.

Our long-standing partnership with PundiX, dates back to our earliest days. In the meantime, we have since integrated two tokens from PundiX, respectively $PUNDIX and $FX on ETH which you can use to pay or get paid for tasks, jobs, and offers on the HYVE platform. Now we are looking forward to having $HYVE on their native XPOS system, its blockchain-based point-of-sale (POS) solutions which allows cryptocurrencies to be used as a payment method - 'as easy as buying a bottle of water'!

HYVE <> Pundi X and Function X - future developments
PundiX is a pro at bridging the gap of real-life implementation that cryptocurrency often lacks, its main goal is to "allow crypto for the masses",  as easy as buying a bottle of water at a shop, an ambitious but equally promising and achievable goal that HYVE also has in sight.

If you've missed our previous articles about PundiX, all you need to know now is that it is the most versatile payment ecosystem of its kind, enabling the use of digital currencies anytime, anywhere. Pundi X project was created in the hope of decreasing the difficulty and complexity surrounding cryptocurrencies for something other than trading, it is open-source and has public and open specifications, utilizing a mobile contactless point-of-sale terminal called the XPOS to enable the use of cryptocurrency in retail. Merchants can connect to POS terminals and enable crypto-based payments through the Pundi X Platform which acts like an integration panel. The XPOS is already available in over 30 global markets, reiterating the fact that cryptocurrencies are the future, and starting to work in this field now is an intelligent maneuver.

In the coming months, Pundi X and Function X will also be launching their EVM Mainnet, meaning that HYVE will proceed to integrate the Function X blockchain as soon as it is available! The Function X platform has a cross-chain architecture that is said to be based on pBFT as well as PoS. Function X itself is composed of: a core blockchain, a cross-chain protocol, and a platform for decentralized applications.

As always, HYVE will not stop surprising you, HYVE app 2.0, is our latest achievement, but more surprises are on the way with us actively looking at branching out into digital art in the close future. It is needless to say that more partnerships, token integrations and new developments are to come, stay tuned for all of these and check out the new job posts from PundiX, maybe you will be the one to fill one of the positions!

🐝 Want to learn more about HYVE?
🐦 Follow us on Twitter.
🗨️ Join our Telegram Group.
📢 Join our Announcement Channel.
💡 Join our Discord.
✅ Follow us on Instagram.
👍 Like us on Facebook.
💡 Visit our Website.

Want to learn more about PUNDIX?
🐦 Follow them on Twitter.
🗨️ Join their Telegram Group.
📢 Join their Announcement Channel.
💡 Join their Discord.
✅ Follow them on Instagram.
👍 Like them on Facebook.
💡 Visit their Website.

Want to learn more about FUNCTION X?
🐦 Follow them on Twitter.
🗨️ Join their Telegram Group.
📢 Join their Announcement Channel.
💡 Join their Discord.
✅ Follow them on Instagram.
👍 Like them on Facebook.
💡 Visit their Website.