RadioShack: New token integrations and partnership on HYVE!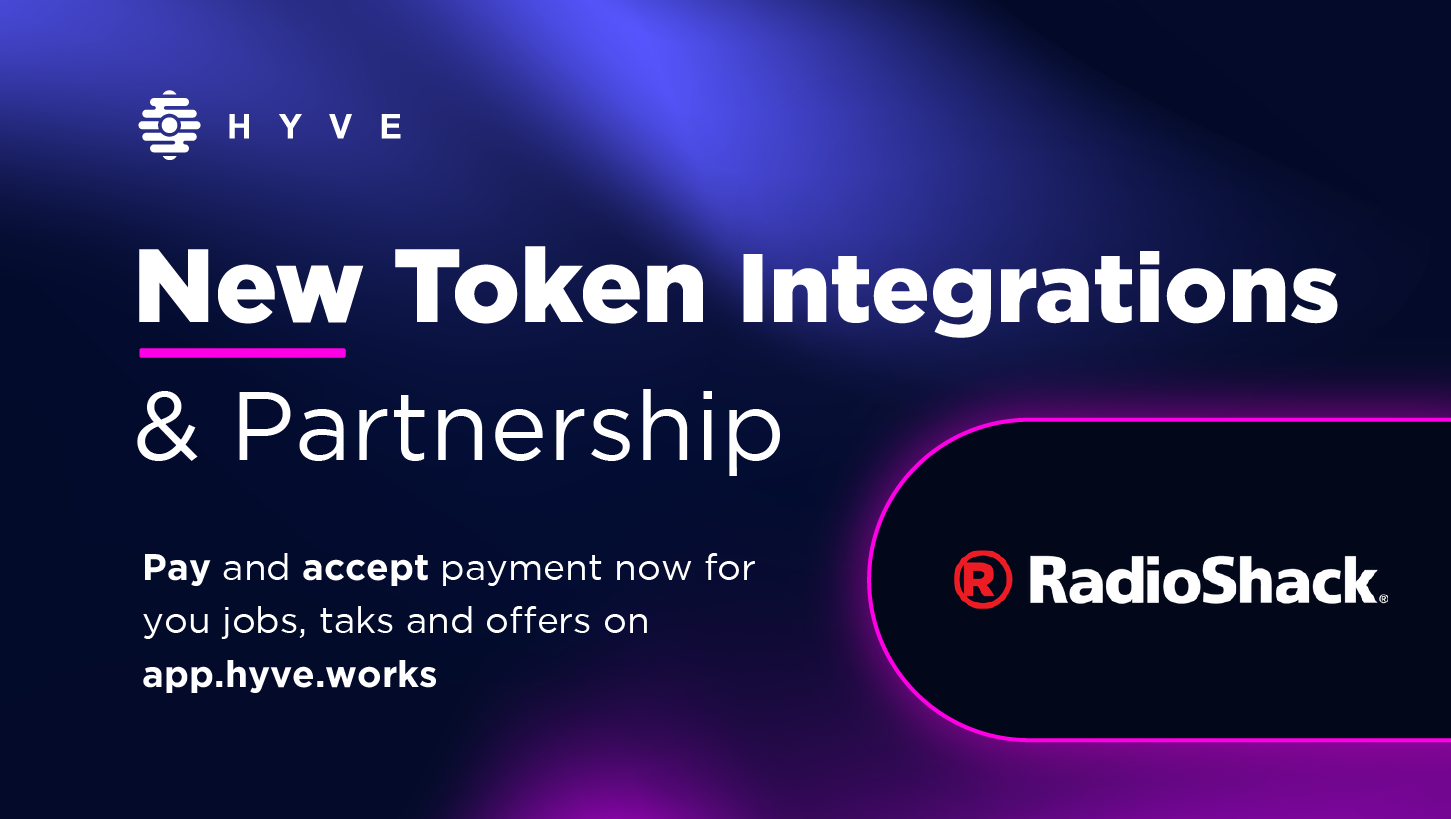 We know we've been quiet with the token integrations this past week, so here's something extra to make up for the lost time! This week HYVE has two exciting announcements regarding our newest partner - RadioShack.
Firstly, HYVE will be integrating all 5 of their related tokens $RADIO, $SHACK, $BUILD, $USDS and $iUSDS - on Polygon, BNB Smart Chain and Ethereum Mainnet.
The second announcement is that HYVE and RadioShack partnership will go much further than this, with $HYVE being listed on the RadioShack Swap meaning that holders can exchange $SHACK for $HYVE in their pool!
Isn't this exciting?!!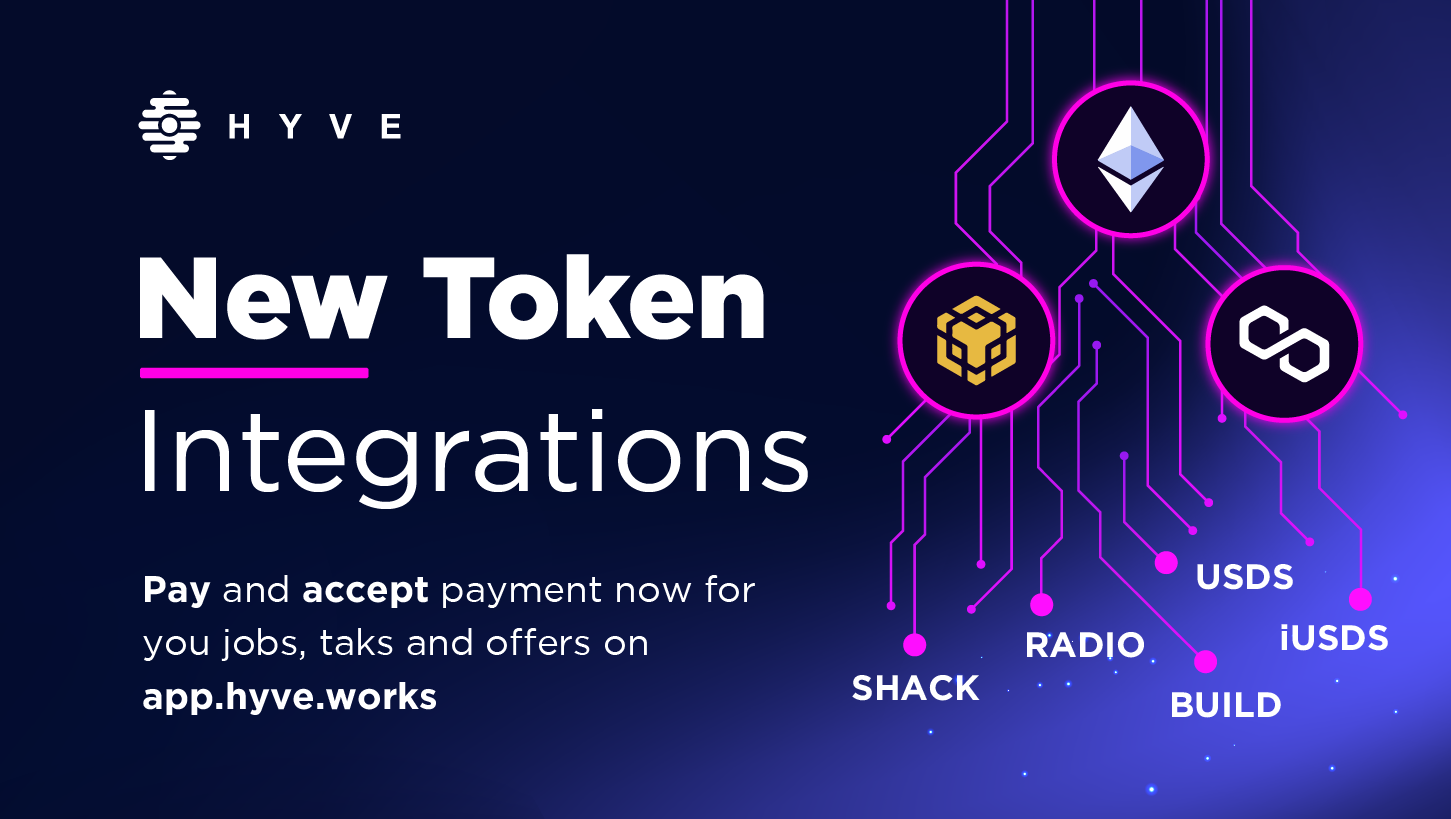 Here's all about RadioShack…

The crypto project that has made headlines in the past year with its daring tweets, that took the world by surprise. From selling tech to being the leader and catalyst in crypto transitions for normal businesses.

Its end goal? To be the first protocol to bridge the gap to mainstream usage of blockchain and cryptocurrencies, of course!
Its move to crypto was ever so unexpected but we must say HYVE is very glad they did take the leap. Having completely revived the 100-year-old electronics store, from electronic goods to selling cryptocurrencies. All those 80's babies must be shocked, but the same cannot be said for Gen-Z who probably never caught the old RadioShack hype and are only familiar with its latest endeavors.
Between the limelight for its edgy posts on Twitter and creating a way for users to more easily move in and out of different tokens, it's definitely caught the eye of a lot of people, and for good reason! Let's just say that they certainly know how to make a comeback…especially on Twitter.
The ingenious platform is exactly what was needed to include older generations into the modern notion of crypto, by leveraging its well-established brand that is already embedded into the global consciousness, it succeeds in closing the generational gap between the average crypto user and the average business decision maker. This in itself is nothing less than a huge challenge.
RadioShacks awareness that crypto will only ever reach mass adoption if all people of all ages are included is different from many other projects who seem to focus solely on tailoring to the younger demographic.
Hopefully, we will soon see many other large brands following in their footsteps and striving for the mainstream adoption of blockchain tech.
RadioShacks decentralized crypto exchange platform that allows users to swap tokens, offers increased flexibility and much lower transaction fees compared to trading, making it more accessible to the general public that aren't crypto nomads.
Besides continuing to sell some electronics, it embraces digital currencies by adding storage wallets and crypto merchandise from artists, fully diversifying in web3 offerings.  
The finer details…
What really sets RadioShack apart is its ability to significantly reduce the diameter of the graph of swappable tokens, and increase liquidity per pair. It does this through its Starfish Topology: a pairing of a single large node with all swappable pairs. It manages to fix the notorious problems surrounding liquidity, pairing new tokens with $RADIO to provide liquidity without having to spend any money on collateral.
The competitive advantages include more efferent swaps and rational, structured liquidity pools, massively improved TVL-utilization and instant and deep liquidity service as mentioned above.
Have you missed having new tokens to pay with on HYVE?
We already know you have so we've got 5 new payment options for tasks, jobs, and offers that you can use on the HYVE platform.  If you're already impressed by the 80s turned post-pandemic wonder you can add the following addresses to your wallets:
Polygon
$RADIO: 0x613a489785C95afEB3b404CC41565cCff107B6E0
$SHACK: 0x6E65Ae5572DF196FAe40Be2545Ebc2A9A24eAcE9
$BUILD: 0xe94845Ac6782A2E71C407ABe4D5201445C26a62B
$USDS: 0x2f1b1662A895C6Ba01a99DcAf56778E7d77e5609
$iUSDS: 0x66F31345Cb9477B427A1036D43f923a557C432A4


Binance Smart Chain
$RADIO: 0x30807D3b851A31d62415B8bb7Af7dCa59390434a
$SHACK: 0xe79a1163a95734ccFBd006cBAaba954f3e846BeB
$BUILD: 0x83b27De2Fca046FA63a11C7Ce7743DE33Ec58822
$USDS: 0xDE7d1CE109236b12809C45b23D22f30DbA0eF424
$iUSDS: 0x6458df5d764284346c19D88A104Fd3D692471499

Ethereum Mainnet
$RADIO: 0x7a5d3A9Dcd33cb8D527f7b5F96EB4Fef43d55636
$SHACK: 0x5f018e73C185aB23647c82bD039e762813877f0e
$BUILD: 0x57b59f981730c6257dF57cF6F0D98283749A9Eeb
$USDS: 0x45fDb1b92a649fb6A64Ef1511D3Ba5Bf60044838
$iUSDS: 0xF9C2B386FF5Df088AC717ab0010587bad3bC1ab1
A little bit from HYVE…
Whoever said 80's hits would never make a return? It looks like they just have, RadioShack is back and better than ever! Their brand recognition in 190 countries will certainly help the cause; distribution and usage by millions of individuals. So in this sense, the mission of mass adoption is similar to HYVE's.
If you've forgotten what that is, let us remind you. HYVE is on a mission to create an ecosystem that will embody a perfectly decentralized environment for freelancers and enterprises to collaborate without intermediation, ultimately leading to more jobs being done, as companies will have access to a larger pool of talented freelancers, which will contribute to growth. You may have heard that HYVE is now on ProductHunt, so we look forward to interacting with you there. Feel free to vote, ask questions, and give us feedback.

Lastly, we know that we've been teasing you for a while with a big digital art surprise and we promise that it will be revealed in due course! The suspense just makes it all more interesting…

Thank you HYVERS for your continuous support!
🐝 Want to learn more about HYVE?
🐦 Follow us on Twitter.
🗨️ Join our Telegram Group.
🏦Want to learn more about RadioShack?
🐦 Follow them on Twitter.
🗨️ Join their Telegram Group.

Disclaimer
The information provided does not constitute investment advice, financial advice, trading advice, or any other sort of advice, HYVE does not recommend that any cryptocurrency should be bought, sold, or held by you. Please do your own risk assessment when deciding how to invest in cryptocurrency and blockchain technology. HYVE is not liable for investment gains or losses.