New Token Integrations: $SPELL & $MIM integrated on HYVE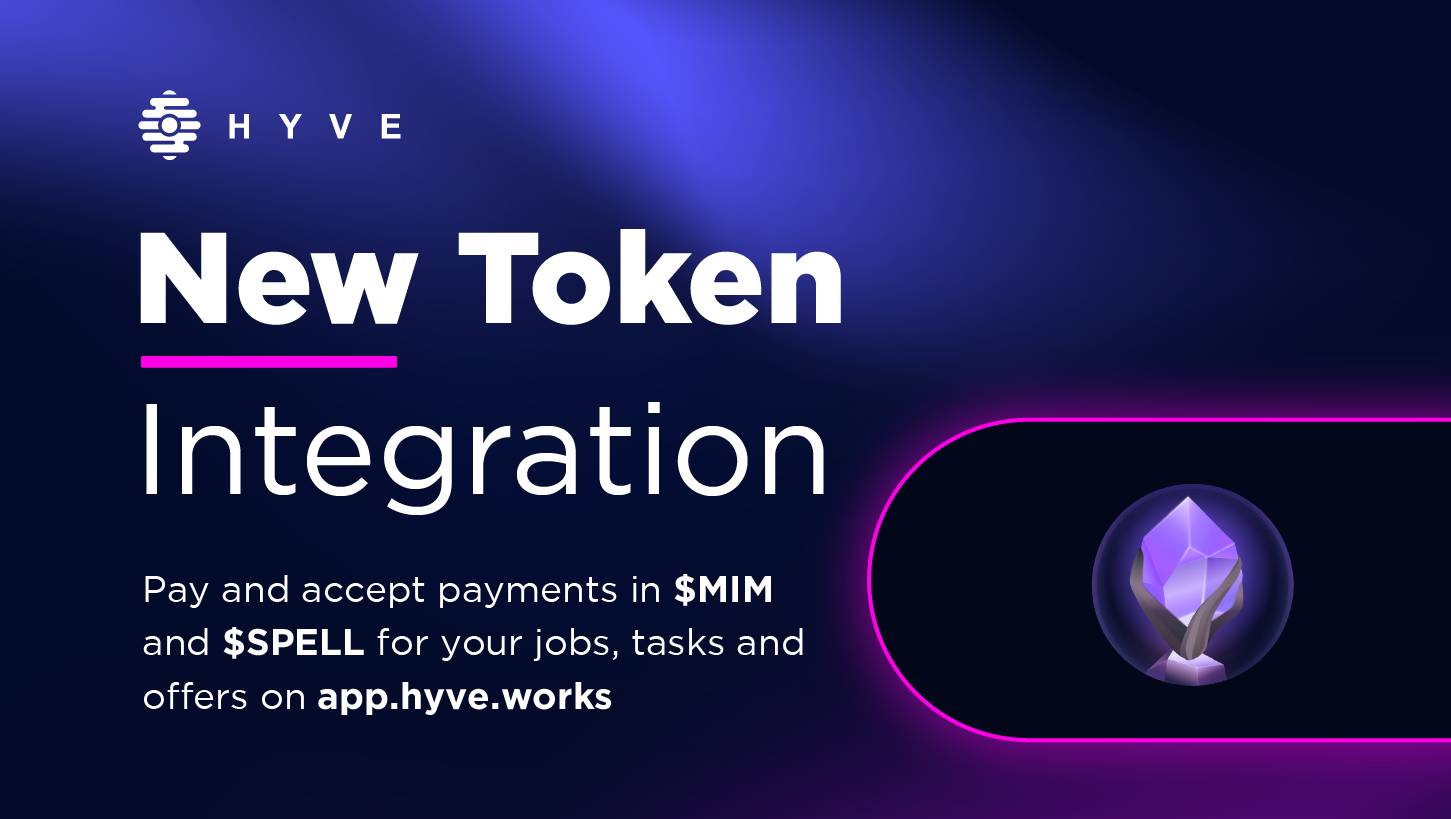 HYVE is back with yet two more tokens available as payment options on the platform. The respective tokens are $SPELL and $MIM from Abracadabra.money, we will delve into the details of each token and into the overall project further down.

This marks another step toward achieving the complete diversification of our payment options, further adoption, and towards creating a universal platform for freelancers.
HYVE aims to create an ecosystem that will perfectly embody a decentralized environment for freelancers and enterprises to collaborate without intermediation.

With freelancing increasing in popularity day by day, the requirement for a platform with the ability to facilitate relationships between employers and freelancers also grows.

All about Abracadabra.money

In short, Abracadabra is a decentralized lending platform. It provides users with a convenient solution for accessing cash without selling their assets, it lets users put up collateral in exchange for $MIM. Abracadabra stands out from other similar platforms because it accepts interest-bearing tokens, which are a type of liquidity provider token, therefore investors have liquid assets. On Abracadabra Money, users can leverage their funds to the next threshold at minimum risk, opening various additional models and possibilities.

It is truly an innovation on lending platforms, promising transparency, security, and user-friendly lending and borrowing services, all using the power of blockchain technology!  Abracadabra's isolated lending market allows users to adjust collateral ratios more freely than any other traditional lending market. Users also have maximum control over their loans with the ability to choose the loan duration, collateral requirements, and interest rate to best suit them. On top of this, Abracadabra has a risk management system put in place to ensure that lenders are protected from defaulting borrowers. What more could you wish for?
Everything you need to know about $SPELL & $MIM

$SPELL is Abracadabra's native token, which is based on Ethereum, it mainly works as a governance token, meaning that token holders have voting rights on decisions regarding the project. The more $SPELL tokens you have, the more weight your vote has, it's as simple as that, in parallel terms, $SPELL holders are stakeholders in some sense. It is also used for fees earned from the protocol. There are also yield farming options on Abracadabra where $SPELL can be farmed, for example, by providing liquidity in one of the pools, it can also be staked, and subsequently, users accrue a share of the platform fees, which is auto-compound. $SPELL is a reward coin and therefore not a stablecoin, however, $MIM is a USD-pegged stablecoin backed by interest bearing tokens. On Abracadabra, users can deposit collateral and borrow $MIM against it. $MIM, short for Magic Internet Money, is a leading decentralized and collateral-backed stablecoin, it is also a multi-chain token. $MIM is the core component that sustains Abracadabra's money lending model.
The addresses for $SPELL.

ETH:0x090185f2135308BaD17527004364eBcC2D37e5F6
BSC:0x9Fe28D11ce29E340B7124C493F59607cbAB9ce48
FANTOM:0x468003b688943977e6130f4f68f23aad939a1040


The addresses For $MIM.

ETH: 0x99D8a9C45b2ecA8864373A26D1459e3Dff1e17F3
BSC:0x99D8a9C45b2ecA8864373A26D1459e3Dff1e17F3
FANTOM: 0x82f0b8b456c1a451378467398982d4834b6829c1

A bit from us…
HYVE's cross-chain architecture enables a decentralized ecosystem, which redefines collaborative methods. HYVE promises to remain relentless and persevere until we've offered you all optimal payment options. We look forward to seeing more job posts on the HYVE platform from our partners, who are actively looking for talented, smart individuals to fulfill roles!

HYVE's incredibly low fee structure for freelancers starts at 0.9% for jobs listed in HYVE, 2.9% for jobs listed in ETH, BTC, or stable coins, and 7.9% for jobs listed in altcoins, and if this isn't enough, if you pay the fee in HYVE you get a further 50% off, so only 3.95% and 1.45% (fees which have yet to be beaten by any other freelancing platform).
Let's not forget about HYVE's referral program, freelancing is fun, but it's even better when your friends and family are doing it as well while you get rewarded for it.

Looking forward, we expect more available blockchains on HYVE in the upcoming future.
Stay up to date as we periodically integrate new tokens and tell you all about them here!

Thank you HYVERS for your continuous support!
Disclaimer
The information provided does not constitute investment advice, financial advice, trading advice, or any other sort of advice, HYVE does not recommend that any cryptocurrency should be bought, sold, or held by you. Please do your own risk assessment when deciding how to invest in cryptocurrency and blockchain technology. HYVE is not liable for investment gains or losses.
🐝 Want to learn more about HYVE?
🐦 Follow us on Twitter.
🗨️ Join our Telegram Group.
🏦Want to learn more about Abracadabra?🐦 Follow them on Twitter.