New token integration: $T is live on HYVE!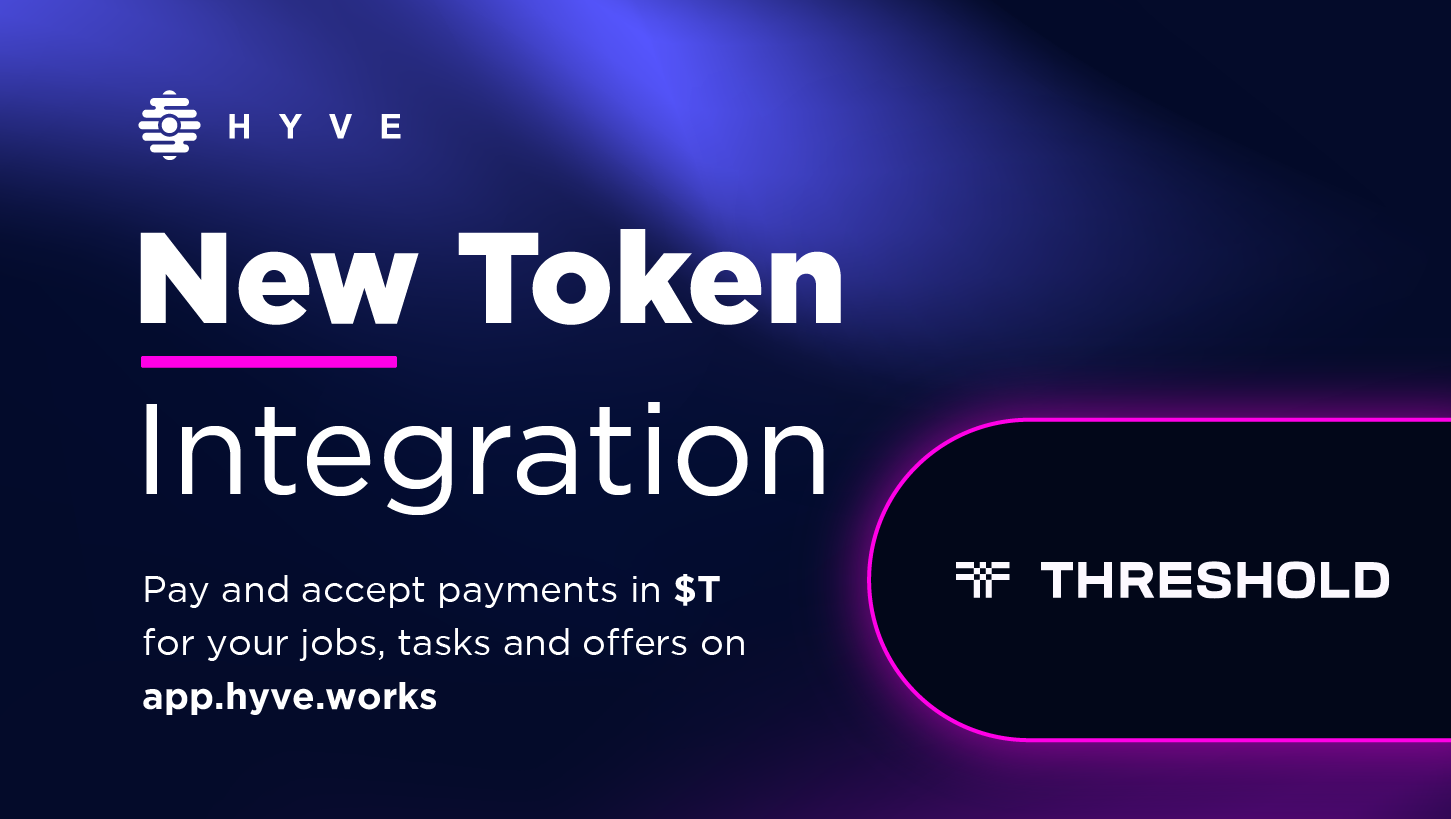 Token integrations do not stop at HYVE! We will continuously incorporate new methods of payment and today is no exception! We are delighted to put out our latest token integration with $T from Threshold.

Following the addition of so many tokens, HYVE hopes that it will attract a larger pool of gifted freelancers that will commit to our growth while advancing their careers in the most collaborative environment on Web3.

Hello, Threshold!
The launch of Threshold Network is only the final result of a series of important developments that opened new doors for user privacy, censorship resistance, and decentralization, being the first ever on-chain merge between two existing networks and communities, Keep and NuCypher. Threshold provides a suite of threshold cryptography services that power user sovereignty on the blockchain.

What is cryptography you might ask? Threshold is a revolutionary technology that uses cryptography to unlock greater utility and usability for digital assets without needing to trust a centralized party. While doing that, it also distributes sensitive operations across multiple independent entities – like nodes in a network – and requires a? Of course, a threshold, or a minimum number of those entities to cooperate for the operation to be successful.

Threshold has the following main advantages: decentralization (utilizing a network of independent nodes to provide threshold cryptographic services without a central authority), security (splitting cryptographic operations across nodes increases security and availability and reduces trust assumptions), and privacy (cryptographic protocols eradicate the trust burden forced on end-users and ensure privacy on the public blockchain).

The Threshold ecosystem provides three big utilities:
Staking, with stakers escrowing T tokens to run a node on the Threshold Network and earn rewards
Liquidity providing, with yields paid out to asset providers
A bridge to bring BTC to the Ethereum network
Token holder, so make the most out of your $T tokens by participating in DAO governance

What else? It leverages threshold cryptography to protect digital assets by distributing operations across independent parties, requiring some threshold number of them (t-of-n) to cooperate.

About $T
$T is the native token of the ecosystem and resulted from the merger of the NU and KEEP communities, with the exchange rate proposed to be determined from the conversion ratio for each token is based on the total supply rather than price.

The $T token has a role in governance, with tokenholders provided with many benefits. We will be integrating $T on the Ethereum blockchain, with the contract address down below. Add it to your wallets and use it to ay for jobs, tasks and offers on HYVE:
ETH: 0xCdF7028ceAB81fA0C6971208e83fa7872994beE5

What comes up for HYVE?
We need to remind you that HYVE has the lowest fees out of all freelancing platforms: with 0.9% for jobs listed in HYVE, 2.9% for jobs listed in ETH, BTC or stablecoins, 7.9% for jobs listed in altcoins and to make it even better, paying the fees in $HYVE halves the fees, resulting in 3.95% and 1.45% respectively!

HYVE is currently integrating other tokens, and what we can say is that they are stablecoins linked to major currencies in South-East Asia. The region is very well known for freelancing and it represents an important exposure for us within the area. Keep an eye out for more exciting news!

Disclaimer
The information provided does not constitute investment advice, financial advice, trading advice, or any other sort of advice, HYVE does not recommend that any cryptocurrency should be bought, sold, or held by you. Please do your own risk assessment when deciding how to invest in cryptocurrency and blockchain technology. HYVE is not liable for investment gains or losses.
🐝 Want to learn more about HYVE?
🐦 Follow us on Twitter.
🗨️ Join our Telegram Group.
Want to learn more about Threshold?
🐦 Follow them on Twitter.
🗨️ Join their Telegram Group.