The ThunderCore revolution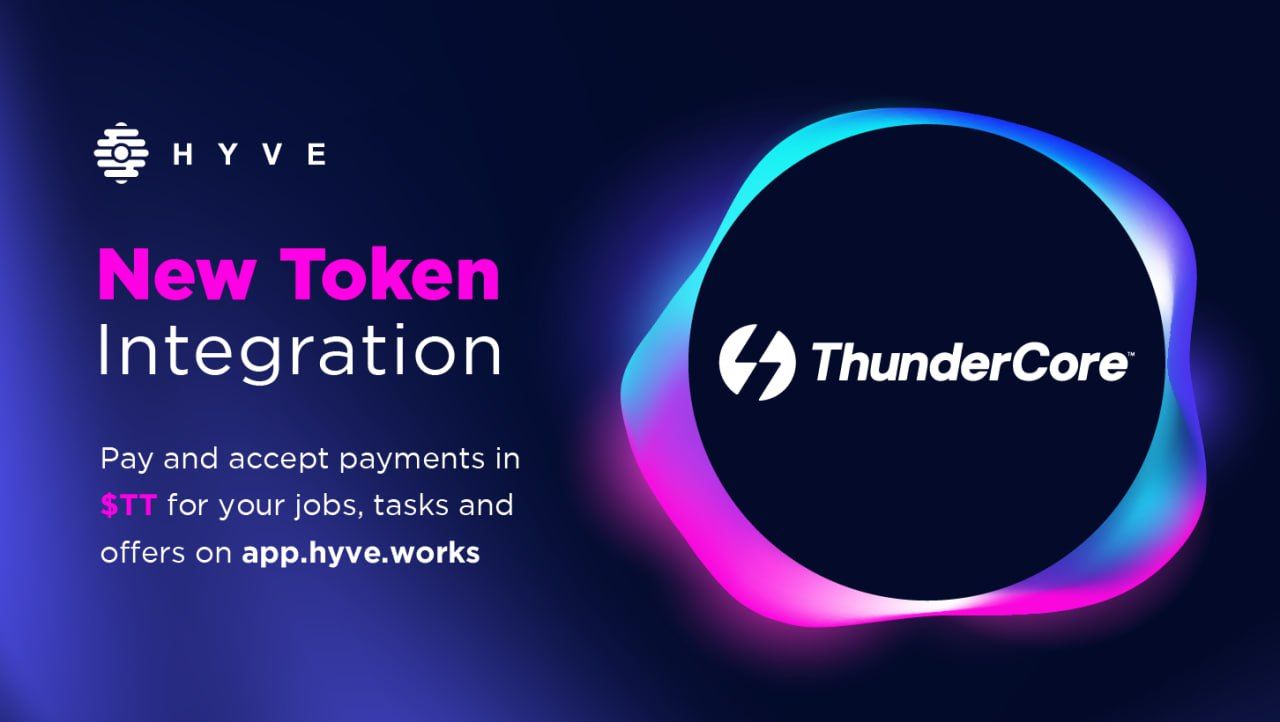 We are always excited to have new projects join us, as it gives us new insights into the latest web3 developments. We love it when a project comes up with new utilities and makes the web3 space better. The same can be said about ThunderCore, a truly innovative EVM, which can enable you to effortlessly onboard your apps from web2 to web3.
But before we give you more of a glimpse into the project, add their token's ($TT) contract address into your digital wallets and start using it for payments on the HYVE Platform!
ETH: 0x1E053D89E08c24aA2CE5C5B4206744Dc2D7BD8F5
BNB: 0x990e7154bb999faa9b2fa5ed29e822703311ea85
---
Hear the Thunder!
In its very essence, ThunderCore is a high-performance, eco-friendly and fully-interoperable blockchain. ThunderCore is fully EVM Compatible, allowing for fast and cheap transaction, while providing a highly scalable solution to help onboard web2 apps into web3. What is mo re, its Proof-of-Stake Mechanism allows for Eco-Friendly utilization of the blockchain, with enhanced interoperability.
The company was founded in 2017 in Silicon Valley by Chris Wang and top researchers and engineers in the field. With a breakthrough consensus protocol that overcomes the scalability "trilemma" called PaLa, the ThunderCore network offers 4,000+ TPS, sub-second confirmation times, and low gas fees that cost less than a fraction of a dollar (<$0.00001), giving decentralized applications security and scalability.

📣
There are over 400k active ThunderCore users, with more than 1700 tokens issued on the network. Plus, there 300 million transactions have been recorded, with 10 million NFTs issued already - this is a blockchain to look out for!
Worth mentioning is that ThunderCore is supported by its native $TT, aka Thunder Token, which can be staked, farmed and swapped!
Thundergene
ThunderCore is committed to fostering adoption of cryptocurrencies and web3, and has created a native solution for this reason - Thundergene. The Thundergene allows you to amplify your business in less than a month, in a cost-effective and simple manner.
Not only does the solution enhance your project's branding through NFTs, but it can also improve your growth prospects and improve your overall valuation. Thundergene offers three main features, including a project console, Rest APIs and a full digital wallet service.
The norm e-wallets are old-fashioned now - try TTwallet!
The TT Wallet is a tailored, all-in-one solution to connect to our decentralized world, where you are in control over your funds, meaning that receiving, sending, storing, and exchanging your cryptocurrency within the mobile interface has never been this easy and secure.  
Some of the perks that TT wallet provides you with are:
collecting your crypto assets and NFT collectibles in your own pocket;
earning daily interest and high APR rewards;
being cross-chain compatible with ETH, BSC, and HECO;
exploring ThunderCore's decentralized ecosystem of dApps;
executing 200M+ fast, secure, and nearly free transactions
What are you waiting for? The TT Wallet is available on both the App Store for iPhone users and Google Play for Samsung users.
What's more on ThunderCore...
As we see, ThunderCore is revolutionizing how mobile entertainment apps create value for their users. Keep in mind that play-to-earn mechanics, paid participation, and user-owned identity and assets all help to create new economies, spaces, and places for users to have fun and earn in the virtual world.
How do we know this project is the real deal? Let's take a peek at their investors:
Huobi Capital
Pantera
Electric Capital
Draper Dragon
Dekrypt Capital
ZhenFund
Kenetic Capital
When you have got such a solid line-up, you know that the project is about to go to the moon!
---
Closing words from HYVE
We've stepped up our game with the token integrations lately, so that we provide even more diversity to our dear freelancers before our big launch. Overall, we expect to increase our freelancer activity, meaning that we will welcome professionals from web2 and web3 alike.
If you are a crypto newbie, discovering new payment options will act as your gateway to discover new projects and enjoy the many benefits provided by decentralization and web3. Do make sure to follow us on Twitter for more content on our release!
PS: We're releasing weekly sneak peeks into how HYVE V2.5 will be, with us soon providing even a clearer image on the groundbreaking UI we want to implement.