Top 10 productivity tools for freelancers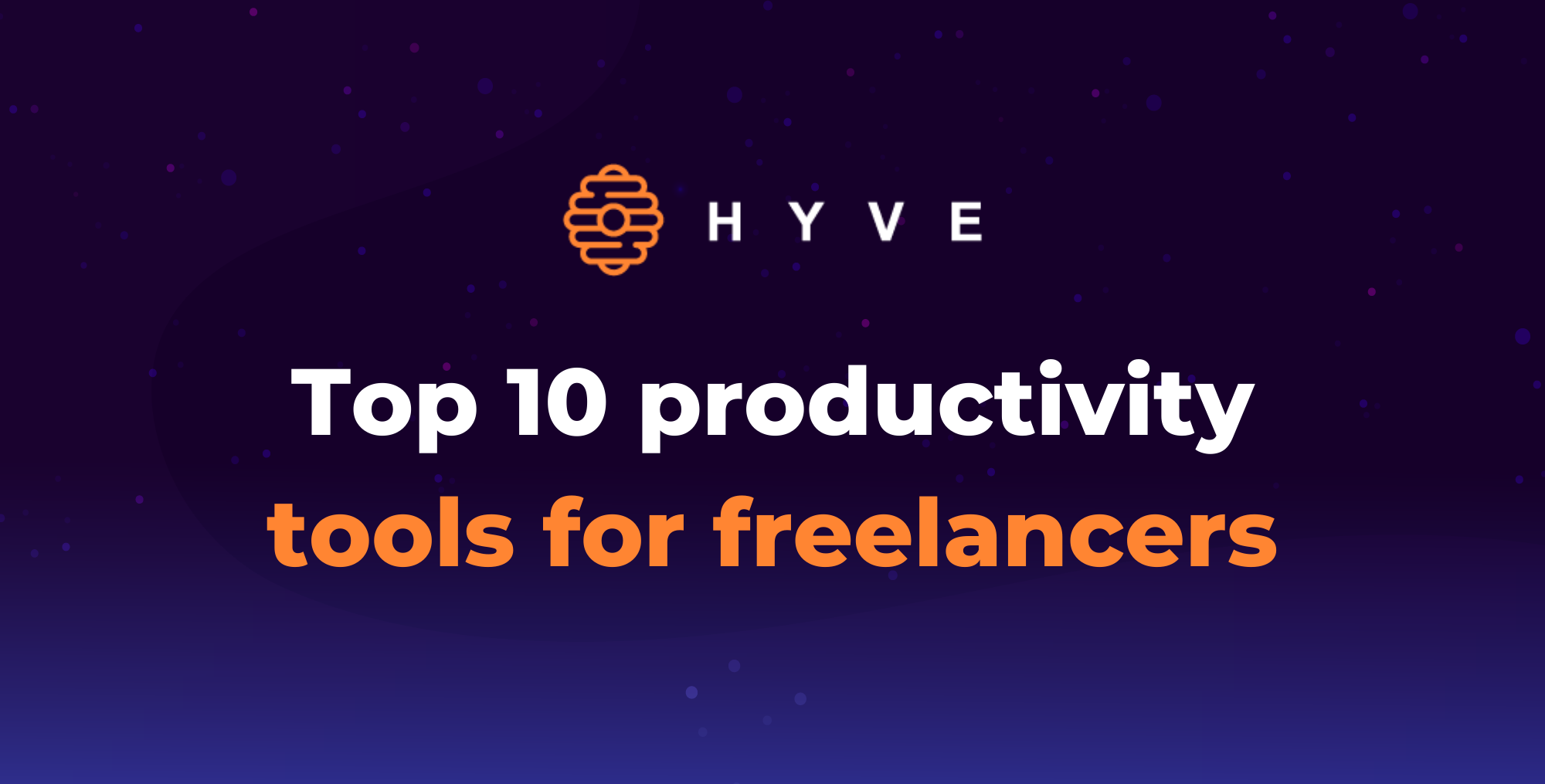 Now you decided to kickstart your freelance career. You quit your job, you've done all the inner necessary work. What's next? Do you need a schedule or tools, just like you did at your 9 to 5 job? The answer is yes, and here's why.

What you'll quickly learn when you become a freelancer is how time-consuming and difficult is to manage so many different projects. Getting up without having to get dressed for work, and not having to deal with a commute to the office has resulted in less stress in the morning and more time for work and productive thinking. This works for freelancers with self-discipline and determination. For others, it may be difficult to be productive every day and to deal with the numerous distractions from home such as family members, pets, or social media.
43% of employed Americans said they spent at least some time working remotely. Freelancing is often perceived as liberating, empowering, and even glamorous, but the reality is far more complex.
---
Entrepreneurs and freelancers are prone to adopting the #hustleculture. Go big or go home is what Generation Alpha strives for. one37pm, one of the biggest digital media brands in the world, has a true saying about freelance that struck us and it talks a lot about #hustleculture.
The current state of entrepreneurship is bigger than a career. It's ambition, grit, and hustle.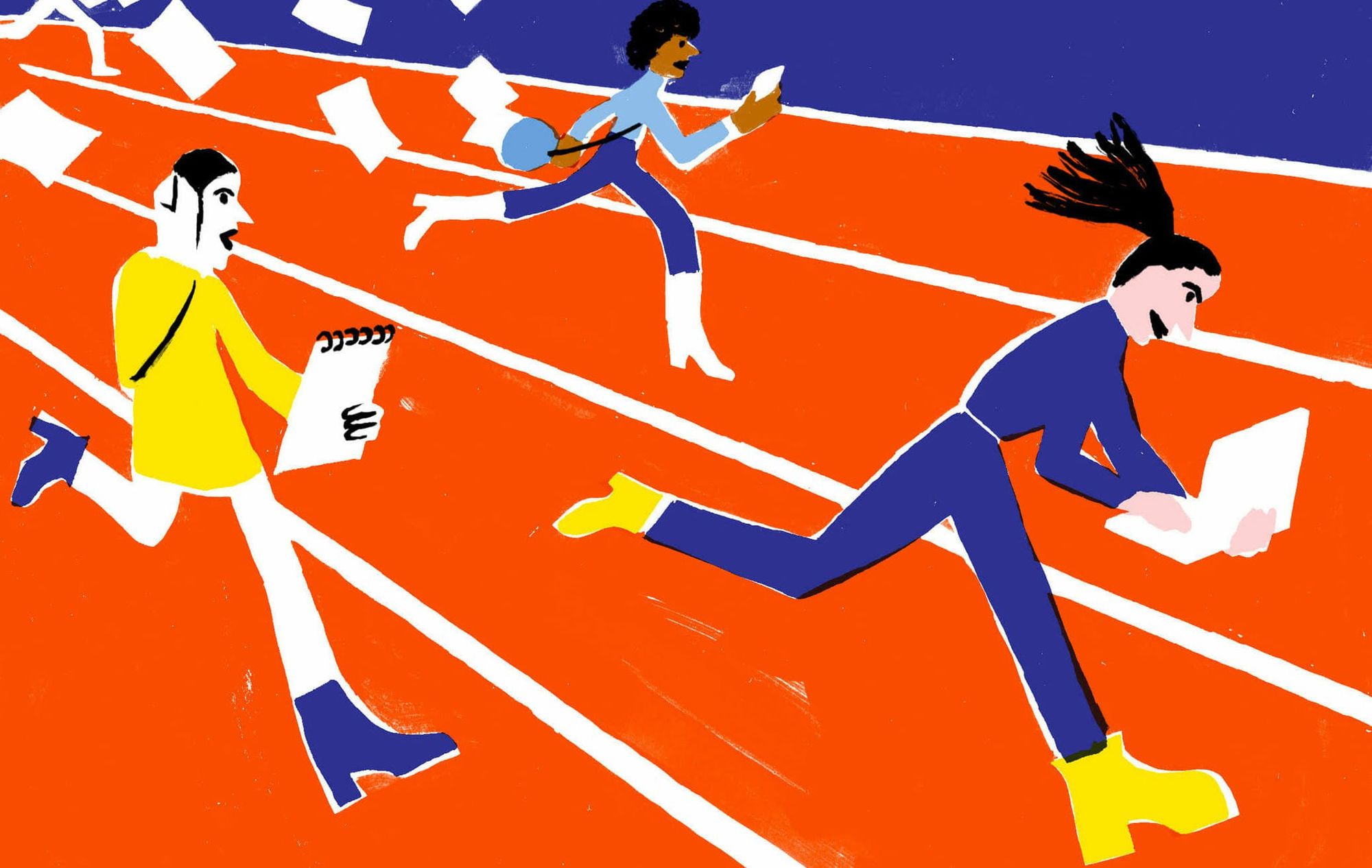 Some say it's toxic, some say it's the natural course of the digital nomads. However, to keep it cool and healthily kickstart your freelance career, we recommend you start using some productivity tools. Let's all learn to #smarthustle!
You'll be better positioned to power up your freelance career if you combine willpower with the right productivity tools. Here's our pick of the best freelancer apps to prime your freelance career for top results.
---
Evernote
More than 60,000 thoughts pass through our minds in a single day. You cannot leave that vital information or idea never to recall it or get faint traces.

Evernote is a cloud-based storage app that boosts productivity. The app regularly syncs between your desktop and mobile device, and you can visit the website at any time, log in to your account, and instantly have access to all your important documents.

Furthermore, Evernote can also be integrated with many other useful freelancing apps, like Slack, so you'll be able to access, search, and share all your Evernote documents on the messaging platform.

Evernote is available on Android and iOS, for both desktop and mobile devices. Currently, the Premium Plan is £4.99 a month and the Business Plan is £10.99 per month per user (a minimum of 2 users is required).
Trello
Trello is based on Kanban, a workflow management system from Japan that works by visualizing your work to find better ways to be more productive. It has an incredible board creation feature that allows you to note down all your tasks and processes on a single interface.

Its layout is the most flexible and open-ended way for you to organize any task. You can set up cards on your board however you like, and then move your cards from one section to the next to show your progress. You can use labels to designate priority levels to know which tasks need your attention first with just a glance. A free trial of the application is available if you want to check out the software before you make a purchase. The paid subscription of the application starts at $17.50/month.

Trello started as an online application that you can access through a web browser on your phone and computer. A mobile app is now available for Android and iPhone for convenience.
Toggl
The world is changing every single day and it's counterproductive to think that the skills you learned a decade ago are still going to be the future. A proper time management strategy will boost your productivity, get more work done, and allow you to have time to take on new freelancing projects. The founders of Toggl created this time-tracking tool with speed and usability in mind, so even the busiest freelancer can make use of it. Consider Toggl as one of the best time tracking solutions for freelancers.

Toggl provides simple, colorful reports in different formats—summary, weekly details, and filters them by task, project, client, tag, or description. It allows you to log how much time you spend on each project or task both online and offline.

There's a 30-day free trial, then, you can either keep using Toggl for free with limited features, or subscribe—to Starter ($10 per user/month), Premium best for teams ($20 per user/month), or Enterprise (custom pricing). Toggl has browser extensions (Firefox and Chrome), a web interface, a desktop app, and also a mobile app.
GanttPro
GanttPro is a software that helps freelancers to set goals, milestones, and plan projects. Unlike other kinds of work-management or productivity tools, this one has Gantt charts that show you how all tasks in a project contribute to the results. The Gantt charts allow you to divide your projects into groups of tasks, subtasks, and milestones. Organize and schedule tasks, set due dates, durations, and dependencies to set accurate estimates, and manage your resources wisely.

GanttPro was late to the game in releasing a mobile app, but now there's one for Android and Apple devices. Since GanttPro doesn`t offer a free account, you should know that a personal account for individual use only costs $180 per year, with no month-to-month option.
Time Doctor
Understanding how to maximize your productivity also requires analyzing the existing workflows to remove eventual roadblocks.

Time Doctor is a full-service time tracker that freelancers can use for payroll and project management. It also provides access to real-time reports to help with productivity analysis.

Time Doctor enables the integration of globally accepted payment apps like Paypal, Payoneer, Tranferwise, etc. If you are a freelancer or in case you`re working for a third-party client, you can use this feature to bill your clients based on the number of hours you worked on a project.
Time Doctor does not offer a free trial, the pricing starts at $7.00 per user, per month.
Hubstaff
Hubstaff is a valuable time tracking system and it's an especially useful tool for freelancers and remote employees. Hubstaff provides proof of work in the form of activity levels, app and URL tracking, and the option to take screenshots taken periodically.

Hubstaff offers two different options to track time, for example, users can either build manual timesheets and enter past hours worked, or they can choose the automatic time-tracking offered through a range of native desktop applications (Mac, Windows, iOS, Linux).

As a freelancer, you can choose Hubstaff`s free plan with basic time and activity tracking features, or one of the 4 pricing tiers: Free, Basic for $6 per user per month, Premium for $9 per user per month, and Enterprise at $16 per user per month.
Buffer
As we mentioned before, the process of social media marketing for a freelancer takes a lot of time, energy, and effort. Buffer is one of the simplest & easiest social media platforms on the market today.

Buffer helps you accomplish this by logging into social media sites in one go instead of you having to log in manually for each site. The software does this through automatic post scheduling on all the linked social media sites on your behalf, steering away from the worries of daily posting.

Through several clicks, retweets, user reach, and mentions, you can assess the effectiveness of posts and easily carry out community management.
Buffer allows you to have a free account to manage one Facebook (page or profile), Twitter account, and LinkedIn account with up to 10 updates in your buffer. Or you can choose to pay $10 monthly to manage 12 social profiles and have unlimited posts in your buffer.
Loom
The COVID-19 pandemic has proven that we can work from home and do it effectively—without losing productivity.

Loom enables a new way of collaborating for freelancers, it's slick, easy to use, powerful, and highly supported with help documents, how-to's, use cases, and more.  With Loom you can personally connect with dozens of clients without having to call or message them individually.

Video feedback is a lot clearer and saves tons of time. That is the reason why Loom is great for freelancers who work as graphic designers or UX/UI designers. By using screen recordings, it's easier to communicate what's going on.
Loom has a generous free plan, as well as several paid options for individuals or teams.
Harvest
Are you a freelancer who has work to do but can't seem to find the time to complete it? If your answer is yes, then you don`t have to worry anymore.
As a freelancer, you have got too much on your plate to be struggling with organizing your daily tasks. This is where the perfect time tracking tool comes to the rescue. Harvest is so much more than just a simple time tracking software. You can quickly access and manage time spent on certain clients, different tasks, and projects. For example, you can set up your to-do list in Harvest, and next to each task you'll see a timer. You can automatically start the timer when you begin a task, and when you finish the task, you can turn the timer off.
Taskboard
At some point in their career, every freelancer has had to juggle multiple projects, each of which was at a different state of completion and was completely separated from the other. Does it sound familiar?
Well, in case you are a visual thinker and you`re looking for a tool that suits your needs, Taskboard is a completely free and open-source tool to improve productivity.
With Taskboard, you can keep track of all your processes with ease. For example, you can tell Taskboard to clear the deadline if you mark a task as complete before its deadline. Instead of fiddling with the options and details to keep everything updated and the board clean, you can use Taskboard to save a lot of time and effort. You can even customize colors, add attachments, and have access to a full history of your board activities.
Sleep Cycle
The quality of your sleep plays an essential role in your performance throughout the day. As we all know, sleep has five distinct stages, including the all-important REM sleep (during which we dream), and theories are indicating/showing that sleep helps us remember things more clearly and helps our subconscious make better connections between various ideas.
Sleep Cycle users can see the full picture of their sleep patterns, allowing them to make beneficial changes to their sleeping habits. It monitors signals from your body and uses them to wake you up in a gentle, sleep-conscious way.
By setting your wake-up time, you ensure that the app wakes you up during the light period of your sleep, allowing you to feel refreshed. And by prioritizing sleep, not just that you can improve the level of productivity in your freelance career, but also your overall wellbeing.
Freedom
If you're struggling to stay focused and avoid procrastinating, you're not alone. Social media, video games, and other distractions are just a click away and it's no secret that these are a massive drain on our productivity.
If you are looking to master your focus and cut out all those remote-work distractions, the Freedom app essentially 'frees' you from the sites to stop distractions, allowing you to focus on your work. A "session" can be represented by any number of hours or minutes that you decide you need, and you can choose the sites to block. No more blocking Instagram on your computer, only to immediately open it on your phone. If you start a session, your distractions are blocked everywhere. There are also optional focus sounds, which are ambient background noise from coffee shops or nature.
---
Improve your productivity and grow your freelance business

The rise of freelancing may be a key visible indicator of the future of work, notably in terms of collaboration practices. With their pros and cons, each tool seems to stand its ground – albeit holding different strengths. Once you work out a strategy to be productive and don't miss out on the fun stuff, you've got it all.

HYVE will always be a collaborative environment, meant for creative and like-minded people that have a strong desire to discover and innovate. We want to support freelancers worldwide by offering the necessary tools while creating opportunities for them to earn money based on their skills. HYVE allows freelancers to find new jobs and gigs, and companies to find help in a pinch. For a freelancer, HYVE is the perfect platform to showcase their freelancer profile, explore opportunities, and connect directly with employers or companies.
---
🐝 Want to learn more about HYVE?
🐦 Follow us on Twitter.
🗨️ Join our Telegram Group.
📢 Join our Announcement Channel.
💡 Join our Discord.
✅ Follow us on Instagram.
👍 Like us on Facebook.
💡 Visit our Website.