New Token Integration: $TRYB integrated on HYVE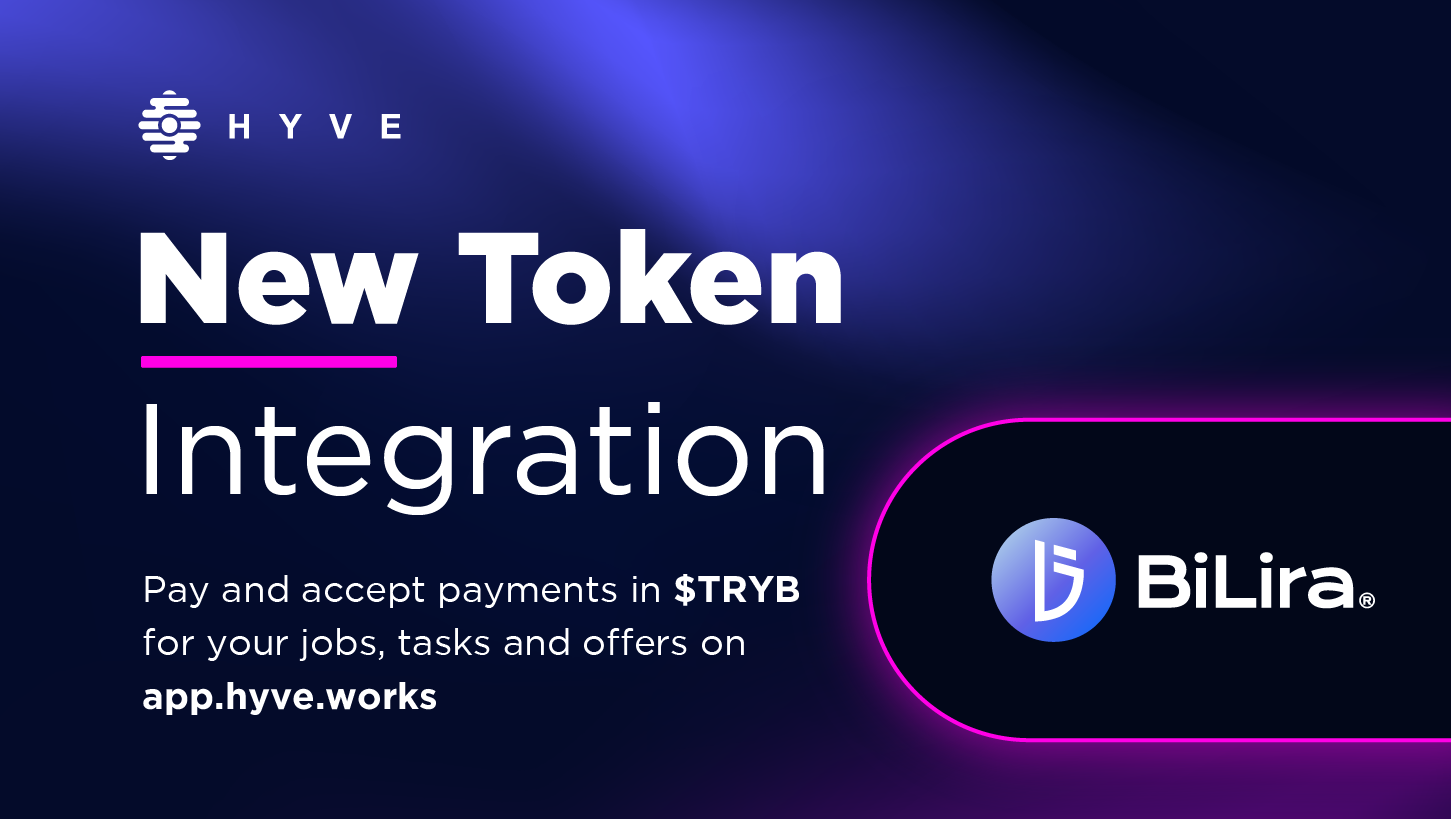 HYVE is proud to announce that another great project will see its token integrated on the HYVE platform. We are truly very excited to welcome BiLira's token to the platform, and we believe that this will be a great addition to our ecosystem.
As we continue to grow and expand our reach, it is important that we attract dedicated supporters who share our vision and values. One way we do this is by partnering with companies like BiLira, who are committed to making a difference.

As we continue to work on improving our ecosystem and attracting users from diverse communities, this integration will allow us to better connect with our users and provide them with the latest updates on our progress. We hope that this will result in more people joining HYVE and contributing to our community.

We believe that this partnership will be beneficial for both parties and will help us to achieve our common goal of making a positive impact on the world, especially that one more time we have a multiple chain token integration. Stick with us in the article below to find out more about this great news!

About BiLira
As the world progresses, so does the way we handle our finances. In a rapidly globalizing economy, it's more important than ever to have a stable currency that can be used no matter where you are in the world. This is where BiLira comes in.
BiLira is a stablecoin provider that is pegged to the Turkish Lira. They aim to democratize finance, enabling universal access.

With BiLira, you can be sure that your money will be worth the same, no matter where you are in the world. BiLira is a cryptocurrency that satisfies all three essential functions of a currency: store of value, medium of exchange, and unit of account.
The wide adoption and usage of cryptocurrencies has been extended through well established local and global crypto exchanges. Turkey's population has been increasingly receptive to the adoption of cryptocurrencies, with many real-life applicabilities, such as crypto-to-cash exchanges or stores accepting crypto payments.

This is a situation caused by the devaluation of the FIAT Turkish Lira and rampant inflation that has occurred during the past year. Nevertheless, $TRYB acts as a gateway for citizens to convert their FIAT currency into crypto and provides increased security.

Moreover, the BiLira network provides an advantageous payment option for charities, merchants, and e-commerce sites. The BiLira token can be tracked by the public due to the transparent nature of the underlying technology, a feature that is highly valuable for financial, governmental, and charitable organizations.

We will be integrating the $TRYB token on three different networks: ETH, BNB Smart Chain, and Polygon. You can find the contract addresses below, so that you add them to your wallet in order to pay and receive payment for your services in $TRYB on the HYVE platform.

ETH: 0x2C537E5624e4af88A7ae4060C022609376C8D0EB
BNB: 0x475D93ebA4EaD4034566F214a3A5c4ABacfEfDfe
Polygon: 0x4Fb71290Ac171E1d144F7221D882BECAc7196EB5

Why you should be excited for this integration
As you know, HYVE aims to accelerate the future adoption of its platform, increasing the payment variety in order to enable total freedom for freelancers. By integrating the BiLira token, $TRYB, we open our community to the Turkish population. We are incredibly excited since we know Turkey has been a destination for digital nomads during the pandemic, especially favored by freelancers due to its affordability and low cost of living, meaning that HYVE could find immense utility in the regional and global context.

Moreover, considering the inflationary situation in Turkey, we believe that professionals from the country could benefit by providing their services for a variety of cryptocurrencies. Turkey is also one of the top 10 countries in terms of crypto holdings. Nevertheless, this is not a surprise, considering that many developing countries are increasingly turning to cryptocurrencies to mitigate the failings of their monetary and financial systems.

In the coming couple of weeks, we will be releasing a blog detailing the benefits cryptocurrencies offer to freelancers from developing countries - make sure you stay tuned!

🐝 Want to learn more about HYVE?
🐦 Follow us on Twitter.
🗨️ Join our Telegram Group.
Disclaimer
The information provided does not constitute investment advice, financial advice, trading advice, or any other sort of advice, HYVE does not recommend that any cryptocurrency should be bought, sold, or held by you. Please do your own risk assessment when deciding how to invest in cryptocurrency and blockchain technology. HYVE is not liable for investment gains or losses.