Why South-East Asia might be a proper destination for freelancers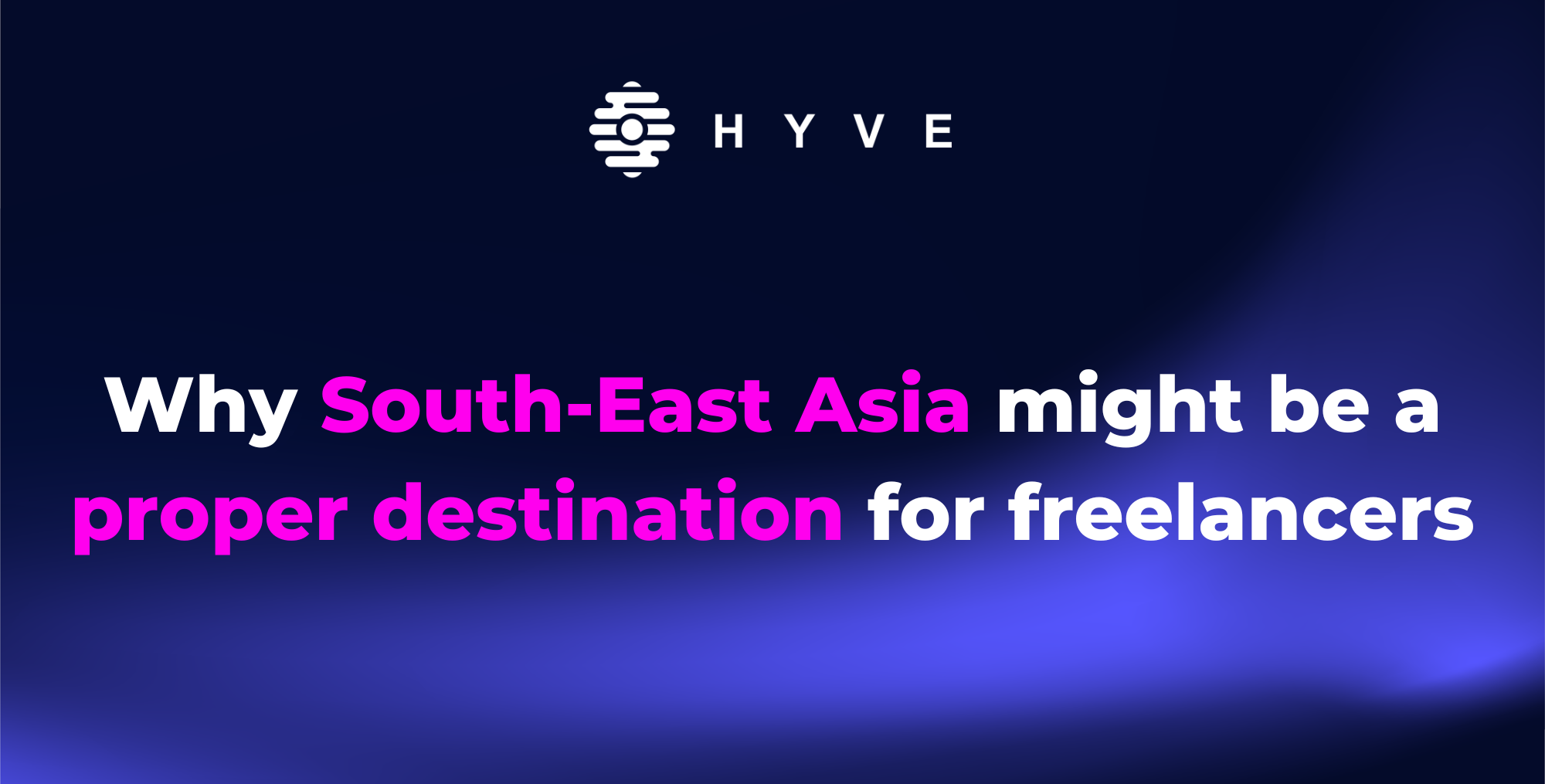 Now that we are settling into Fall and looking forward to pumpkin spice lattes and cozy weather, it is also normal to still dream about summer and your prolonged holidays - hopefully at the beach or in other vibrant destinations. Nevertheless, summer does not have to end now. As a freelancer, you have the freedom to work from anywhere in the world, which means that warm weather and going to the beach do not have to end right now.
From tropical islands to dessert escapes, we've collated the destinations that offer warm weather and benefits for our beloved freelancers, this time in South-East Asia, a new up-and-coming crypto haven. So buckle up and read our travel guide that will hopefully inspire you to pick a new destination for Fall and Winter.
Bali
Bali is already a favorite destination for remote workers with its warm climate and low living costs. Back-to-blissed-out spa retreats so heavenly structured? that Bali has developed a style all of its own: clean and contemporary, dark wood and linen whites. Parties, from flip-flop full-moon raves in hidden-away coves to the cool Potato Head Beach Club and The Lawn at the boho beach spots that everyone's talking about are part of the main local draws for digital nomads.
At the beginning of 2022, Indonesia tried to entice more remote workers to the country with a new digital nomad visa that, hopefully, will attract professionals from various fields to work in the tiny paradise. The visa will allow you to work tax-free from the island have for  Why should you try Bali out? Some of the benefits this island includes are safety, low cost of living, and an overall great lifestyle. Who does not want to work while hiding from the sun between the palm trees?
Bali has also become a major destination for crypto entrepreneurs and start-ups. The interest in crypto is well documented with a local Indonesian exchange registering a massive growth in active users during the first six months of 2021: from 600 users up to 39k. In addition, Bali is hosting Crypto Week, one of the largest blockchain events in SE Asia. So why not replace the boring office spaces with a pool villa, allowing you to be more productive and creative?
Koh Samui
There's a real palm tree growing at the edge of the cafe, and behind it sits shallow crystal blue water stretching off for miles, with Koh Samui's jungle-covered mountains jutting up in the distance. Adding to the ambiance, kite surfers are getting massive air off small waves before gently floating back to earth. With beautiful food, postcard-style views and half a dozen other coworking spaces with speedy internet, it's no wonder Koh Pha-ngan has become something of a mecca for crypto digital nomads.
Koh Samui isn't the only place in the region attracting crypto digital nomads, with a growing scene in the Thai island of Phuket, another in Chiang Mai in the north of the country, as well as other locales in Southeast Asia, including Bali.
Despite a tightening of rules regarding crypto, Thailand still attracts many freelancers, start-ups and digital nomads passionate about blockchain - thus it is no surprise that the largest blockchain conference in SE Asia is hosted in Bangkok.
Singapore
One of the greatest cities in the world, Singapore is an ever-expanding cosmopolitan hub that is beautiful to visit in its own right, or as a base to explore Malaysia and other surrounding Asian countries. Perhaps appearing only as a concrete jungle, there is actually a wealth of cultural gems to find, from the authentic cuisine on offer in Chinatown to the artistic nature of it. Singapore is one of the most crypto-friendly countries, thanks to its thriving crypto environment and favorable regulation. Despite several hurdles, Singapore still maintains its leading position as the most friendly crypto hub in South-East Asia.
Singapore is the host of a multitude of promising crypto start-ups, varying in size and utility. In addition, since Singapore is a major financial center, investment is concentrated in the area. Many start-ups want to be around VC funds and angel investors - so if you're thinking of setting up your operations for a start-up, Singapore is the place to be.
Ho Chi Minh
For digital nomads, the city serves up delicious street food, super-fast WI-FI speed,  inexpensive accommodation and easy-to-find high-speed internet connections, plus a big-city vibe that appeals to remote workers who want easy access to everything 24 hours a day.  Ho Chi Minh City doesn't hold back when it comes to coworking spaces and there are plenty of spots throughout the city's main districts where you can set yourself up for the day with a laptop in one hand and coffee in the other.
Since Ho Chi Minh has a whole remote work culture, you'll often find an even mix between foreigners and locals at these coworking spots that are well equipped with HCM's famed wifi speeds, comfy desks, private booths and any number of other facilities. Moreover, Vietnam is the home of many crypto events like Trader's Fair, Blockchain Festival 2022 or BUIDL.
Hanoi
On the banks of the Red River, Hanoi is one of the world's most ancient cities that continues to build itself into an exciting destination, not just for remote workers, but for backpackers and casual tourists alike. Beyond the city's vibrant nightlife, you will find towering mountains and cooler temperatures that belie Vietnam's standing as a tropical climate.
With a low cost of living, a great way of life, and great Internet speed it is no surprise that many digital nomads come to Hanoi and take a long time to move on. Hanoi does not have a crypto scene just yet, but it hosts a variety of web3 companies, mostly specialized in gaming.
We hope that this list will give you some food for thought when picking your next base for the cold season. It is important to find a place that will allow you to be as productive as possible, while also being a fun and exciting experience!
🐝 Want to learn more about HYVE?
🐦 Follow us on Twitter.
🗨️ Join our Telegram Group.