Thought about working in a crypto startup?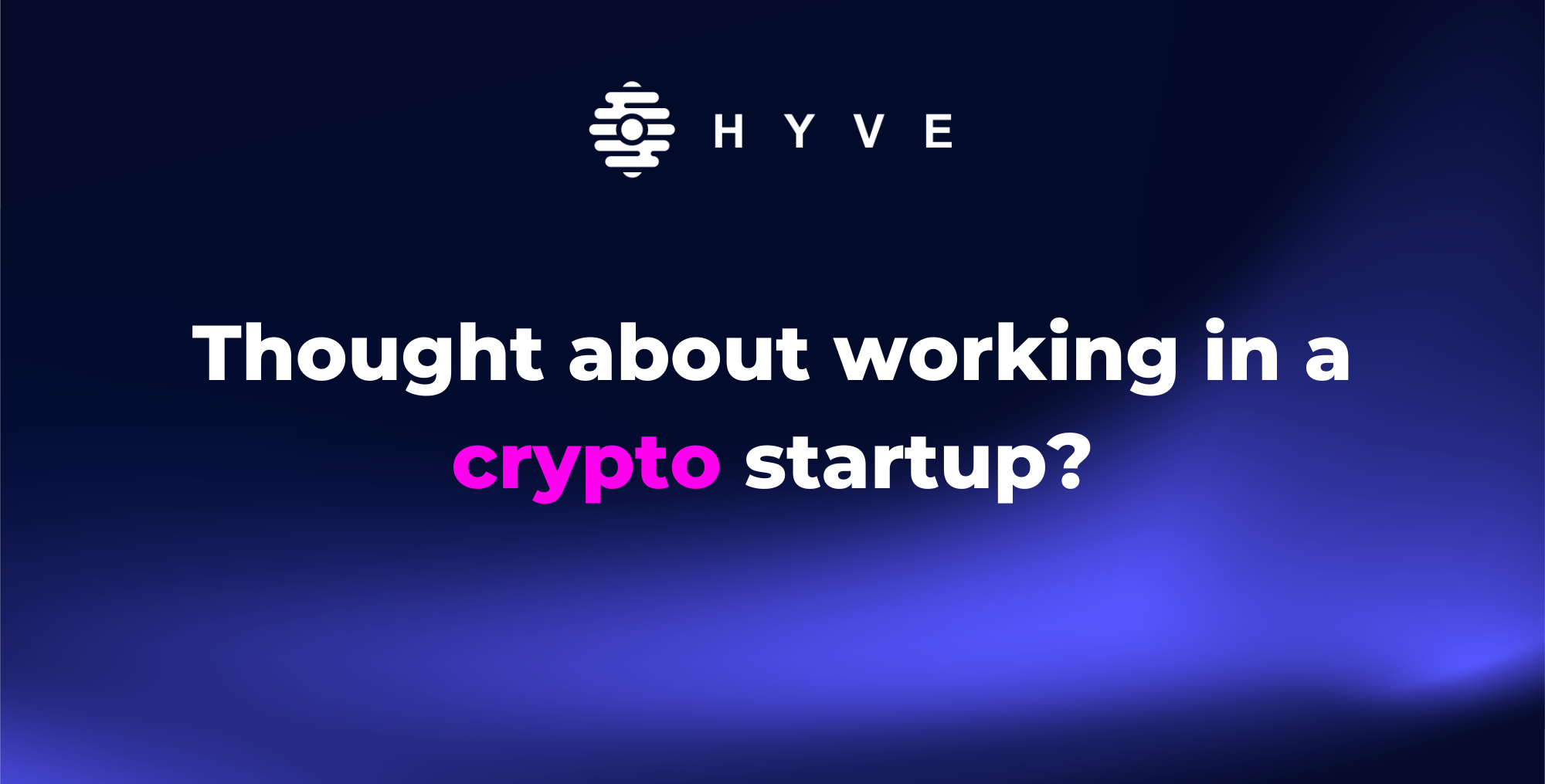 It is safe to say that the Crypto industry is one of the fastest growing industries in the technology area, with an even higher potential for new peaks and scaling up of key programs that bring utility to real life. That being said, it is expected that more and more skilled individuals are willing to join this roller-coaster adventure that is the Crypto market.

For many of you, it would make perfect sense to start this journey with a start-up company, especially in the blockchain sector. This way, you will get the feeling of belonging to a highly motivated team and you will be able to directly see your contribution to the company's performance.

What is a Crypto start-up?
People usually refer to a newly formed company as a start-up, which usually has positive momentum in growth, based on the utility and demand of the product it offers. In the Crypto world, things are, at their base, no different. A Crypto startup is a company built that offers core products, based on blockchain technology. These core products can range from decentralized alternatives, traditional finance, and marketplaces where users can exchange digital assets, to gaming projects or even move-to-earn apps. If you are looking to start your career in Crypto, here are a few points on the benefits and challenges of working in a Crypto start-up.

Benefits of working for a Crypto start-up
Starting with the good bits first, engaging with a Crypto start-up will open the door to networking with other highly motivated professionals from the industry. You will, more than sure, have the opportunity to attend events and join communities from which you can gain valuable information and upskilling tips.

Building up on that, you will be learning a lot while on this journey. The Crypto start-up you will be working for will probably look into going into uncharted territory. This means you will have to learn as you go however, the very nature of a start-up company attracts highly skilled, highly creative individuals. This is good news since you will have an amazing team of colleagues from whom you can learn a lot by observing their practices and mindsets. One amazing aspect of a crypto start-up is that it brings together people from both the finance sector and the technology sector - that means double the knowledge for you!

As the crypto universe is widespread around the world, it means that anyone with an internet connection can access it. As Crypto start-ups are looking ahead to progress and innovate, this guarantees that the team you will be part of will embrace diversity and will actively look for ways to not only decentralize financial markets but also decentralize people's access to wealth.

Last but not least, life and work balance is as important as being happy while doing your job. And you can be sure that the perfect place to find this care for your wellbeing is in a Crypto start-up. This relates to the advantages of Crypto as a whole, namely that you can be anywhere on the planet and do the same job as someone sitting at a desk in a fancy office in the middle of a financial center, like London's Canary Wharf. That being said, working for a Crypto start-up will increase your chances of having schedule flexibility.

Challenges of working for a Crypto start-up
Now looking on the other side of the fence, any great duty not only comes with rewards but with challenges and responsibilities. And working in a Crypto start-up makes no exception. Looking back at the benefits of working for a Crypto start-up, we mentioned that you will learn a lot as you progress through the development of projects or products.

However, one challenge you will encounter will be the increased amount of time you will need to research and find the resources that will help develop both yourself and the company. As can be expected, in a Crypto start-up, there is no clear path to success, and most probably there is no corporate training department to tell you that. Nevertheless, that makes the experience very transformative, enabling you with growth opportunities.

Coupled with this, the dynamic working environment that is usually seen in a start-up will likely come with increased responsibilities. For some, it can stressful. For others, it can be the opportunity they've been waiting for to prove themselves and it is essential to spot this gap and embrace it.

One particular challenge in the Crypto world is represented by the very nature of Crypto, which is volatility. When working in a Crypto start-up, it is essential to know that bear markets are a phase of the financial cycle, just as the bull market is. Thus, you need to be aware of the insecurity of the market and be ready to come up with projects and products that counter-attack it!

Let's START things up!
To conclude, it is needless to say that working in a Crypto start-up is an exciting opportunity to gain crucial knowledge that will boost your capabilities in this industry. It is a proven fact that many professionals can boost their careers by having exposure to the nitty gritty of upscaling the potential of a company and its product.

HYVE can provide the environment just for such a thing to happen, by revolutionizing the freelancing industry through decentralized work environments and the removal of any intermediary. As you might have noticed, many partner projects have decided to post job listings on HYVE, including Pundi X, NFTrade, Resource, and many others. If you feel crypto startups are your next career adventure, look no further and take a look at our platform - many opportunities await you!

🐝 Want to learn more about HYVE?
🐦 Follow us on Twitter.
🗨️ Join our Telegram Group.