New token integration: $XSGD & $XIDR are now live on HYVE!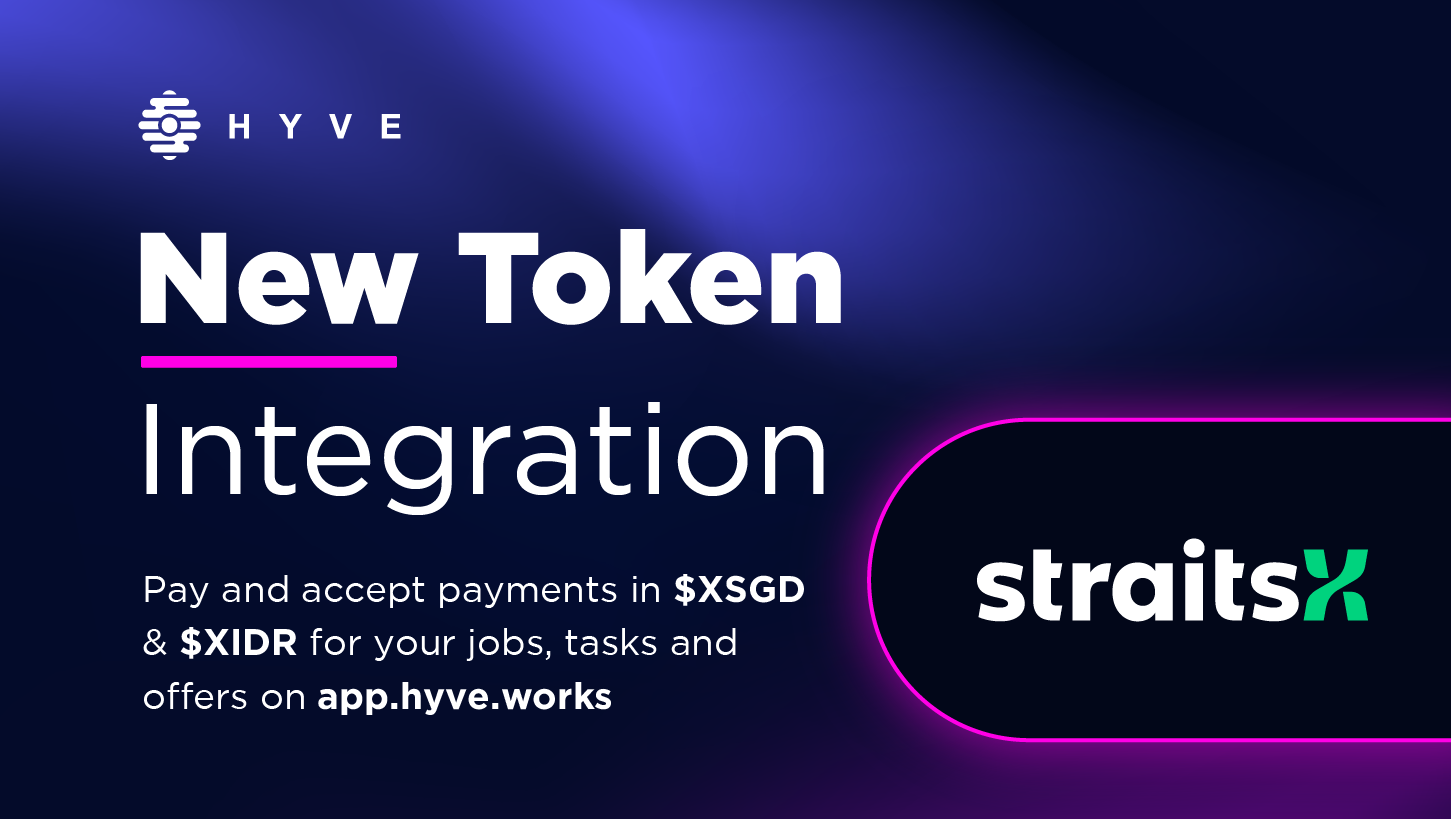 Whether you're looking for freelancers or a job in freelancing, HYVE is the perfect mean for you to achieve your goals! Our ecosystem is growing every day, with the final aim to improve the platform and make it accessible to more and more potential clients and provide them with full accessibility and control over their method of payment, whether it is about tasks, jobs or offers.

As we all know, the diversification of payment methods is crucial, as it benefits the customer but also our platform by getting more and more recognition, and fostering further adoption. Therefore, this week we are thrilled to announce the integration of not one, but two new different tokens: $XSGD & $XIDR!

About STRAITSX
StraitsX is the main project creating payment infrastructure for digital assets in Southeast Asia, regulated by the Monetary Authority of Singapore. Straitsx accelerates the access to digital assets for both individuals or businesses in Asia or beyond. What is their ultimate goal, you might wonder? To enable anyone to access digital growth opportunities within the blockchain space.

From the get-go, StraitsX has intended to leverage technologies that are most likely to bring value and accessibility, thus enabling a leap forward in speed, security, and transparency. StraitsX allows participants to transact using trusted and secure tokens that are one-for-one collateralized and denominated in their native FIAT currencies. StraitsX believes that high levels of regulatory compliance and oversight are required to enable users' trust in centrally-issued stablecoins.  

StraitsX has amassed a large user base, with over 200,000 users. There are over 2 trillion worth of transactions processed in Singapore Dollars thanks to StraitsX's infrastructure. StraitsX offers users the chance to sign up for a personal or a business account as well.

Find out about $XSGD
Firstly, $XSGD is StraitsX's native token and the first Singapore-Dollar-backed stablecoin issued on a 1:1 basis. Leveraging is backed by one Singapore-Dollar that is being held and safeguarded in segregated accounts with a licensed financial institution. You can use it for payments, trading, holding, lending\borrowing. Furthermore, $XSGD became one of the world's largest non-USD denominated fiat-backed stablecoin.


Dive in on $XIDR
$XIDR is the second stablecoin issued by StraitsX that presents a way for the unbanked population to gain access to financial services, representing the next step to facilitate access to digital assets. $XIDR is the stablecoin backed by Indonesian Rupiah, with free bank transfers inwards & outwards, with transfer fees capped at 50.000 $XIDR. Each $XIDR is being held and safeguarded in a regulated institution in Indonesia, thus providing a safe home for your funds. Indonesia has evolved tremendously in the last couple of years through its emergent economy,  and by that, $XIDR presents a way for the unbanked population to gain access to essential financial services.

Where can I find it?
You can buy the token directly on the StraitsX, with users now able to purchase the token in order to pay and get paid for your services on HYVE. We will be integrating $XGD and $XIDR on the Ethereum blockchain, so just scroll down for the contact address below and do not forget to add it to your digital wallets.

Here is the address for $XSGD:
ETH: 0x70e8de73ce538da2beed35d14187f6959a8eca96

And the address for $XIDR:
ETH: 0xebF2096E01455108bAdCbAF86cE30b6e5A72aa52

HYVE's next steps
HYVE is currently in the process of introducing more tokens in order to create a universal platform for freelancers, where they have ultimate freedom of payment. In addition, we are working towards our fifth blockchain integration, which will unlock more opportunities and communities, so stay tuned for new upgrades!

Disclaimer
The information provided does not constitute investment advice, financial advice, trading advice, or any other sort of advice, HYVE does not recommend that any cryptocurrency should be bought, sold, or held by you. Please do your own risk assessment when deciding how to invest in cryptocurrency and blockchain technology. HYVE is not liable for investment gains or losses.

🐝 Want to learn more about HYVE?
🐦 Follow us on Twitter.
🗨️ Join our Telegram Group.
🏦Want to learn more about StraitsX?
🐦 Follow them on Twitter.
🗨️ Join their Telegram Group.