New Chain Integration: Polygon is now live on HYVE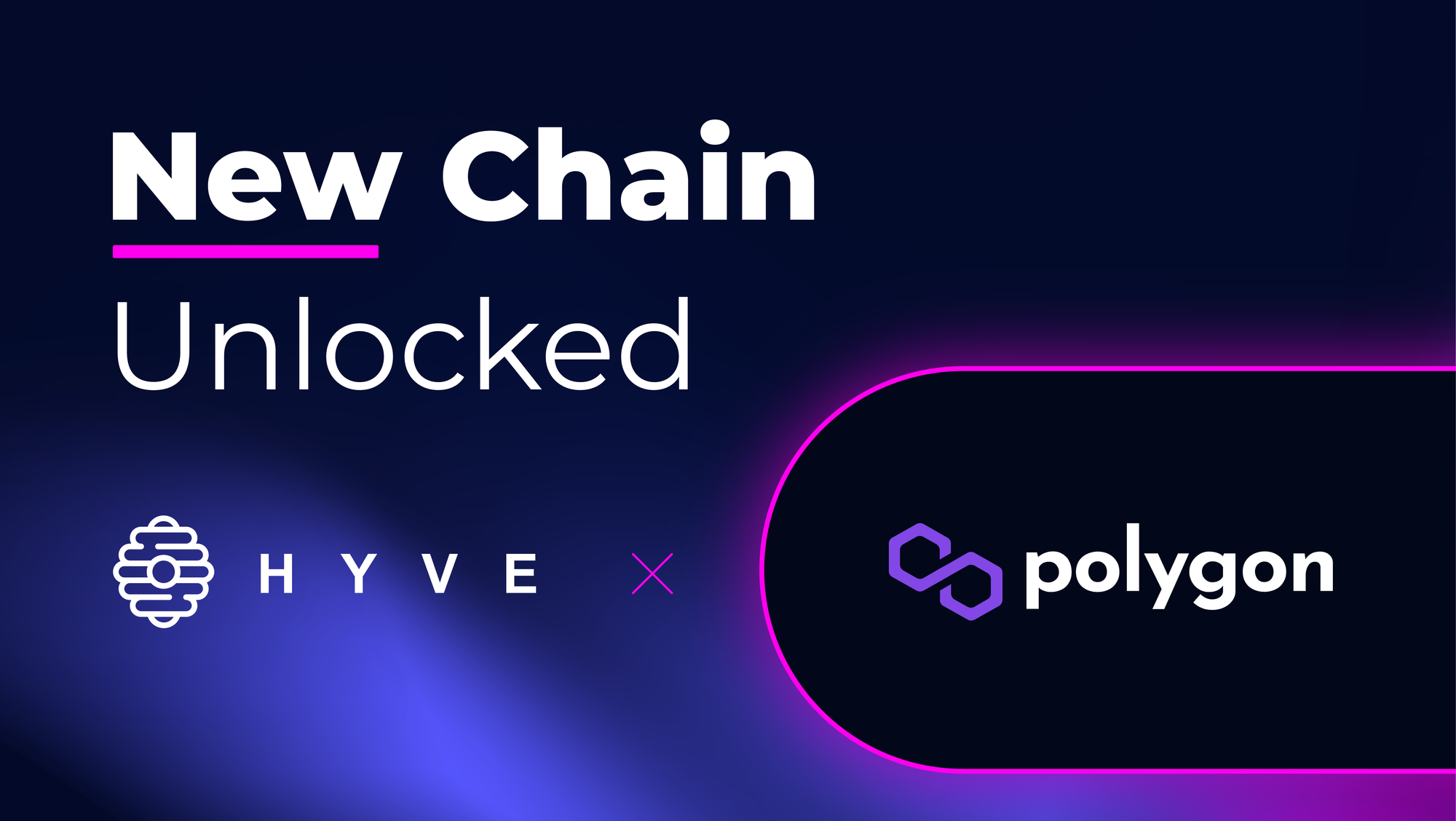 The past couple of months have been quite eventful for HYVE, as we continuously worked towards future integrations, facilitating further adoption of our ecosystem. We want to ensure that freelancers can quickly receive payment in a wide range of cryptocurrencies. For this reason, we are excited to finally announce our latest blockchain integration partner: Polygon!

A growing number of companies are currently using Polygon's infrastructure, companies with whom we believe can become eventual partners, potentially recruiting using HYVE's platform. We can enhance our ecosystem by onboarding potential partners, integrating unique features, and scaling's HYVE's infrastructure.

This is only the beginning of a series of partnerships aimed at increasing the flow towards the platform while stimulating further adoption. With current support for three blockchains, ETH, BSC, and Polygon, HYVE highlights a superior cross-chain architecture, being one of the few platforms to have currently implemented more than two chains.
About Polygon
Polygon, formerly known as MATIC, provides an Ethereum scaling platform, benefiting from its main features such as its proprietary Plasma bridging framework, as well as a decentralized network of Proof of Stake validators. Furthermore, Polygon is a lot more open and provides a developer-friendly alternative to ETH, creating a highly secure network that keeps gas fees at a minimum, approximately 10,000x lower than Ethereum's (the average transaction cost stands around $0.002).

The recent boom in play-to-earn games and NFTs has triggered further adoption of the Polygon blockchain. With over 1.4 billion transactions completed, the Polygon network is estimated to save an impressive $140 million in gas fees daily, while dramatically increasing transaction speed.

The Polygon network has seen tremendous adoption - currently, there are over 135 million unique addresses. Central to the web 3.0 revolution, Polygon has facilitated over 7,000 DApps to scale their performance, offering scaling solutions such as Polygon PoS and Polygon Edge, making Ethereum/EVM compatible apps available on the Polygon blockchain, at a much lower cost. The $MATIC token powers the entire Polygon ecosystem, and it is available for trading on a multitude of centralized and decentralized exchanges.

HYVE x Polygon
HYVE has created a cross-chain, decentralized ecosystem, redefining collaborative methods, by facilitating interaction between freelancers and enterprises through three main products, with our latest product revealed once our new and improved website goes live. Through its blockchain-based freelancing platform, HYVE eliminates intermediaries within the freelancing industry, by reducing fees and connecting clients with matching professionals, enabling them to work together securely. Moreover, promising crypto projects can launch directly on HVYE's cross-chain, highly customizable APIs, while using specific community governance tools.  

Enterprises are also welcome to provide their services on HYVE, while earning cryptocurrencies directly, with no prior ownership required. This created a novel way to find clients and expand on different markets, reducing transaction costs and enabling a transition towards Web 3.0.

Our most recent integration with Polygon will enable users to perform the same actions as on the ETH and BSC blockchains, meaning that they will be able to post tasks, jobs, and offers. In addition, new payment options available only on the Polygon blockchain will be unlocked, providing more flexibility and variety for users, while decreasing gas fees.

$HYVE token
Through our Polygon integration, you can now hold the $HYVE token in your decentralized wallets on the Polygon network. To add HYVE on the Polygon network in your metamask wallet, use the contract address below:

0x61aEe582896064ecD5D85D66a32DDEB5574A699D

Even better news, users will be able to bridge their tokens between ETH, BSC, and Polygon, thanks to our integration with the Radar bridge. If you want to read more about how the Radar bridge works, click here.

Staking is now unlocked on Polygon, with current availability on the ETH and BSC chains. If you want to read more about how our staking process works, check out our earlier piece, explaining all the technical details.

Potential for growth
Serving as the main foundation for promising projects, HYVE possesses an incredibly versatile infrastructure, which can act as a gateway towards product scalability. The way we aim to achieve this objective, therefore, is by facilitating the already onboarded projects on HYVE to smoothly expand their products on the Polygon network.  

Several companies that are using the Polygon network will be onboarded on HYVE, to use and benefit from our freelancing platform. This will create a mutually beneficial relationship, where these companies will profit from the expansion on new markets, by using a product with proven capabilities, facilitating their subsequent development on the ETH and BSC networks, blockchains where HYVE has successfully deployed.

Lastly, our partnership with Polygon creates additional opportunities for HYVE in the Metaverse. Since Decentraland has made Polygon their main scaling product, we want to further build up our partnership with Uniqly, making it even more possible to have HYVE branded NFT T-shirts and Hoodies in the Metaverse!

Next steps
Overall, the news concerning the Polygon integration should be of great interest for all HYVE users, since support for the Polygon blockchain is now live. We have some more compelling things in store planned shortly, including a scheduled overhaul of our website in the upcoming days, and our platform within the next month, as well as the implementation of new features concerning new blockchain integrations and payment options.

🐝 Want to learn more about HYVE?
🐦 Follow us on Twitter.
🗨️ Join our Telegram Group.
📢 Join our Announcement Channel.
💡 Join our Discord.
✅ Follow us on Instagram.
👍 Like us on Facebook.
🌍Visit our Website.