New Token Integration: $ANGLE is now part of our payment system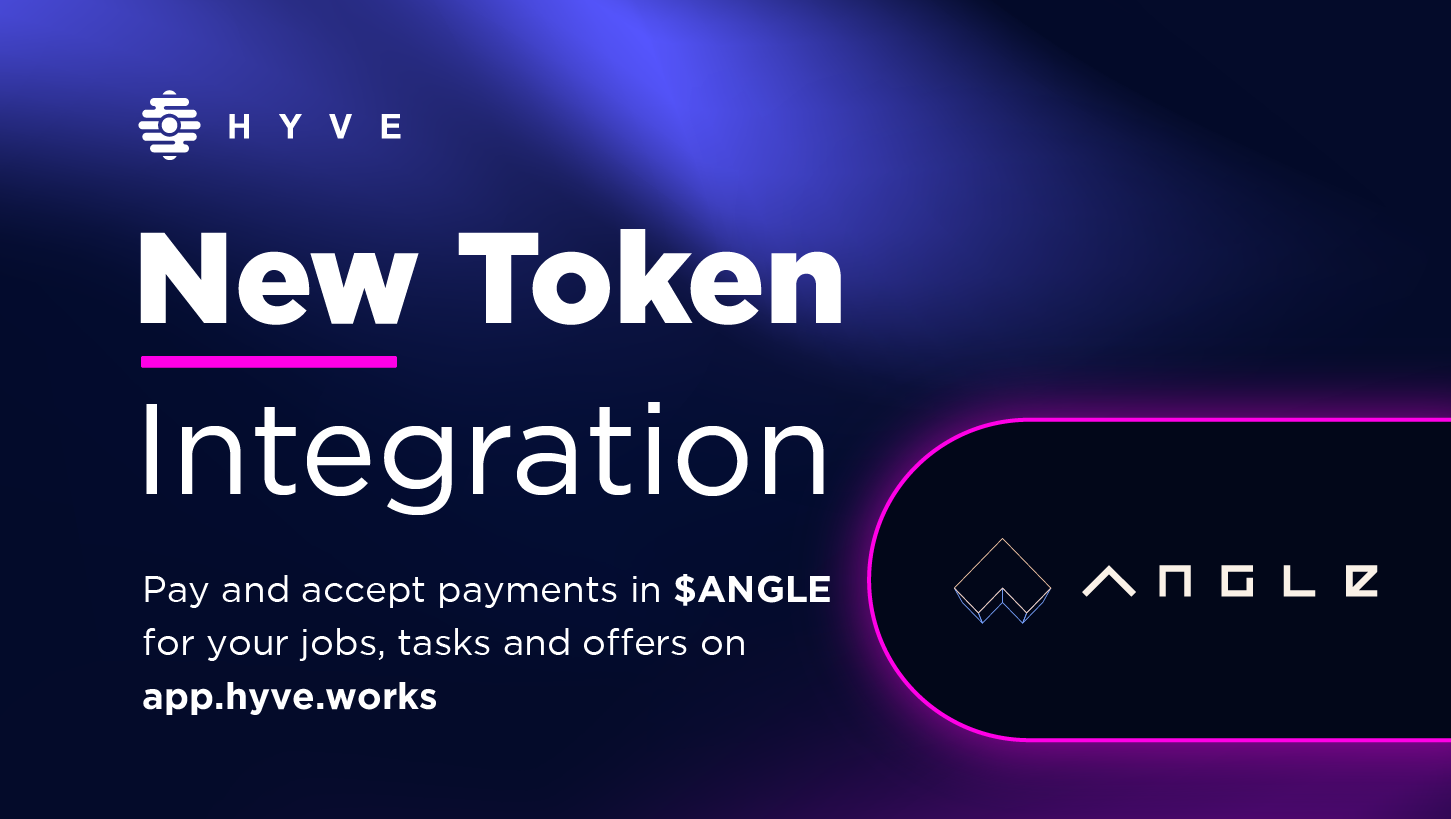 New week, new token integration, this week HYVE is proud to announce that another great project will see its tokens integrated on the HYVE platform. We love it when partners return for yet again another collaboration!
We are truly very excited to (re)welcome one of Angle's tokens to the platform, the first decentralized, capital efficient and over-collateralized stablecoin protocol. Angle Protocol aims at creating a sustainable money layer for blockchains. It is currently issuing agEUR, the most liquid Euro stablecoin on Ethereum and other chains.
This move marks an important step towards becoming a universal platform for freelancers, allowing payment in an increasing number of cryptocurrencies, and giving users the ultimate freedom. HYVE's dedicated approach is yet again highlighted with this integration, the result of which is hoped to further empower our freelancers and clients by bestowing them with full control over their payment methods.
About Angle

In case you missed our integration of agEUR, we will provide you with a brief recap of Angle Protocol. Briefly put, Angle is a decentralized, capital efficient and over-collateralized stablecoin protocol composed of smart contracts running on open blockchains.
The decentralized nature of open blockchains allows Angle Protocol and agEUR to be deeply integrated in the wide crypto-ecosystem. Angle Protocol can be used to issue stablecoins, called agTokens, that are pegged to a specific value.
This means that these tokens are designed to mirror the value of the asset they are pegged to. Angle has started with agEUR, a Euro (EUR - €) stablecoin. The protocol was launched in November 2021 and you can start using it at app.angle.money.
Dive into ANGLE!
The ANGLE token can be locked to receive veANGLE, which allows participation to the Angle DAO governance votes. The DAO is responsible for parameter tuning, protocol upgrades, deploying new stablecoins and collateral types as well as handling the yield strategies on the collateral in the protocol.
ANGLE is available on the Ethereum blockchain, with the token available to trade on Gate.io and decentralized platforms such as Uniswap, Sushiswap and many others.
Purchase the Angle token and use it to pay for jobs and tasks on the HYVE platform. Also, you can now start earning Angle token for the provision of your services, simply add it into your digital wallets by using the contract address down below.

ETH: 0x31429d1856ad1377a8a0079410b297e1a9e214c2
Looking forward

HYVE is the freelancing platform that is setting the bar for incredibly low fees: with 0.9% for jobs listed in HYVE, 2.9% for jobs listed in ETH, BTC or stablecoins, 7.9% for jobs listed in altcoins and the cherry on top is that if you pay the fee in HYVE it's half, so 3.95% and 1.45% respectively! During this past month we decided to slash fees entirely, knowing that it was a difficult period for freelancers, especially in web3!
In addition we have founded the Web3 Job Alliance, an initiative to help out professionals affected by the recent FTX debacle and its contagion into the broader market. If you are looking to continue your career in web3 or have been affected by the recent events, we are trying to help you out. Read more about the initiative here.
HYVE will continuously work to improve its ecosystem and attract users from diverse communities. We hope to see new users joining HYVE as a result of this integration, mostly because our aim is to grow our ecosystem and develop new strategies with our partners in crime.
Stay tuned for more! Make sure you regularly check out our social media channels for further announcements. Keep an eye out for any future updates.
Disclaimer
The information provided does not constitute investment advice, financial advice, trading advice, or any other sort of advice, HYVE does not recommend that any cryptocurrency should be bought, sold, or held by you. Please do your own risk assessment when deciding how to invest in cryptocurrency and blockchain technology. HYVE is not liable for investment gains or losses.
🐝 Want to learn more about HYVE?
🐦 Follow us on Twitter.
🗨️ Join our Telegram Group.
🌎Want to learn more about Angle Protocol?
🐦 Follow them on Twitter.
🗨️ Join their Discord.