New token integration: $UNIQ is NOW live on HYVE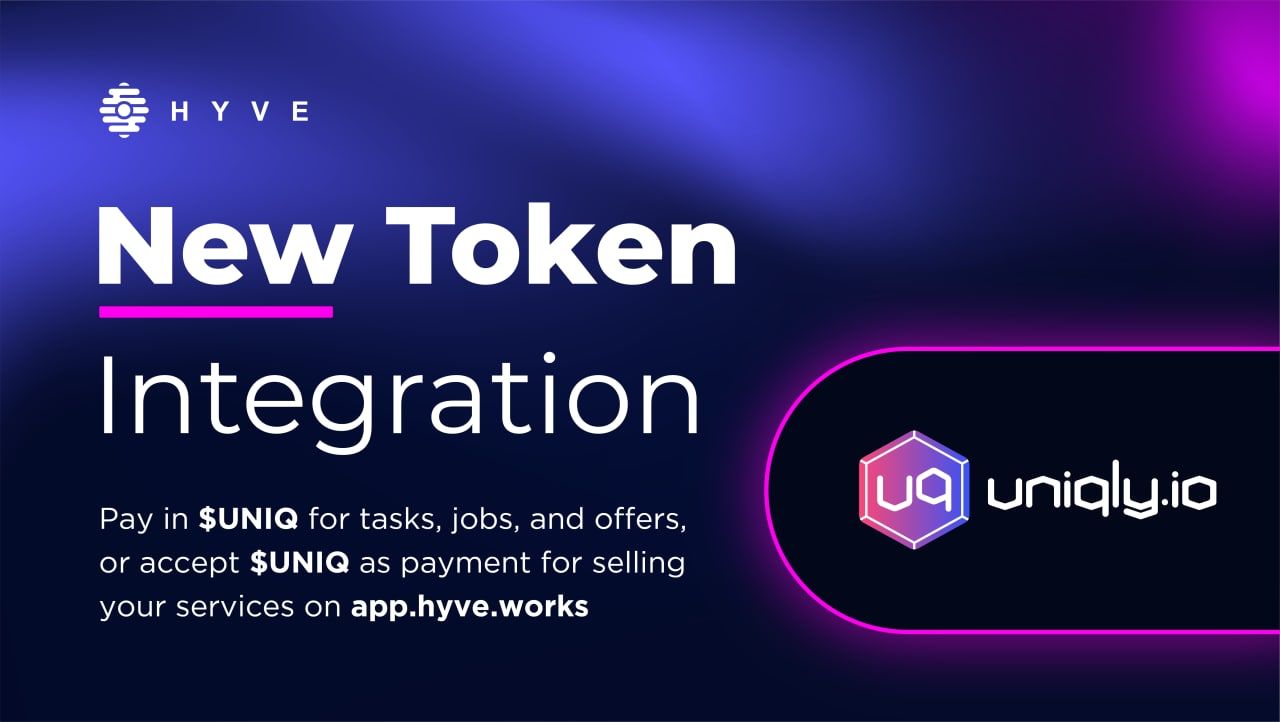 The end of 2021 was definitely marked by loads of partnerships, with Uniqly one of the most notable. In order to celebrate our collaboration, you might remember our HYVE-branded NFT collection, with a total of 510 limited edition NFT Christmas t-shirts and hoodies released. We are now thrilled to announce our next step of the partnership: integrating the $UNIQ token as a payment option.
Our partnership has been well received by the community, with one of our lucky users claiming their HYVE-branded NFTs through the Uniqly platform, receiving this amazing item in real life. Tangible results of our partnerships are always a great reason for celebration!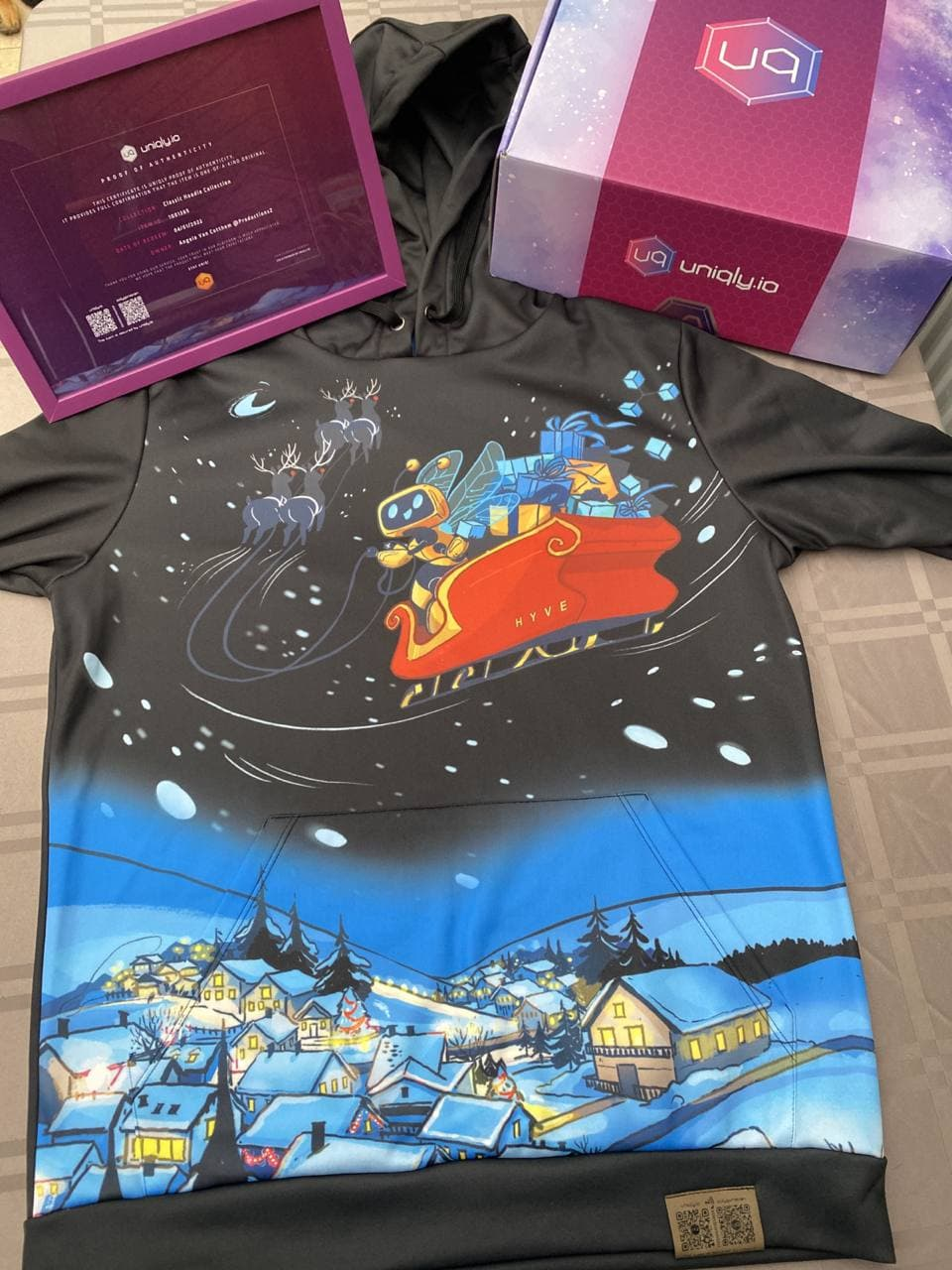 The $UNIQ token
$UNIQ represents the utility token of the Uniqly ecosystem acting as a payment method for Wearables 3.0 in Stores & Drops. Similar to the $HYVE token functionality of reducing fees, $UNIQ is also used to cover the infrastructural costs of Redeem or in Generator.
Currently, $UNIQ is supported on the ETH and Polygon network. Nevertheless, it will be integrated on ETH on the HYVE platform. This means that you will be able to pay for tasks and jobs and receive payment for offers in $UNIQ. You can find the contract address for the $UNIQ token below.
0x3758e00b100876C854636eF8Db61988931BB8025
$UNIQ holders can now use their token for an additional utility, namely as payment on the HYVE platform. This is beneficial since it increases the volume, in addition to trading, creating further exposure and offering multi-platform functionalities.  
What is Uniqly?
Uniqly aims to bridge the digital world of NFTs and the mainstream, physical market, through the creation of a complex ecosystem. Even if NFTs will have a higher level of applicability in the near future, Uniqly wants to address a current market need, by linking NFTs to physical assets and helping brands, projects, influencers and artists by creating proof of authenticity, thanks to blockchain.
How does Uniqly work?
The ecosystem is based on a variety of tools. Stores support users in launching their own NFT collection, backed by real-world assets. Escrow allows brands and mainstream projects to tokenize their products or services in the form of NFTs. The Marketplace allows users to freely trade NFTs within the Uniqly platform. Lastly, the Generator allows users to turn any copyrighted assets they own (be it meme, artwork, slogan, logo, etc.) into NFTs, which they can later sell in their stores.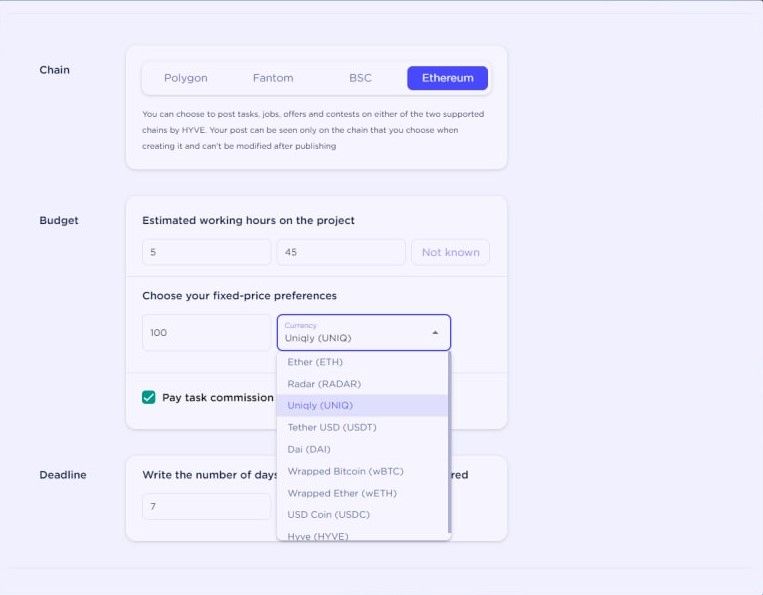 The road to further adoption
HYVE has created a cross-chain, decentralized ecosystem, redefining collaborative methods, by facilitating interaction between freelancers and enterprises through three main products, HYVE App, HYVE Launch, and HYVE Bazaar. Through its blockchain-based freelancing platform, HYVE eliminates intermediaries within the freelancing industry, by reducing fees and connecting clients with matching professionals, enabling them to work together securely.

As we have mentioned, further adoption has always been HYVE's main priority. By integrating multiple payment options we give freelancers further freedom over instant payment options while enabling the discovery of different communities and projects. In this way, we attract and blend members of our own community, as well as Uniqly's dedicated supporter base, ensuring visibility and interaction between projects.

$UNIQ represents only one of the first token integrations that will occur over the next few weeks. Considering our latest chain integrations, you will be seeing further additions of tokens on the HYVE platform.
You might have noticed $RADAR becoming available as a payment option last week. Since we are currently working towards the redesign of our platform, you should expect even more integration news in the upcoming weeks, so stay posted for more!

🐝 Want to learn more about HYVE?
🐦 Follow us on Twitter.
🗨️ Join our Telegram Group.
📢 Join our Announcement Channel.
💡 Join our Discord.
✅ Follow us on Instagram.
👍 Like us on Facebook.
💡 Visit our Website.
🏦Want to learn more about Uniqly?
🐦 Follow them on Twitter.
🗨️ Join their Telegram Group.
💡 Visit Uniqly Website.