The pros and cons of a hustle culture lifestyle: why is everyone working too hard?
There's no sugarcoating, hustling involves hard work, but with productivity tools, inspirational stories, science-backed research, and the right type of guidance, you'll identify how to build a strong career. But to achieve that hustle mindset, you have to make sure that your path is sustainable and healthy for you.
Will 2022 redefine the hustle culture? Only time will tell.
What is the hustle culture?
The hustle culture can be perceived as a collective urge to work harder and faster to reach professional goals.
The hustle mindset is based on the belief that it's possible to rise, dive into a deeper purpose, and finally flourish in all the ways you wish to excel. Eventually, you develop a blueprint for success by implementing simple life-changing practices to achieve your career goals.
Nowadays, the hustle culture is becoming the norm for most freelancers. As Forbes explains, the romanticizing of "hustling" is largely due to a "wave of motivational social media influencers" and the rise of the freelance industry. Millennials and Gen Z are particularly keen on working tirelessly and continuously. It is considered that the more successful you are, the more powerful you are.
The side-effects of hustle culture
Modern work culture has forced more and more people to define themselves by their careers.
The hustle culture affects everyone. The pressure is real! As more people feel pressured to meet these standards of the hustle mindset, they raise the bar for others, who then feel compelled to keep up or risk being labeled as underachievers—and the cycle continues.
In some cases, it can become a slippery slope towards stress, poor mental health, psychological or behavioral changes, burnout or it can involve sacrificing time spent with your friends, family, and yourself.
As freelancers, we need to learn how to personalize our relationship with the hustle culture mindset.
The hustle culture: helpful or toxic?
However, there are still debates concerning hustle culture: is it the quickest way to succeed in life, or is it a fast track to burnout? Is the hustle culture a pervasive social trend?
The biggest benefit of hustle culture is that eventually work gets done. VaynerMedia CEO Gary Vaynerchuk, for example, pushes daily, high-energy, great video content to his more than 9.7 million Instagram followers and 3.6 million YouTube subscribers. Vaynerchuk has real-world entrepreneurial pieces of advice, his basic and consistent message is clear:
Hustle is working, day in and day when no one is looking. It's about what you did from the time you wake up to the time you go to sleep.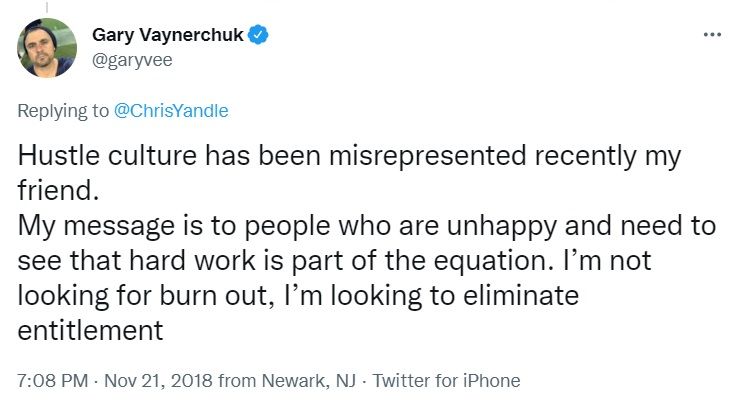 But we`re not Gary Vaynerchuk. We should try to create our version of the hustle mindset and work in a way that feels congruent with who we are as people.
You should be aware of the implications of the hustle culture when you`re running a freelancing business. Without a doubt, one important benefit of hustling culture is increased productivity. There are plenty of task management tools and productivity tools to get work done in less time than usual. The hustle culture tells you that you must always be working; however, there is an imperative need for more than just work in your life.
Here are some tips:
It`s important to avoid an unhealthy obsession with the hustle.
Don`t compare to others, it`s a trap 🚩.
Don't lose sight of what is truly important in your life.
Stick to a self-care daily schedule.
One good way to overcome the unhealthy effects of the hustle culture is to carefully set up your work schedule. And! Stick! To! It! You need to define your limits between over-working and productivity. To maintain a good work-life balance, it is crucial to prioritize your physical and mental well-being. You don't have to live up to the hustle culture's demands, just do it on your terms.
Taking breaks from time to time does not make you any less of a dedicated freelancer or any less of a person for that matter. When you take care of yourself, you're more likely to have the drive and motivation needed to produce high-quality work.
The ultimate goal is to create a more sustainable way of working and living and to prioritize the work-life balance.
                                              Let's all learn to #smarthustle!
Best freelance side hustles
Whether you're a digital nomad or you`re a freelance newbie, a side hustle is a great way to make some overall improvements to your finances or boost your monthly income. Side hustles encourage innovation, foster creativity, and provide an additional source of revenue.
If you are looking for the best freelance side hustle ideas, you should know that side hustle ideas are floating around from all kinds of backgrounds. If you're ready to work for yourself, maybe now it's the right time to start and sustain a good side hustle to make money. Choose whatever works best for you.
Flexibility. Self-management. Freedom. Earning potential. Just a few of the reasons why you should join the HYVE ecosystem whether you're a freelance copywriter, freelance developer, or freelance graphic designer. HYVE offers a wide variety of side opportunities for flexible and lucrative hustles. Side jobs can be so diverse, from graphic design to opening an online business. There is no limit to the type of freelance you can do. You can fit it around your busy schedule and you can choose to work from the comfort of your home.
HYVE is a blockchain-based freelancing platform, which has the mission of revolutionizing the workforce industry, by eliminating the middlemen. It`s a valuable solution for the decentralized freelance work industry. Not only does HYVE ensure privacy, fairness, and transparency, but it also reduces transaction fees and provides unique collaborative tools incentives that make the work experience better for everyone.
🐝 Want to learn more about HYVE?
🐦 Follow us on Twitter.
🗨️ Join our Telegram Group.
📢 Join our Announcement Channel.
💡 Join our Discord.
🌍Visit our Website.
👍 Like us on Facebook.
✅ Follow us on Instagram.