Top 5 common freelancing myths you should ignore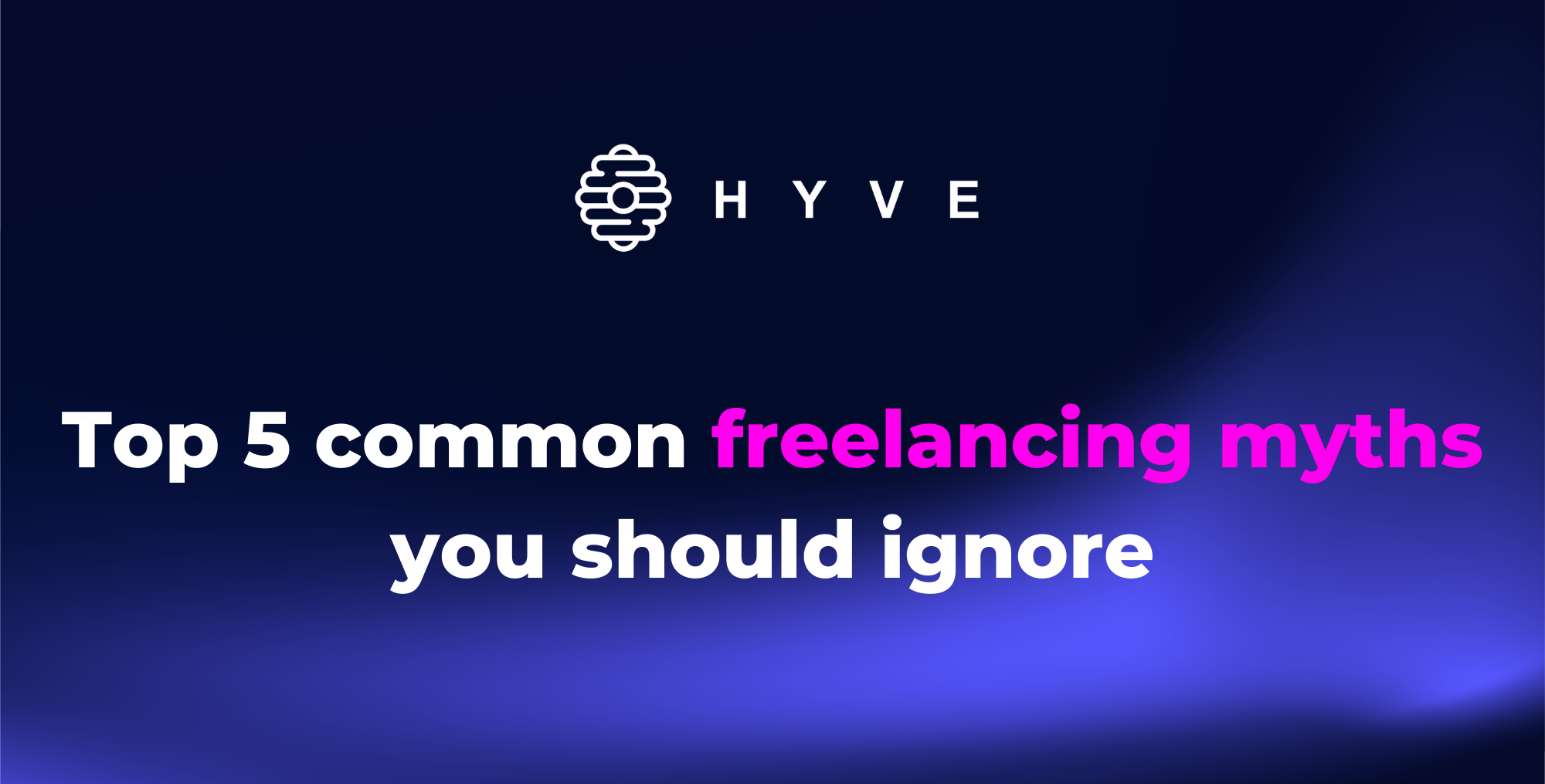 Perhaps you're looking for more flexibility in your work schedule, or maybe you're aiming to make some extra income on the side. Whatever your motivations, there are plenty of good reasons to take the plunge into freelancing.
But when it comes to freelancing, there are a lot of myths and rumors flying around. Let's jump straight into it:
Myth: Freelancing is only for young people 👩‍🦳👨
Truth: When you think of freelancing, what comes to mind? Chances are, you think of young people working from their homes or coffee shops, taking on projects as they come. And while that's certainly a common image of freelancing, it's by no means the only one. In fact, freelancing is for everyone - regardless of your age or experience.
While freelancing may have been popular among millennials in the past, it's now becoming increasingly popular among all age groups. In fact, according to recent studies, over 35% of freelancers are now aged 50+. So if you're looking for a career change later in life, freelancing could be a great option.
As long as you have the skills and the drive, there is no age limit when it comes to freelancing.
Myth: You need a lot of experience to be a freelancer 👩‍🎓👨‍🎓
Truth: There's a lot of talk about the importance of experience when it comes to freelancing. But what if you don't have any experience? Is it still possible to become a successful freelancer? The answer is YES!
You can become a successful freelancer without any previous experience. All you need is determination, a strong work ethic, and a little bit of creativity. There is no age, gender, or geographic requirement to become a freelancer. Sure, it helps if you have some experience, but there are many opportunities for people with no experience whatsoever.
There are also many ways to acquire the skills and knowledge you need to be successful in freelancing. Freelancing can be a great way to start your own business, and there are plenty of resources available to help you get started. You can find online courses, blogs, and even mentor programs to help you build the skills you need even without experience.
You don't know what skills to dive into? Here is a Top 10 in-demand freelance skills for 2022 that can help you decide what to specialize in.
Myth: Freelancing is not a "real'' job 👔
Truth: Freelancing can be a very real and profitable career option. In fact, according to recent studies, freelancing is on the rise, with more and more people choosing to freelance in order to have more control over their careers and lives.
Freelancing can be a very secure career option, as long as you have a solid business plan and are proactive in finding new clients. But there are also a few challenges that come along the way. For example, you need to be able to manage your time and workload effectively, and you'll need to be comfortable with ambiguity and change.
That is why it's important to remember that freelancing is not a ''set it and forget it'' career - you need to put in the work to maintain your clients and find new ones. But if you're willing to put in the effort, freelancing can be a very rewarding and stable career choice.
Myth: Freelancers don't get paid on time 💸
One of the most common freelancing myths is that freelancers don't get paid on time. But this isn't actually true!
Now that the crypto space is having a moment, the workforce industry is an early adopter of blockchain technology and there are some major benefits in this global movement. Especially for freelancers with a taste for digital transformation and an eye for innovation.
Blockchain establishes a decentralized platform that is equitable to all freelancers because it's the ultimate peer-to-peer network. There will be no large cuts in freelancers' wages because there would be no intermediaries. Furthermore, transaction fees are far lower than those charged by traditional banks.
Myth: Freelancing is only for people with special talents or skills 🥇🥈🥉
Truth: Anyone can freelance if they have a skill or talent that others are willing to pay for. You don't need to be an expert to start freelancing. In fact, many freelancers learn new skills as they go along.
Contrary to popular belief, you don't need any special skills or experience to become a freelancer. In fact, almost anyone can do it! All you need is a laptop and an internet connection. There are a number of different ways to find freelance work. You can search for jobs on online job boards, or contact companies directly and inquire about opportunities.
Freelancing gives you the opportunity to work at your own hours and projects and choose the people you want to work with. You can create your own schedule as a freelancer, which means you can take a day off whenever you like, however, you won't be paid for that time because there is no such thing as paid leave. Implementing freelancer marketing strategies will help you succeed in today's highly competitive market.
Myth: Freelancing isn't like starting an actual business
Truth: Freelancing is just as much of a "real" business as any other. You have all of the same responsibilities as any other business owner. You'll still need to handle budgeting and accounting, marketing and promotion, and legal concerns.
With technology playing a huge part in eliminating regional boundaries, now almost everyone has access to the global freelance market. However, traditional centralized freelancing platforms have some significant drawbacks. For instance, freelancers are hit with high platform usage fees and slow payment processing.
HYVE, like other projects within the crypto space, offers various features that make it very different from traditional online work platforms. The HYVE Ecosystem leverages the strengths of various blockchain technologies and brings new and well-desired functionalities to the freelance industry. Besides the chance to quickly find clients, the main motivation for any freelancer to register on HYVE is getting paid on time for the job. The task or job will be registered on-chain, with the amount agreed upon between parties will be stored in an escrow on the blockchain.
---
If you're considering freelancing, don't let these myths hold you back. Like any career path, it's important to weigh the pros and cons compared to what really matters to you.
Are you a freelancer looking to build a long-term relationship with a client? Go on HYVE and apply for a job! Start your own freelancing business today!

🐝 Want to learn more about HYVE?
🐦 Follow us on Twitter.
🗨️ Join our Telegram Group.
📢 Join our Announcement Channel.
💡 Join our Discord.
✅ Follow us on Instagram.
🌍Visit our Website.