HYVE: Twitter Space - AMA session summary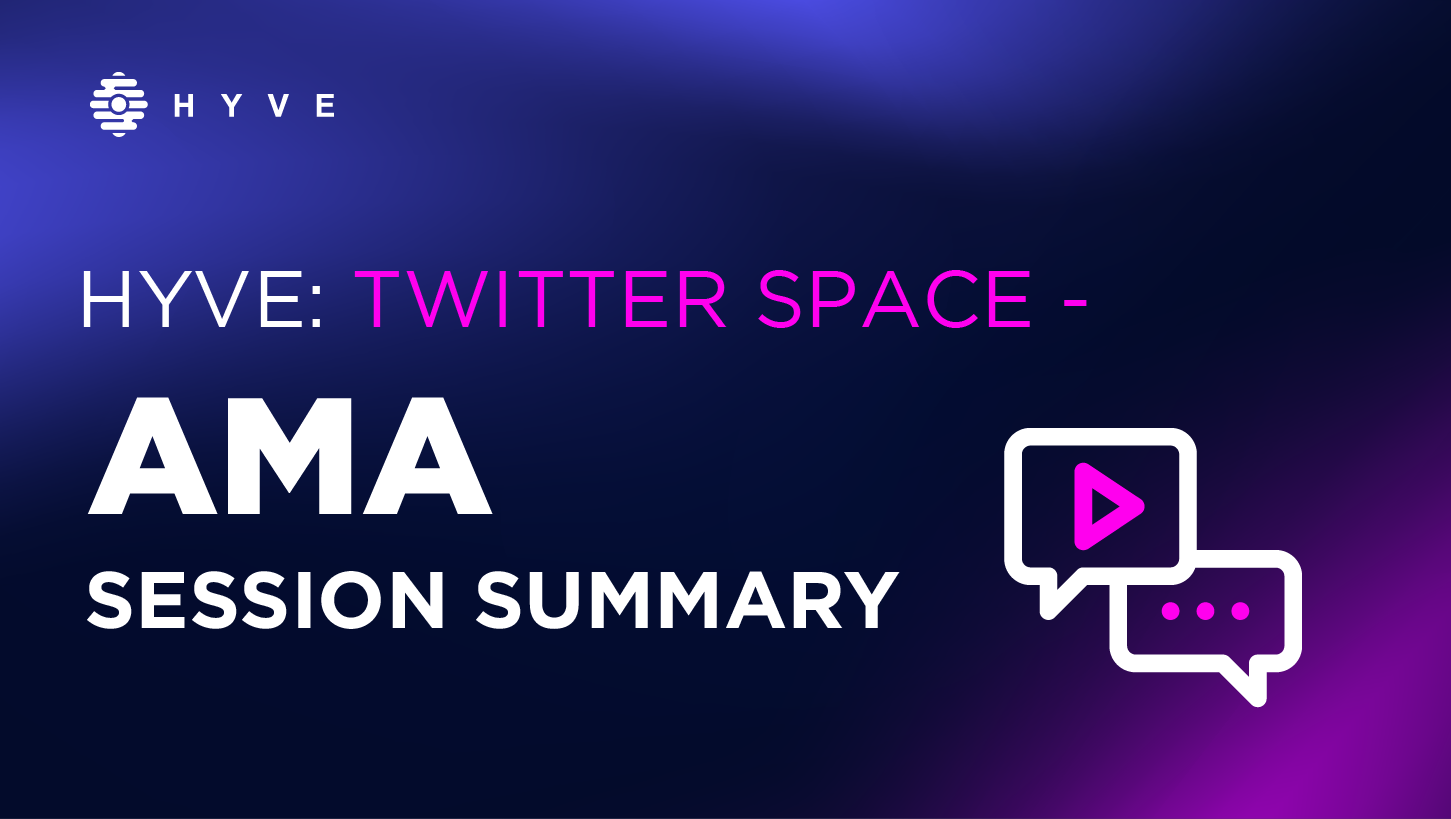 Following our most recent AMA session, we've decided to compile some of the most important topics and questions from our users. We are always trying to have a great relationship with HYVERS, our community, and help potential users better understand our project. Our CEO, Tudor Stomff, is always eager to answer your questions regarding HYVE.

Our AMA began with a summary statement of the recent changes from Tudor.
'With the help of data, analytics, and user feedback collected over the past 7 months we've been able to identify the weak points and redesign the whole platform to include the following:
The possibility of using the HYVE app on any device ranging from mobile, tablet, laptop, desktop, and any other screen - as well as any resolution such as 4K (which used to be problematic)
For an improved user experience, for example, when you first log in, a short tutorial will be walking you through all of the options offered. The tutorial takes into account heat maps of clicks on HYVE and which features people had difficulties accessing, to better aid users from now on.
Our first referral system was devised, where there are continuous rewards not just for the initial invite but every time the new user takes a specific action such as applying for a job or task or even simply completing their profile. This also brings value to the ecosystem through the incentive of getting people to actively use the platform.
There are many more new features and improvements which you can read about in our article about HYVE 2.0, and of course, many other features are currently under wraps, so keep an eye out for announcements. We've already added over 10 different tokens as accepted payment methods on HYVE during the past couple of weeks, and we look forward to update that list constantly. This will help bring more users and freelancers to the platform and get more companies to hire people using HYVE, as we've noticed recently.

Another option that we've been considering is opening up to more local communities as we've had volunteers willing to do this, as well as a long-term ambassador program that rewards the community for promoting HYVE through various channels, which will be detailed at a later date.
Now let's have a look at the essential questions and answers that came up during the AMA…
Q: Previously, when you created an account you would be asked to fill out your ETH or other blockchain address to receive payment but now if you sign up automatically with your google account where do you receive the payment? How does the payment work if you don't fill in the blockchain address at the start?

A: Firstly, the original login method using MetaMask is still available as an option. As for how to receive a payment if you have logged in using Gmail, Facebook, WeChat, etc, there are different options that you can choose to automatically generate a blockchain address where you automatically receive payment when you participate in a task. The wallet generated is non-custodial meaning that HYVE does not have access to it, instead, we use a leading provider for this. We've done this to make it more accessible to non-crypto natives who do not have any blockchain knowledge or a MetaMask account. We will continue to add different login options for HYVE to make it more accessible to people.
Q: Can you describe how HYVE has a competitive edge in comparison to other centralized platforms such as Fiverr or Upwork which have been around for a longer time?

A: There are many differences between HYVE and centralized platforms, therefore we will start at the beginning.
Firstly, the fees differ a lot, most centralized companies have a fee that ranges anywhere between 10% to 25% which is quite a lot and insane when you come to think of it. Contrastingly, the lowest fee at HYVE is 1%, which is worlds apart from the normal average. Besides this, the most important mechanism that cannot exist in a centralized company and that HYVE has is the ability to escrow the payment, which means that both the employee and the employer are protected. The reason for this is that once the employer puts the money into escrow, if the employee does not complete the task as required then a dispute can be raised and the money returned to the employer, likewise, if the employee does the task to the standard required but the employer tries to go back on his word, it won't be possible because there is already proof on the chain that the employee has fulfilled his task successfully.
Q: Is the HYVE website ready for more marketing?

A: More marketing has already begun on the website, we've been having discussions with a lot of companies, adding their tokens as accepted payment methods, getting them to hire through HYVE, trying to attract more users, considering opening local communities, etc. We hope that users will use the referral system that we have implemented to increase the number of users as well.
At the moment we are focusing on accumulating new users, new clients, and integrating new currencies, as well as new blockchains. Due to the fact that V2 has just gone live, we're going to continue adding new features and improving it for now. We will not start working on a V3 at HYVE for at least another 12 months, as there are still many opportunities for V2. When the time comes that all options have been saturated for V2 then we will move to V3.

We hope that these answers help you better understand HYVE 2.0 and the future direction that HYVE is headed. We are looking forward to the next AMA session with our community, where we will be detailing more about our referral program, Ambassador program as well as future development in digital art!
🐝 Want to learn more about HYVE?
🐦 Follow us on Twitter.
🗨️ Join our Telegram Group.
📢 Join our Announcement Channel.
💡 Join our Discord.
✅ Follow us on Instagram.
👍 Like us on Facebook.
💡 Visit our Website.