Telegram AMA Recap: HYVE is joined by TNB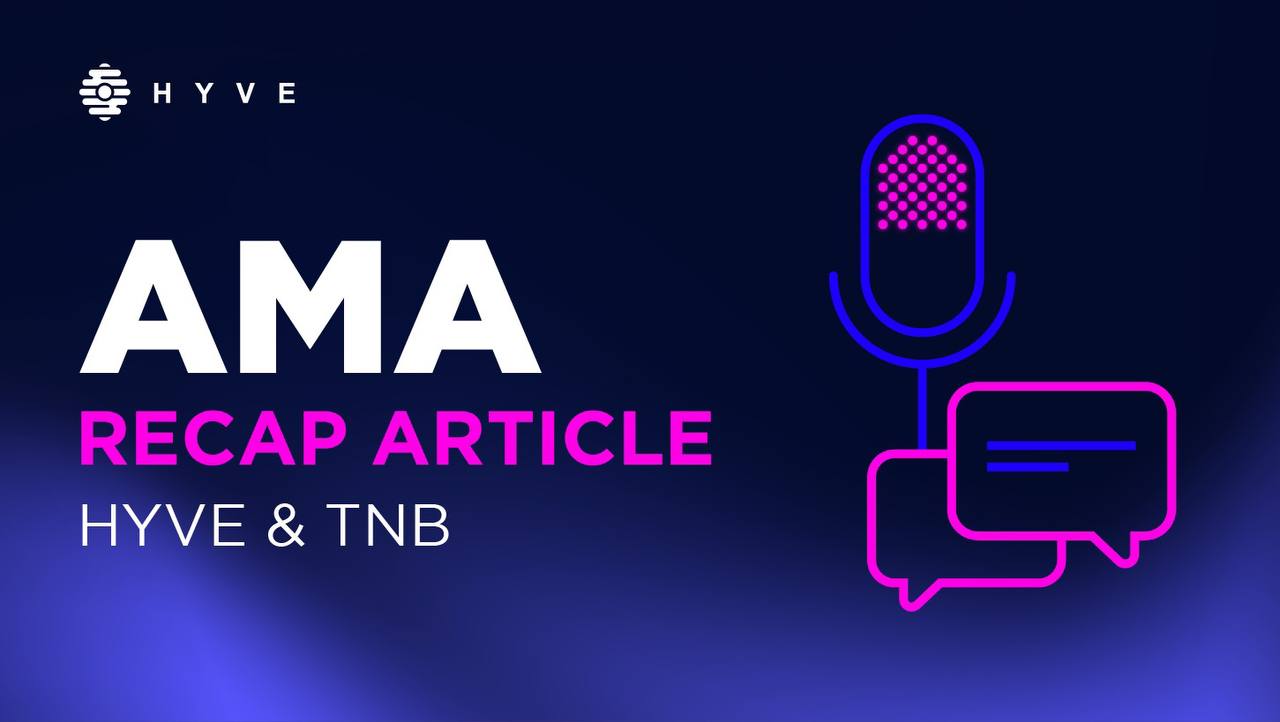 We know how curious you are about any potential developments for HYVE, your favorite freelancing platform and web3 project. We like to be as transparent as possible with everything going on behind the scenes, and as you know we hosted an AMA last week over our official Telegram Group It's been a while since our last AMAs, with one in June, hosted on Twitter Spaces and one on Instagram. This time, we've been joined by our friends at Time New Bank, who you might remember from our very recent token integration!
What is TNB?
To give you a short recap of Time New Bank - TNB delivers a standardized system that fully expresses the value of time commodities based on how time exporters are recognized and demanded via a scientific and systematic analytical model by leveraging its decentralized value transmission platform.
Laurie, who is responsible for international community building, unveiled some more details about their new product, Top Meta. Top Meta will represent an IP trading platform within the metaverse, allowing trading of NFTs and other art creations.
What is TNB planning to do in the future?
Through the numerous token integration HYVE has performed over the last couple of months, it can get quite hard to track the utility of each project. For this reason, Tudor asked Laurie what new use cases can users expect from TNB, thus creating interest for their native eponymous token.
Time New Bank is based in Singapore and consists of a team with a very strong web3 technical background, aiming to build a precision time-value-based transmission network. The time value of each individual is incredibly important - the value of an individual is thus given by how much they are needed by others. Subsequently, the $TNB Currency was introduced to monetize the time commodity.  
Can you give us more details about Top Meta?
So far, the Top Meta platform has been released in Chinese in May, with the international version currently under works. Once released, users will be allowed to use the $TNB token as the payment option for the Top Meta platform. The international platform will be available in the first part of 2023.
Top Meta will increased the reach of digital artists, turning their artwork into NFTs, registered as their IP. Thus, there will only be one creator. In addition, Top Meta will allow to turn the artists' digital works into physical goods, such as globes, mugs, T-Shirts and much more! There will be an IP Metaverse competition among Chinese university students, in order to promote the Top Meta platform.
TNB has been quite active in establishing partnerships related to Metaverse research and IP, with highly rated universities in China, as well as banks and other private companies.
This allows for users to freely display their artworks, providing equal chances, regardless of background factors - sounds similar to HYVE! Lastly, Top Meta will provide a revolution within the art industry!
What are the available use cases for creators and collectors?
Artists and creators will be able to reach a wider range of people with their designs, whereas collectors will fully own the artwork they purchase. Thus, they can sell or transfer their NFTs, with the transaction fees returned to you, as well as the first owner
TNB also takes into account community feedback, with a dedicated group to debate and implement all proposed changes coming from users.
What is a potential roadmap for Top Meta and TNB?
The international platform will go live in the early stages on 2023 and will be a completely different platform compared to the Chinese version. However, there are many potential partnerships and further use cases to be developed. Eventually Top Meta will expand further than the art industry, but plans are still currently under wraps.
If you found this AMA interesting, do not forget to give TNB a chance and check out their platform. We are all excited about the Top Meta International version, and in order to keep up to date, with TNB you could use out the links below to keep an eye on all the details.
This AMA with TNB is just one of the many things we will be performing with our partners. As we integrate more tokens, we want to educate our users about the multiple utilities various web3 projects provide. In addition, it is also important for HYVE to learn what are partners are up to, so that we can seamlessly integrate with their new products. Stay tuned for more!
🐝 Want to learn more about HYVE?
🐦 Follow us on Twitter.
🗨️ Join our Telegram Group.
🪐Want to learn more about M.I.T. TNB?
🐦 Follow them on Twitter.
🗨️ Join their Telegram Group.