HYVE Monthly Recap: February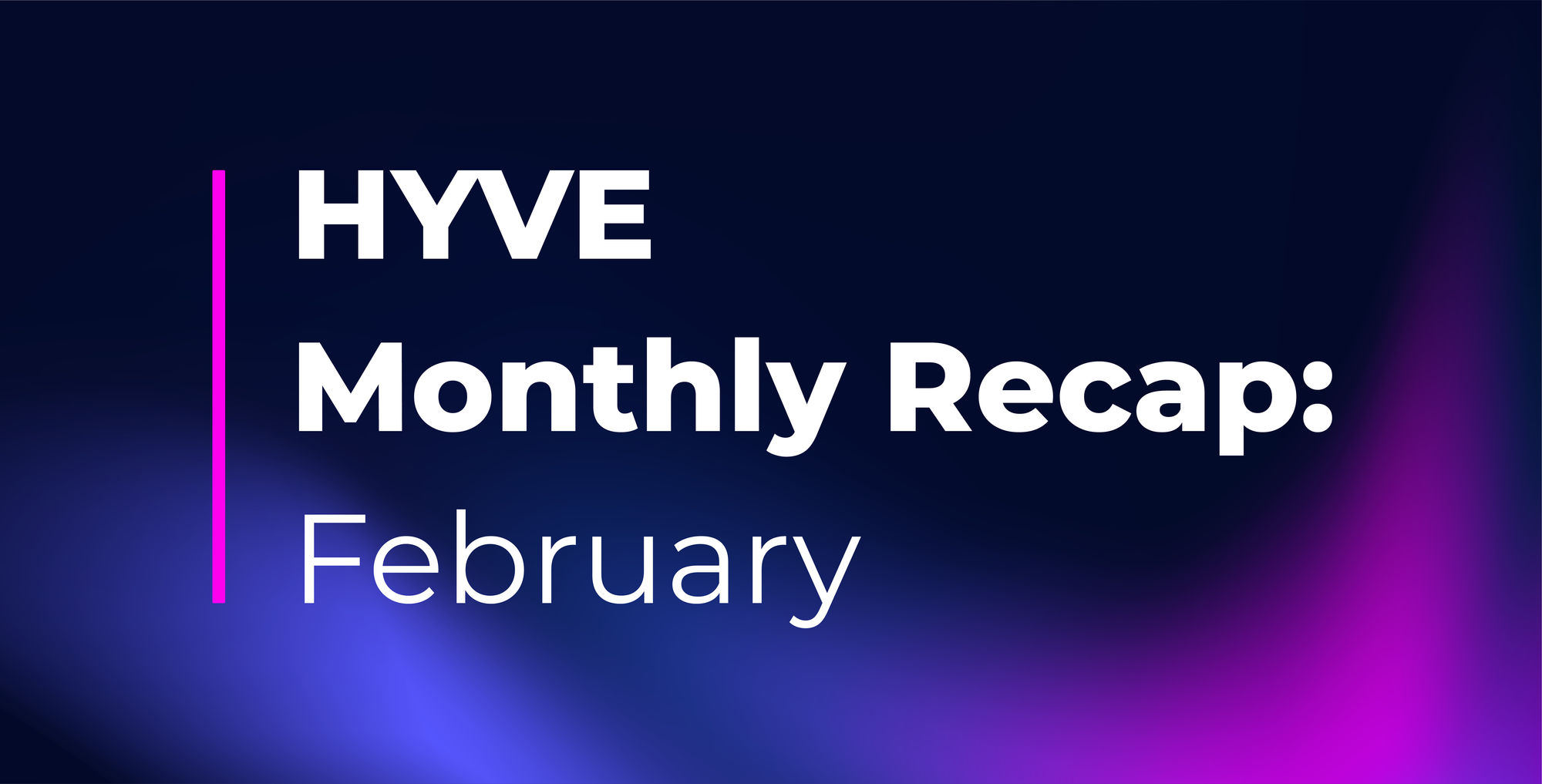 Some of you might have noticed how busy the beginning of the year has been for HYVE; February is no exception. While we know it has been quite an eventful month, it can get a bit difficult to track our progress.
Therefore, we have decided to keep you updated regularly through a monthly recap series, highlighting our main achievements and milestones. Let's check what February had in store for us!
Community
Our quest for further adoption means that our team has to expand constantly. Our Telegram and Discord groups will require further moderation as our community grows. For this reason, we decided to hire Community Managers for our Telegram and Discord groups by posting the jobs directly on the HYVE App.
HYVE's mission is to revolutionize the workforce industry; therefore, we wanted to give our supporters the first chance to apply for a job in the blockchain space by posting directly on our app. In addition, our campaign was met with great enthusiasm, successfully finding matching candidates for the position. Our moderators have been doing a fantastic job for the past month, and we couldn't have found them anywhere better than on HYVE.

We promised to engage more with our community through direct interaction or promotion on traditional social media channels. We have added HYVE-related banners on bitcointalk.org to raise awareness of the project. Nevertheless, more importantly, you can now find us on Instagram @hyve.works, where we will be posting announcements and promoting our blogs in a more visual and condensed manner.
Moreover, we have launched a new campaign on Twitter for Valentine's Day (Valentine's Dinner Date with HYVE), where we have chosen three different winners (and trust us, it was hard!) based on their creativity, humor, and originality.

Lastly, some of you might remember our partnership with Uniqly.io. To mark the collaboration, we have released a limited number of HYVE-branded NFT t-shirts and hoodies, which users could then turn into real-life objects using Uniqly's platform. As we always appreciate the support our community provides, we have publicly thanked the customer that has purchased the NFT, as we are thankful for everyone backing us and endorsing us directly.
Blog posts
By now, you are probably familiar with our regular Blog posts, aiming to educate and share knowledge about freelancing with people who are considering joining this industry or are looking for some tips and tricks.
Our articles always showcase the benefits of freelancing compared to regular jobs, especially when the payment for the provided services is performed in cryptocurrencies, in a decentralized manner. Not only do you get to earn more, but you'll also enjoy instant and secure payments, which will effectively eliminate intermediaries.
We are not going to discuss the details now, however, we recommend you check out the following pieces posted in the previous month, in case you might have missed them:

Development
It had been quite a few months since our latest development update, therefore we release quite a lengthy article showcasing all our progress, mostly from a technical point of view. Moreover, our second development update highlighted some plans for the future.
Our partnership with Radar, which concluded the month of January, finally allowed users to bridge their tokens between supported blockchains. The Radar Bridge went live midway through February, offering users the chance of higher flexibility and enabling the subsequent reduction of gas fees.

You may have seen that we are currently working on a complete overhaul of our website and platform, providing several teasers and backstage access to the new design. In addition, we have been touting a new upcoming partnership, through various teases and mentions.
The near future has got some exciting news in store regarding that, so make sure you are connected - it won't disappoint!

🐝 Want to learn more about HYVE?
🐦 Follow us on Twitter.
🗨️ Join our Telegram Group.
📢 Join our Announcement Channel.
💡 Join our Discord.
✅ Follow us on Instagram.