Monthly Recap: May-June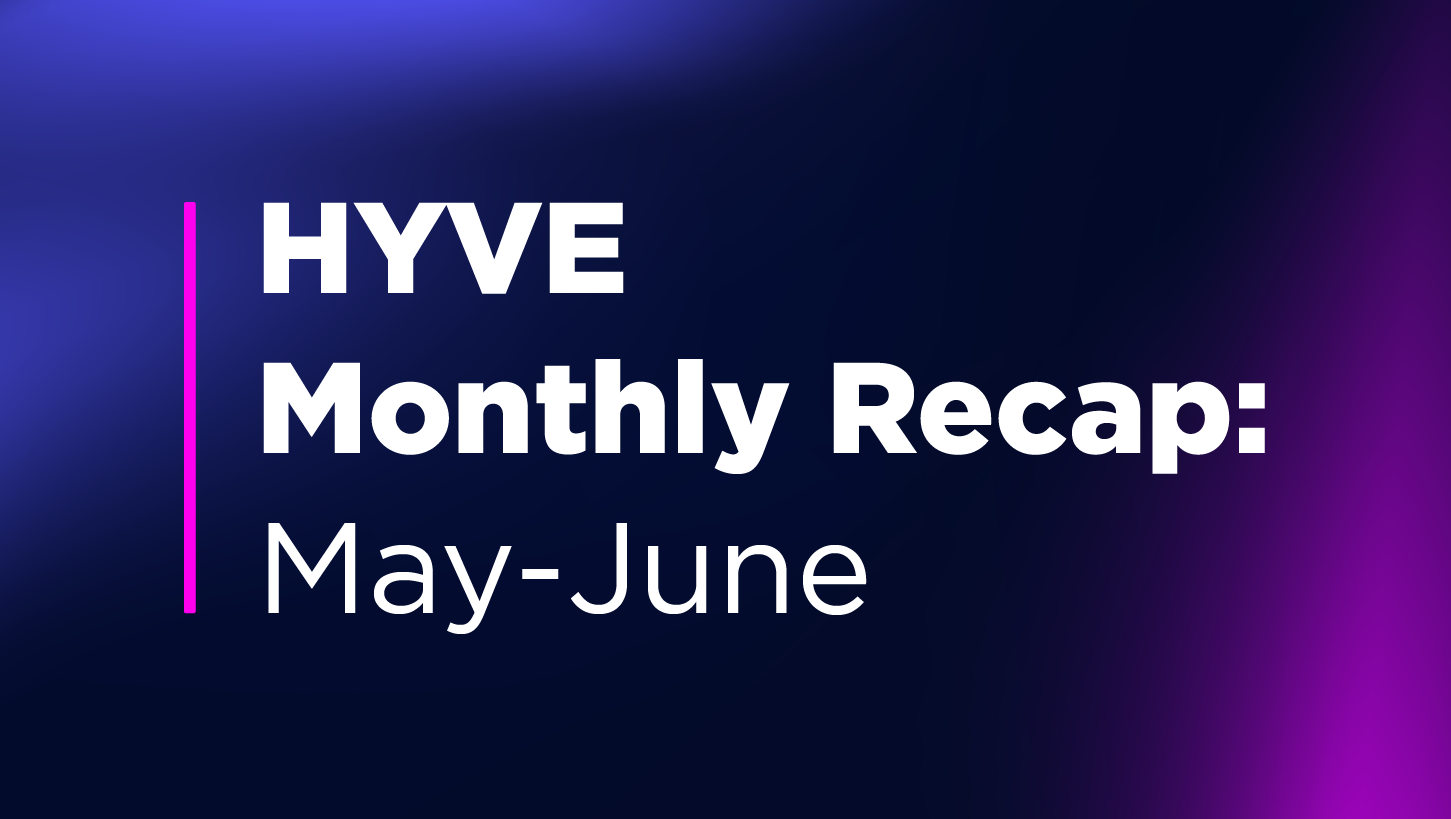 In face of the recent downturn in crypto markets, the past two months have seen events at HYVE evolve at a more accelerated pace than ever before. The downturn hasn't slowed us down, on the contrary - we are delivering surprises for our users at an ever faster pace than before. Because we know that there have been many updates and that you may have missed some, we've put together a recap of May and June to ensure you are caught up.
Offering payment flexibility
May and June have been a continuation of working towards the complete diversification of our payment options, with the focused aim of providing HYVE users with the most optimal methods for payment of tasks, jobs, and offers on the platform.

In chronological order, we have integrated:
Each token has brought new valuable benefits, additional exposure, and the prospect of multi-platform functionalities. By focusing on integrating multiple payment options, we provide freelancers with further freedom over instant payment options and facilitate the discovery of different communities and projects while creating partnership potential. If you are a promising crypto project and want to become a payment option on HYVE, you could read more about it here, where you will be prompted to complete the following application form.
HYVE App 2.0
HYVE kicked off June with the launch of a much-anticipated V2, which is the most notable event to date. For the interested developer community, HYVE also introduced many exciting new developer tools, which are now live. The developer team worked tirelessly on:
Enabling a functional mobile and tablet platform, ensuring collaboration, regardless of devices with display resolution up to 4k,
Including job categories, reducing browsing times of listings for clients and freelancers,
Adding the total sum in USD converted underneath the token listings, enhancing traceability for freelancers unfamiliar with changing token prices,
Enhancing the profile subsection, with dashboards, previous work and a My Profile page,
Fixing several bugs and improving the website's overall performance,
Expanding task cards on viewports and creating new zoom options,
Creating an onboarding component to facilitate the process of companies hiring on HYVE,

Overall the new HYVE came with many new improvements to explore, a massive rebranding and a freshly reshuffled ecosystem that invites our users into an intuition-led experience and on top of this, revealed HYVE Bazaar, the marketplace for creatives. To read more about HYVE App 2.0 check out our piece giving you all the details regarding our new referral system as well.

HYVE's platform utility has attracted more hiring as it saw an increasing number of projects making the most of it, with PundiX posting jobs in the crypto space using HYVE earlier in June, so for those of you who are eager to earn crypto and work in a growing crypto environment, keep an eye out for more of these posts from other partners!
Twitter Space - AMA session
The month of June also saw HYVE's most recent AMA with our CEO, Tudor Stomff, who is always eager to answer your questions regarding HYVE.Our AMA began with a summary statement of the recent changes, the project, the vision on how to interact with the V2, new features and plans for the future. The AMA also provided important answers to questions from the HYVE community, if you missed the AMA, you can find the recap article here.
Blogs you might have missed:
As always, we continue to deliver our informative content about freelancing, blockchain and how web 3 has influenced this space. If you want to know more, simply check out our blog posts from the past couple of months:
What's next for HYVE?
With the summer right around the corner, we're looking forward to a busy few months ahead. We're excited to continue growing the HYVE ecosystem and welcoming new tokens and blockchains and partnerships to build on top of our platform.

All in all, it's been another busy and productive couple of months, but there is more excitement in store coming up.  
As always, we encourage everyone to follow us on our social media to stay up-to-date on all the latest news and announcements. Thank you for your continued support!


🐝 Want to learn more about HYVE?
🐦 Follow us on Twitter.
🗨️ Join our Telegram Group.
📢 Join our Announcement Channel.
💡 Join our Discord.
✅ Follow us on Instagram.
👍 Like us on Facebook.