The moment you've all been waiting for - HYVE 2022 Recap!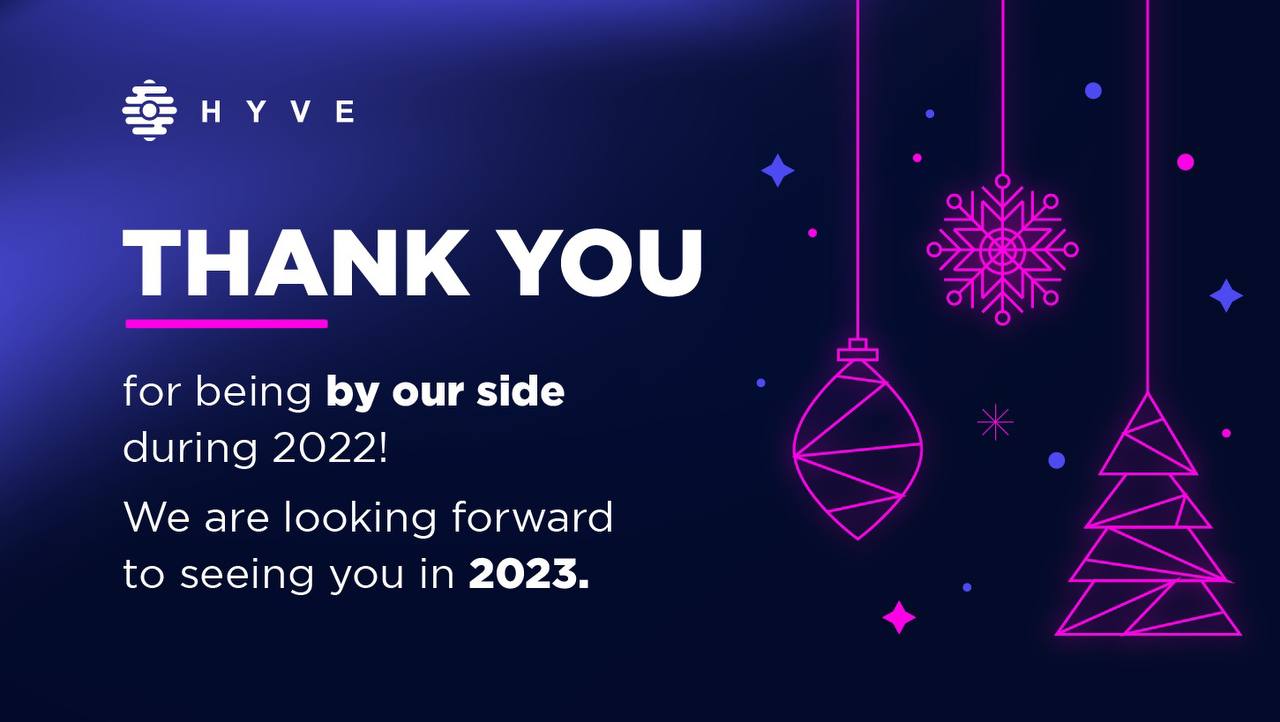 This year was a rollercoaster of emotions, wasn't it? From all-time highs straight into a bear market, from the Luna collapse to the FTX debacle, this year had it all for both crypto enthusiasts and newbies alike, with drama unfolding just as things seemed to get better. Not to mention the things happening on a daily basis, with inflation skyrocketing and the world turning upside down.
One thing we can all agree on during this year of heavy uncertainty was that HYVE did not stop building, and we came out stronger and better than ever! From a new brand identity supported by a new website and a much-improved platform to the development of a new NFT venture, the Metalancers, HYVE has delivered on all fonts and has kept building, regardless of market conditions.
We want to thank you all for your tireless support throughout 2022, we know it's been a tough one - but it's been a blast and we made WEB3 better together! Let's get through a quick recap of this year's events and see where we're heading.
---
HYVE helps you kickstart your freelancing business!
We started off 2022 by posting a series of blogs, showing the ropes of freelancing. Some of you might have always wanted to take on freelancing but never knew how. Well, whether you had a detailed plan about how to freelance or just had a random thought about copywriting, HYVE has you covered! We gave you tips and tricks to effectively market yourself and manage multiple projects in a successful manner, but remember, it all comes at a cost. It's important to take care of your mental health and avoid burnout!
As you got better at what you were doing and we provided more professional tools to achieve your goals, we started tackling more advanced topics, including how DeFi and freelancing are connected, or how blockchain can aid your freelancing. We even explored the life of working in a blockchain startup, as you got more crypto-savvy and interested in WEB3.
We've been here for your entire freelancing journey, giving you tips and tricks and helping you decide on your future path, be it consulting, copywriting, design, marketing and so much more! This was only a foreshadowing of what was yet to come - it's time to scroll down for more.
---
More blockchains!
You know how proud we are of HYVE's cross-chain infrastructure. We came with a concept  as in 2021, we launched the first version of a universal platform for freelancers, where payment options in crypto are diverse, reducing gas fees and increasing speed and security. We started the year with two supported blockchains, ETH and BNB, and added two more in the first semester of 2022, namely Polygon and Fantom!
Polygon is one of the fastest-adopted blockchains, providing a highly scalable and cost-efficient alternative to Ethereum with an ever-growing community of developers. This increased the chances for us to partner up with new projects, especially in the spheres of blockchain gaming and NFTs.
Fantom is a highly secure and fast blockchain, with a dedicated community of developers. Partnering up with Fantom opened up a new gateway for established projects, enabling our supporters to discover new opportunities and tokens for payment.
Integrating the two blockchains allowed the listing of jobs, tasks and offers on Polygon and Fantom, thus reducing gas fees and improving transaction speeds for freelancers. Moreover, the $HYVE token became available on the two new networks, optimizing staking and opening up to new liquidity markets.
In simpler terms, users and freelancers can now provide their services across four different networks, each with unique payment methods.  
Oh, in case you missed it - a very important feature that we have integrated was the RADAR Bridge. Our partnership with RADAR has been long standing, with the Bridge going live in January. This allowed users to transfer $HYVE between our supported blockchains in a speedy manner, for a minute fee of maximum 100 $HYVE.
HYVE won't stop here - we are currently in discussions to integrate a fifth and even a sixth blockchain. We are thus staying true to our core and developing a highly customizable, cross-chain infrastructure, not only servicing freelancers but also representing a strong foundation on which promising crypto projects could launch.
---
HYVE redefined
Notice anything different? If you don't remember this look it means that you're either a new HYVE or you blocked your memory.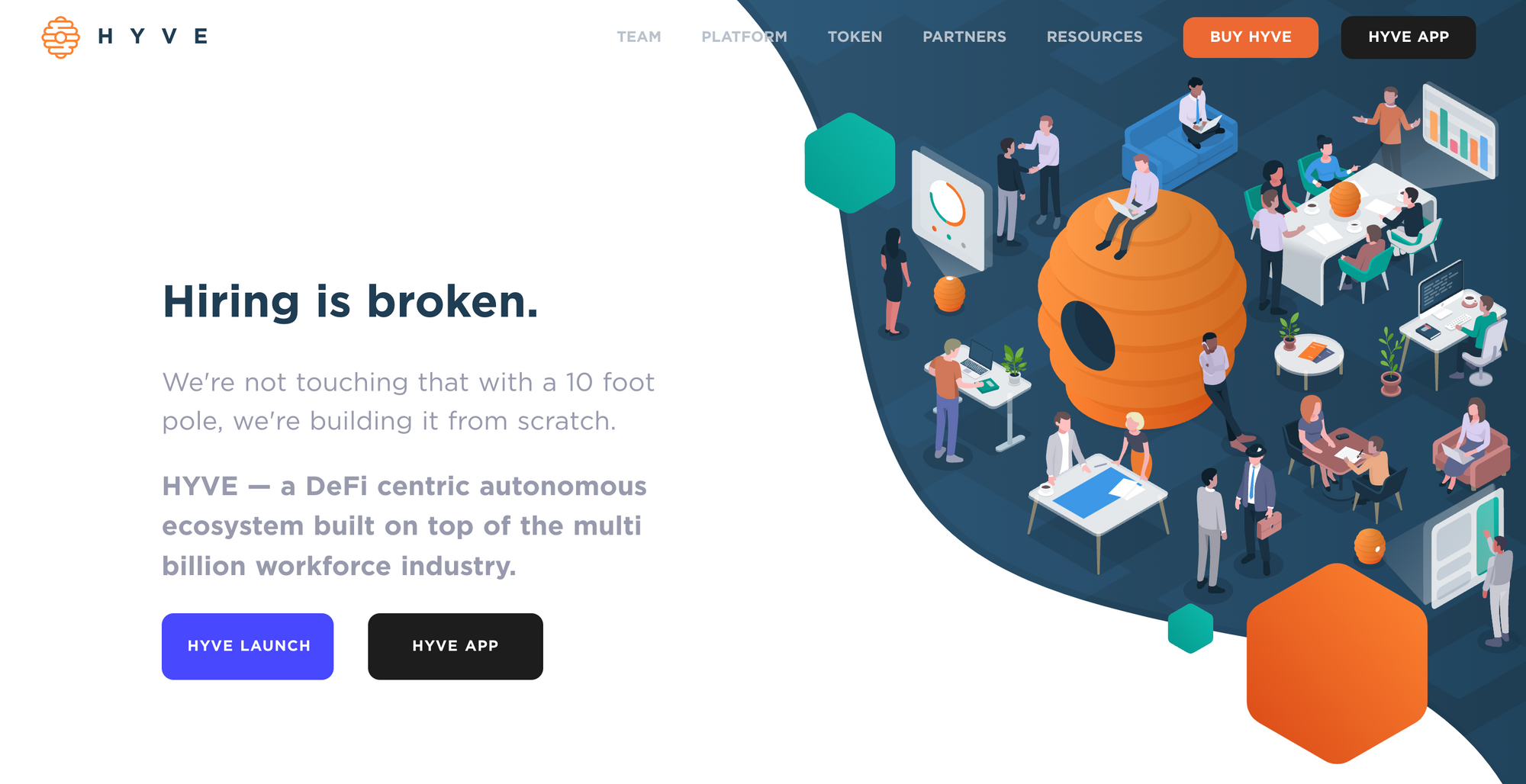 We started off the year with a radically different look and definitely had a glow-up. This process was a long time in the making, lasting more than three months, and coincided with the addition of our new dev team.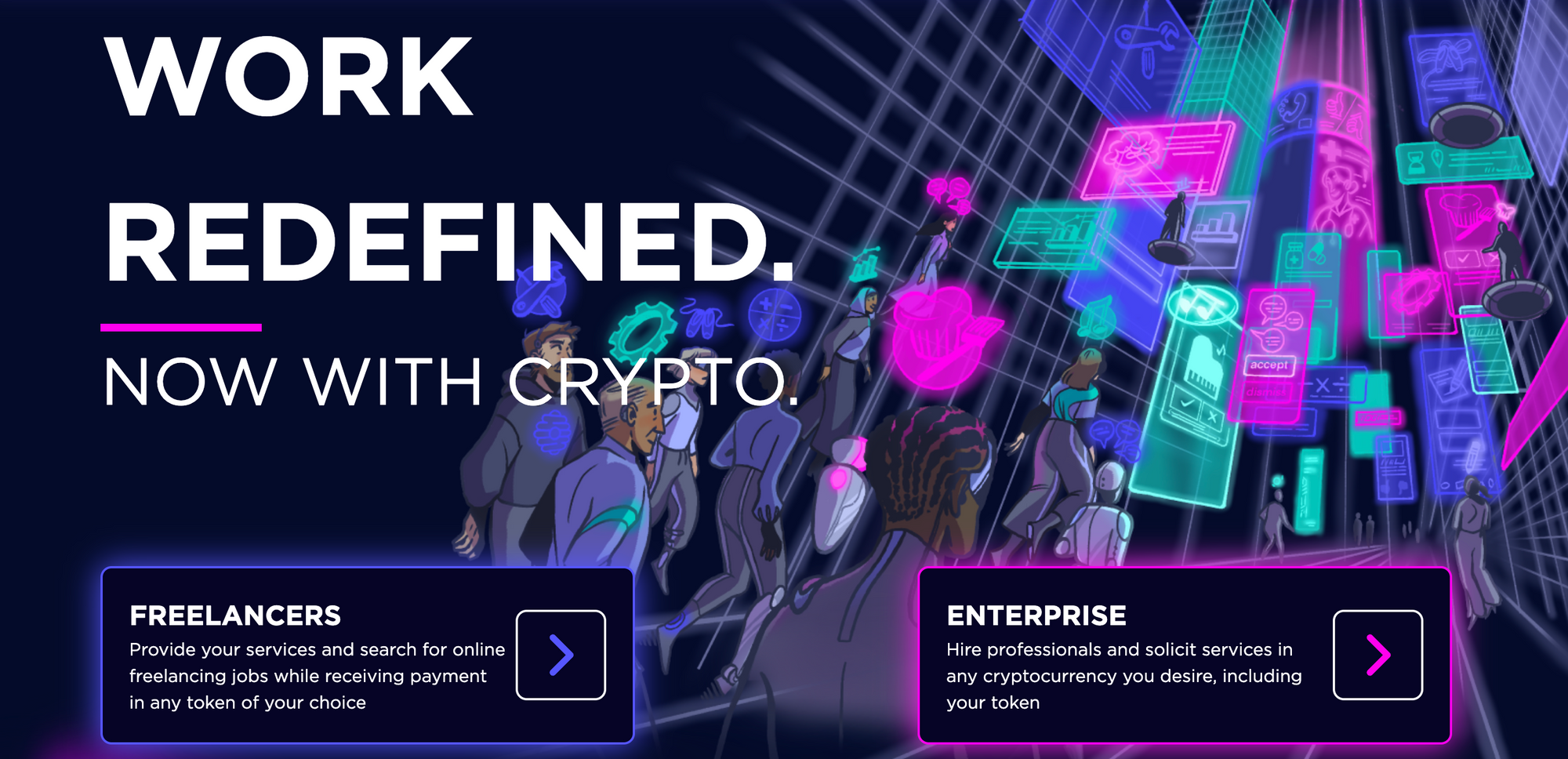 The new website was launched in order to reflect a new brand identity, which welcomed everyone on the platform, including enterprises. HYVE provided a new way to diversify revenue streams through crypto, meaning that companies could finally receive payment in cryptocurrencies for the provision of their services.
While working on the website, something massive was cooking - HYVE V2 was under development. However, we did not neglect the old platform, as we continued to fix several bugs and optimized the performance, as documented by our second, third and fourth Development Updates.
HYVE V2 was an immense success, introducing a sleek new design and groundbreaking features such as social media sign-in, user profiles, a convertor to FIAT underneath every listing in order to facilitate conversion rates and many others!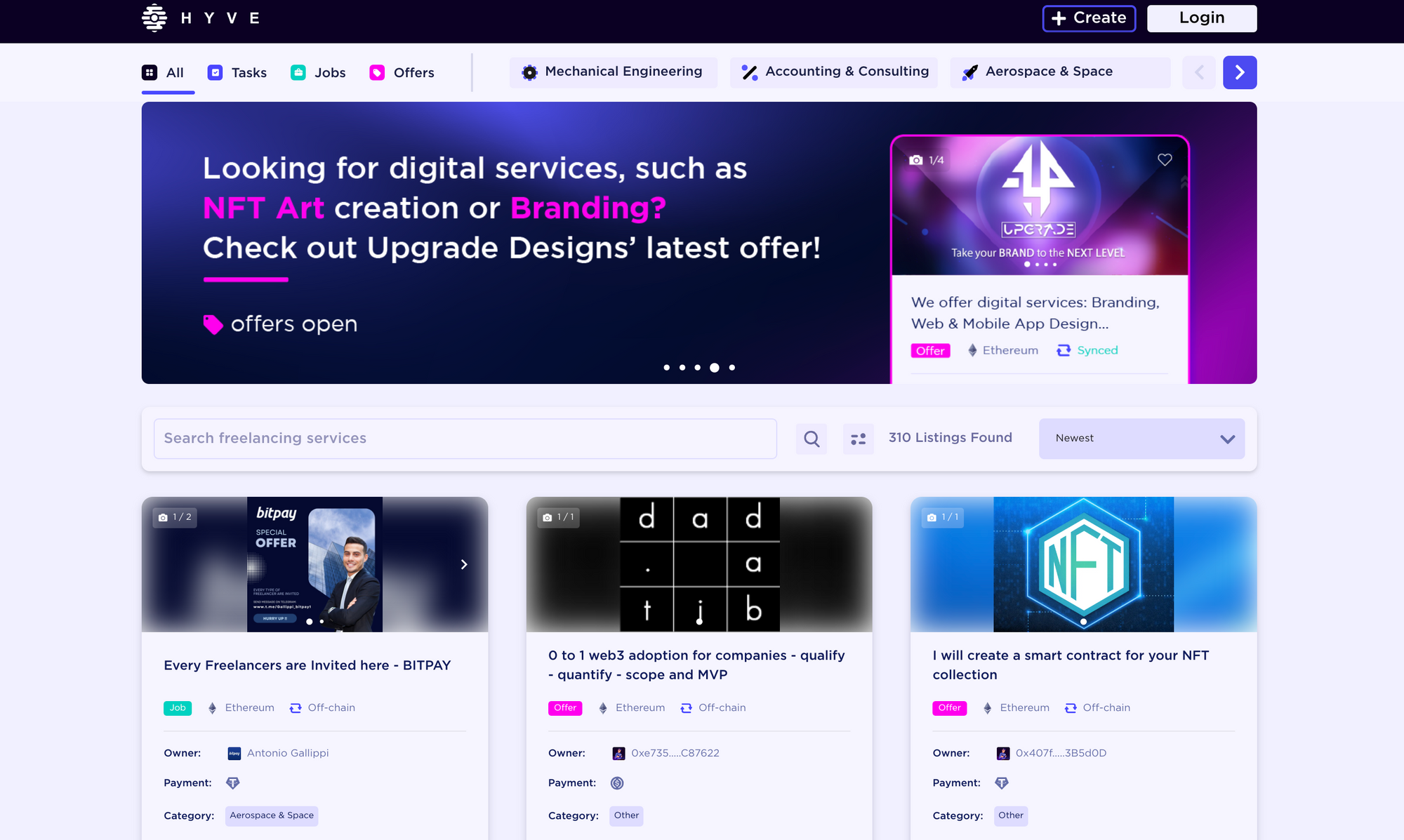 The launch of HYVE V2 was marked by diversification of payment methods, as we drastically simplified the process of adding new tokens onto the platform. Moreover, many of our partners celebrated our launch by posting job positions and openings, turning HYVE into the leading web3 job directory (we'll talk about that later).
We did not stop with the constant improvement of the platform, as later we launched HYVE V2.3, where we finally introduced reviews for freelancers and clients, as well as visual interface improvements. Our next development update should come early next year with HYVE V2.5 in the loop, coupled with a comprehensive roadmap outlining the plans for the next year, but also a view for the next 10 years.
---
Choose your token!
Token integrations - something you've definitely never seen this often!
Before commencing our rebranding process, we started introducing new tokens as payment options, and oh man, we haven't stopped since! And what better token to start with than $RADAR, our partner project!
Of course, we are not going to name every token HYVE has integrated, but at this point, we are close to 100, all across four different blockchains! Innovative projects such as FIRO and FUSE, memecoins such as Dogechain, stablecoins such as USDD and TUSD, anything you have ever dreamed of, HYVE has it! Plans for 2023 have yet to be unveiled, but our ultimate goal is to have a token integration a day, so stay tuned for more!
We have told you many times…our main objective is to become an universal platform for freelancers where you are in control, meaning you get ultimate freedom over payment methods! If this is not the ultimate dream of a crypto freelancer, tell us what it is.
---
Want a career in Web3? HYVE has you covered.
You might have noticed that following the platform launch we had an abundance of listings for open positions from leading Web3 partner projects, such as PundiX, Resource Network, Ferrum Network and many others. SKChain Advisors, the leading blockchain consultancy, which became our partner earlier this year, had also used HYVE for some of their open jobs.
Making a career switch to Web3 has never been easier, with HYVE providing various options in marketing, tech, accounting and much more. Even in the face of turbulent market conditions, our partners have not stopped the search for optimal professionals, as proven by our championing initiative, the WEB3 Job Alliance.
Following the FTX debacle and recent contagion, many projects have been downsizing their operations. In light of these events, trust in Web3 companies is waning, with many professionals having made the switch to a career in the blockchain industry. As economic conditions are not optimal, some professionals might be unable to return to their previous jobs, creating even further uncertainty.
Through the WEB3 Job Alliance, we have brought together multiple partners projects, as we all want to help these disgruntled professionals to continue their careers in the blockchain space. So far we have been successful in finding new positions for those affected by the Kraken layoffs.
💡
You can find out more about the WEB3 Job Alliance on Twitter at
@W3JA_
In 2023 we predict even more jobs to be posted on our platform, from more varied projects, as we believe it will be a better time for building back better. Opportunities in web3 arise, so make sure to keep an eye out on the platform - we'll add new listings to our landing page as well, in order to ensure that you never miss the latest updates!
---
Some other cool stuff you should know about
HYVE has been active on many fronts during 2022, with many cool initiatives and campaigns, mostly showing our appreciation for our dear supporters. There was a growing misconception that crypto is mostly a male-dominated sphere. We launched an article to disprove this concept and show some success stories of Women in Crypto. All our ladies have inspiring stories of how they joined the crypto space, each having unique journeys and challenges along the way.
Quick glimpse into 2023
We will be slashing fees for listings paid in $HYVE and cap the rest at 2.5%.
What you should also know is that HYVE assisted JRNY Crypto, our long time advisor, in launching his NFT Analytics platform, Ignis Orbis.
We will detail more about HYVE's involvement through a dedicated piece. However, the reason for choosing us was our dev team's immense experience in launching and operating platforms. Moreover, it represented a good experience in learning more about the NFT market, which could serve us in any future developments.
And lastly, how could we forget now that we mentioned NFTs - Metalancer! A collection of characters, each unique in their own way, uniting forces in their fight for decentralization! Once the NFT collection will be released, make no mistake - it will empower individuals and companies alike with immense utilities, redefining collaboration at all levels. Join the revolution by going to Metalancer.com and subscribing to find a lot more!
With so many things in store, it's hard not to be excited for 2023. There is a lot more cooking in the background, and as Tudor has mentioned, there's a lot of work to be done, but who can decline to be part of something so great? Help us build better, and we'll see y'all in 2023!